Did you know that Jatujak (pronounced as cha-tu-chak) is Thailand's largest weekend market? It has served as a haven for bargain hunters and food lovers since 1942. The Jatujak I'm posting about now however is a Philippine-based chain of Thai restaurants found in SM malls. After shopping at Tickles SM North EDSA last Saturday, the kids and I headed over to Jatujak for lunch.
Jatujak is located at the 4th Level of SM The Block. I immediately liked how bright and nicely set up the place was.
I had made reservations for 3 people the night before via the BigDish app so we could avail of 20% discount.
My kids are a lot more adventurous now when it comes to food. I make it a point to let them try different cuisines as much as possible. I opted for Crispy Catfish with Mango Salad (P258) to start us off. Both were initially reluctant, never having tried catfish before. I assured them it was just like eating pork floss in this case. Anyhow, the salad was really really good. The shredded catfish was crunchy and tasty. The julienned green mangoes in with sliced tomatoes, onions, peanuts, and vinaigrette dressing went well with it. The kids just nodded in approval while taking in spoonfuls of salad.
I also ordered Fried Shrimp Cake (P270). It was served with a bit of plum sauce on the side. I know it's an appetizer but it actually works as a viand too.
Of course I had to have my favorite Tom Yum Shrimp Soup (P258). The Jatujak version is light and refreshing with a hint of mint. They're pretty generous with the big succulent shrimps too.
We shared a serving of Bagoong Rice (P185). I mixed everything before giving the kids portions. My daughter's mind was blown lol, having tried this for the first time. She said it's so good and kept eating.
I ordered for Mixed Sate (P225) for us to share. Skewers of chicken and pork basted with peanut sauce are served with vinaigrette dip on the side. We all loved this dish.
Here's a closer look. Yum!
For dessert, we shared an order of Water Chestnut in Iced Coconut Milk (P120). Whoa, it's sooo good. The coconut milk is light yet creamy at the same time, I don't know how that came to be! The water chestnuts are soft and chewy outside but crunchy inside. I love that it's not overly sweet. If you have space for just one dessert here, let this be it!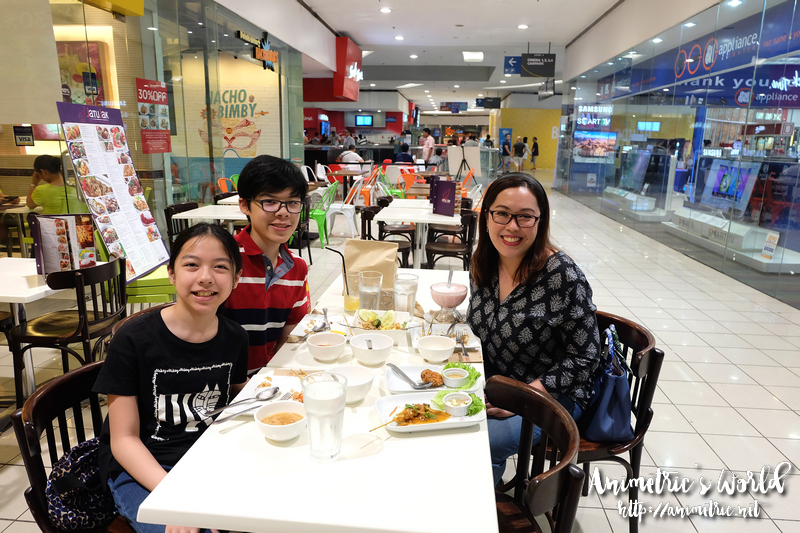 The kids and I had a lovely lunch at Jatujak SM The Block. I love how everything here is affordable, with most dishes being in the P200+ range. If you book via the BigDish app, you get a discount — imagine 10% to 30% off their already low prices! Serving sizes are good for 3 people, which was just perfect for us.
You can download the BigDish app for iOS or Android, or you can just proceed to their website.
Jatujak
4th Level SM The Block
SM North EDSA, Quezon City
442-0354
Like this post? Subscribe to this blog by clicking HERE.
Let's stay connected: