Poblacion is mostly an after-hours drinking and party area, activities I don't really care much for. I can't drink because I have low alcohol tolerance due to an alcohol allergy. I'm not a fan of staying in loud, rambunctious places too. Let's not forget my aversion to crowds. After all, there is still a pandemic. Oh but the Japanese-Peruvian fusion restaurant Japonesa Poblacion recently opened its doors for lunch. It's still relatively new, having opened only last April. The head chef is Luis Higa, a Japanese national who lived in Peru for a long time.
Weekend lunch is really more my scene. There's way less people compared to the evening so parking is a lot easier. I can get the earliest available slots in restos so we're the first ones there. Thus hubby, the kids, and I decided to have lunch at Japonesa Poblacion this weekend. We we're there opening time, 11am sharp. Had the place to ourselves for a while as patrons started coming in 11:30am onwards.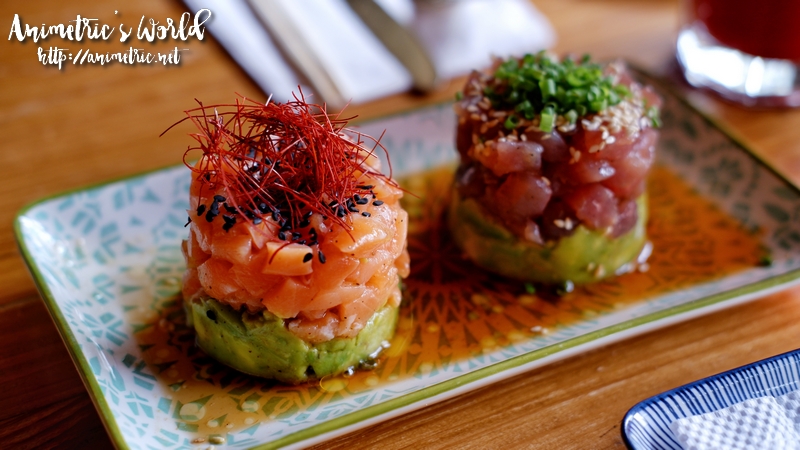 We started off with some Tapas. First dish out was Tartare Dos (₱850), a combination of salmon and tuna tartare which were served on quaint avocado beds. The salmon and tuna were so fresh and delicious. They went so well with the avocado and the light citrusy sauce.
The Tartare Dos is served with Sweet Potato Chips on the side.
Then we had Bomba Camarones (₱575). These are crispy battered shrimp tossed in spicy aioli. Love how crunchy and flavorful they were, very easy to eat and surprisinly not cloying despite the aioli.
We also had Entero Shimeji (₱395). Seasoned shimeji mushrooms are served on top of squash puree drizzled with garlic chimichurri. The mushrooms had a strong, overpowering earthy taste on their own. The best way to eat this is to take a spoonful of mushrooms with the puree so they combine to something very pleasant.
We had a couple of cocktails for sharing — Watermelon Hai-Ball and Grapefruit Hai-Ball (₱395 each). Both drinks have sake as their base. Watermelon Hai-Ball tasted like candy, so it's kind of like fruit and candy-infused water. Grapefruit Hai-Ball was really really good. We squeezed in the grapefruit wedges for additional fruity-ness. Very citrusy and refreshing, the Japanese salt outside the glass complemented it perfectly. I could probably finish a glass because it's so good.
Our server recommended that we try their rolls, specifically La Japonesa (₱650). It's a unique creation made of sushi rice that's toasted outside and chewy inside then topped with spicy tuna and green chili. I loved the contrasting textures and umami taste. If you're going to try one of their rolls, this should be it.
Sake Ajo Verde (₱795) was everyone's favorite main dish. It's grilled salmon fillet in green garlic sauce. I don't know how they made the sauce but WOW, just wow. It goes so well with the salmon, we were all shocked at how good it was. This is definitely not your run of the mill salmon dish.
We also ordered Pollo Mostaza (₱575) — boneless fried chicken thigh fillet with creamy dijon sauce atop a bed of spinach. When eating this, you have to have the spinach, chicken, and sauce in one spoonful. It's really good, although it doesn't trump the salmon.
Pescado y Gambas al Ajillo (₱975) is actually the most expensive of all the mains and it does actually taste like Spanish-style gambas with the olive oil and generous infusion of garlic. We all found it a tad too salty though, albeit it's by no means bad.
If you don't care for alcohol, I recommend the Japonesa Iced Tea (₱185). It's a mix of hibiscus tea, passionfruit, and lime which is a very refreshing combination.
We had a delightful Saturday lunch. It was a far departure from our usual since the menu featured unique dishes we don't usually encounter. The kids really loved the food (well they are practically adults at ages 21 and 17) as each dish presented an innovative way of serving the usual stuff fare like chicken and fish.
Japonesa Poblacion is open from 11AM – 1:00AM on Sunday – Thursday, and 11:00AM – 3:00AM on Fridays and Saturdays. Reservations are recommended as walk-ins are subject to seat availability.
Japonesa Poblacion
5856 Jacobo St., Brgy. Poblacion, Makati City
0917-1682024
Like this post? Subscribe to this blog by clicking HERE.
Let's stay connected: