I love Japan. I love Japanese products. Ever since I was a little girl, I've been enamored with Meiji snacks. My first brush with the brand was when my mom bought me some Yan Yan Chocolate Dipping Snacks back in gradeschool. This love for Yan Yan and other Meiji munchies has been passed on to my own children. I used to have to go to the supermarket or Japanese specialty stores to buy. But now it's actually easier than ever because Meiji snacks are readily available on Shopee.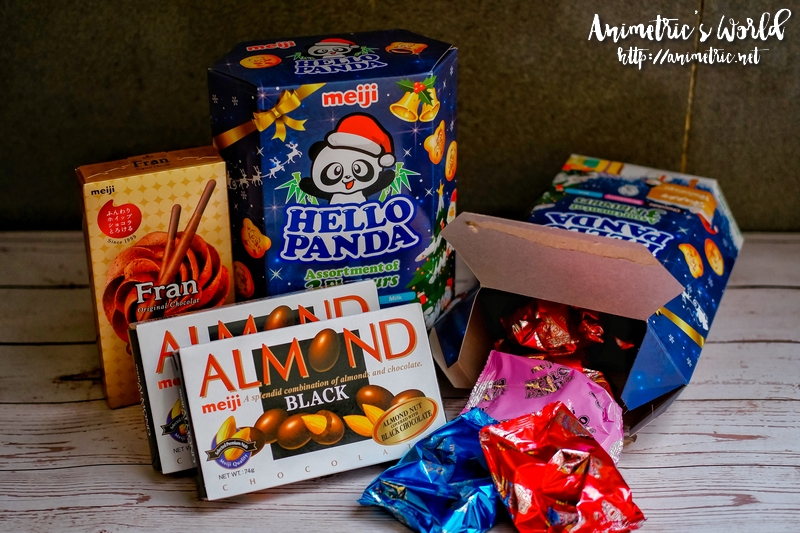 More than my original childhood favorite Yan Yan, Meiji is also known for Hello Panda. Hello Panda are cream-filled biscuits that come in strawberry, chocolate, and milk flavors. In fact there's a Christmas-themed Hello Panda Assorted Box which contains all the flavors. You an order this from Shopee via Express Delivery or Regular Delivery. My own kids have been snacking on Hello Panda since their toddler days. It's a kiddie party loot bag staple.
The foil packs are color-coded based on flavor — red for chocolate, pink for strawberry, and blue for milk.
Gifts worth P100 each? Why not get Meiji Almond Black which comes in sets of 5 boxes for P502. Just use your Shopee vouchers to get them at an even lower price! Large crispy roasted almonds are covered with high-quality dark chocolate. It comes in a nice box too! So perfect for gifting. Then there's also Meiji Fran, delicious biscuit sticks dipped in rich chocolate cream. They also come in sets of 5 boxes priced at P210 per set. The gold box is so luxurious, making it another gift-ready snack item.
For more Meiji chocolates and snacks, visit the distributor — Grand Dragon Online Shop on Shopee.
Like this post? Subscribe to this blog by clicking HERE.
Let's stay connected: