I was among those invited to experience Italianni's latest lunch offering last Sept. 30, 2010.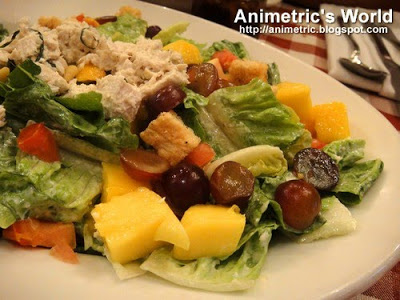 But before that, we were treated to my favorite Italianni's salad — Sicilian Chicken Salad (P425 for a lunch portion, pictured above). I love the combination of cubed chicken, ripe mangoes, grapes, and pine nuts. The salad is very fresh and there's a mix of sweet, tart, and crunchy sensations. Yum! I always order this when dining at Italianni's.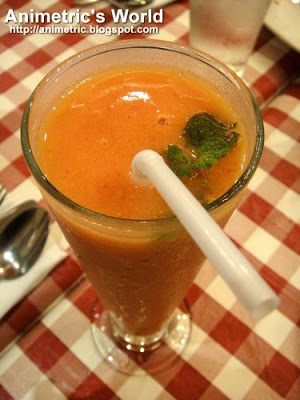 I ordered a Fruity Smoothie (P140, pictured above) to accompany the food we were being served. It's made of strawberry, banana, and mango and it's really good. I could clearly taste all the fruits. 😀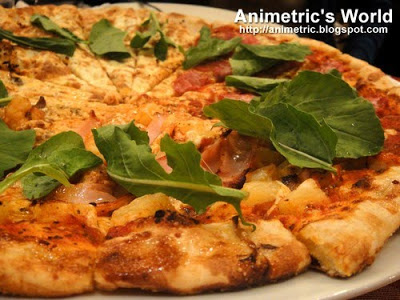 Then they brought out Quattro Staggioni (P595, pictured above) which is a huge pizza comprised of four flavors: Pepperoni, Hawaiian, Four Cheeses, and Shrimp with Black Olives. The pizza was topped with arugula, and they go amazingly well with together. Every bite was a pleasure.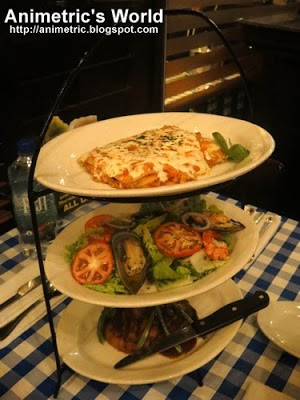 Then came the towering flavors of lunch… they're called that because three big dishes are served using a towering rack. There are two types of towers featuring three different dishes each. What you see above is the Buon Gusto Tower, which costs P995.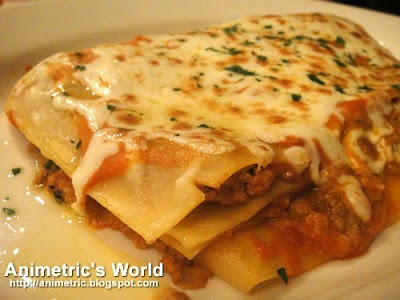 Lasagna Della Casa, Italianni's classic meat and tomato lasagna, is the dish that graces the topmost level of the Buon Gusto Tower.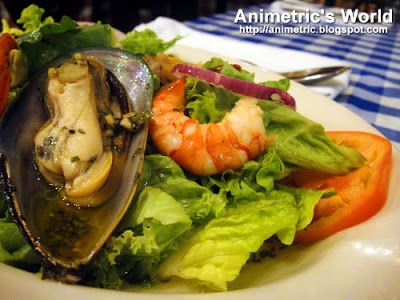 On the second level is Insalata Pescatore, a salad consisting of fresh garden vegetables, mussels, and shrimps. I took the above photo at a different table so the lighting is different…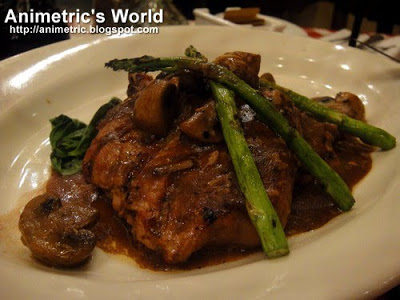 Last but not least, located on the bottom level is Grilled Pork Chops with Asparagus. I mentioned earlier that there are two towers, the other one is the Traditionale Tower priced slightly lower at P895.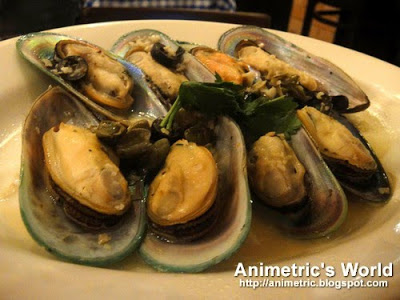 Insalata Felice sits at the topmost level of the Traditionale Tower. I didn't bother to take a photo anymore since it looks just like Insalata Pescatore minus the mussels and shrimps. Half Shell Mussels Capperi is on the second level (pictured above). I had one, and I thought it was okay. I'm not really big on shellfish unless it's the baked variety covered with garlic, cheese, spinach, etc.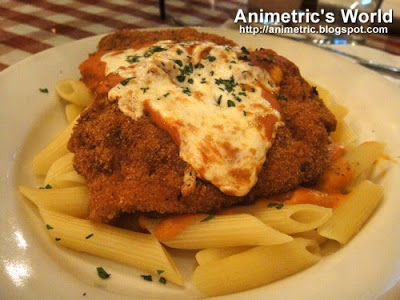 On the bottom level is the Chicken Parmigiana with Penne. At this point I was really too full even if all I had been doing was taking tiny tasting portions from the tower dishes.
I estimate that one lunch tower can be shared by either three ladies or two men during mealtime. That'd come out to about P300-P400 per head, which is reasonable considering you'll each be eating 3 different dishes at Italianni's.
Italianni's Towering Flavors of Lunch can be ordered from Monday to Friday, 11am to 3pm (for merienda!).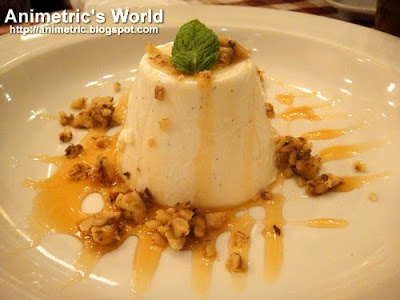 Oooh, in my excitement over lunch, I almost forgot to post what was for dessert. We had Panna Cotta (P295, pictured above). Panna Cotta is Italian custard made with milk and vanilla. It's one of my favorite desserts. Italianni's serves it with your choice of sauce, and you can choose from mango, blueberry, or honey and walnuts. Guess which one we had? 😀
You can sign up for Italianni's mailing list and get a P250 discount coupon instantly at http://www.italiannis.com.ph/mailinglist.php — it's valid for one month.

Like this post? Subscribe to this blog by clicking HERE.
Like Animetric's World on Facebook for more updates.