The ramen craze is definitely not over… another imported Japanese ramen chain has arrived. Yes, the long-awaited Ippudo is opening the doors of its Philippine flagship store tomorrow, Sept. 10, right smack in the middle of the SM Mega Fashion Hall. Ippudo was brought to the Philippines by the group behind the wildly successful Yabu House of Katsu.
I had a sneak peek of Ippudo last night. Wow! I really liked the interiors! There are actually drawers under the chairs where you can store your bags and other stuff. A total of 79 people can be seated simultaneously.
Before the main event (the ramen!), we were served a chockfull of side dishes starting with the Goma Q (P140). Seasoned sliced cucumber is drizzled with a soy-sesame dressing. Very refreshing!
Then we had Dashimaki Tamago (P150). It's the typical Japanese rolled omelet but it's served with spicy cod roe mayo. The tasty mayo makes this dish special. Wow! I could actually feel the tiny pieces of roe in my mouth when I dip the tamago in the mayo.
Curry Cheese Harumaki (P190) is kind of like crispy spring rolls filled with mild curry, minced pork, and melted mozzarella cheese served on a bed of crispy noodles. This was very popular with the guests last night.
Then there was the Ippudo Pork Bun (P100). The mantou is very soft, it's filled with a slice of fatty melt-in-your-mouth pork, lettuce, and mayo-based sauce.
We were also served Ippudo Hakata Style Gyoza (P195). Crisp outside and meaty inside, it was pretty good. It's cooked just right too so it's toasted but not burnt.
Finally, I was asked which ramen I wanted to order. There are only three to choose from for now. I was told they would introduce more variants next year.
But before that, let me tell you about their Iced Tea. It's brewed and flavored with real honey and lemon, it's soooo good. I think I had 3-4 glasses hahahaha!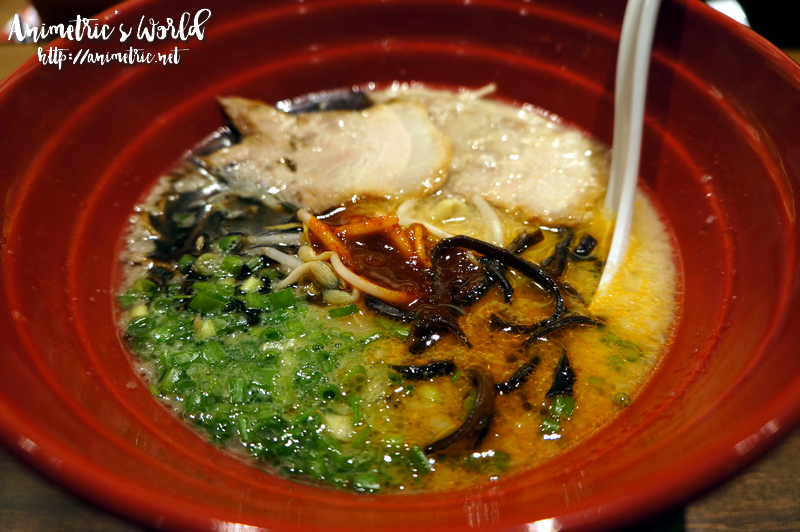 So anyway, I picked the Akamaru Shinaji (P390). Ippudo's original tonkotsu broth is enhanced with special blended miso paste and garlic oil. It's served with noodles, pork belly, kikurage (wood ear fungus), and spring onions. The server asked me how I wanted my noodles and recommended that I have them "hard". I did, and "hard" turned out to be perfectly firm and chewy, in other words, al dente. Now I can't imagine having the noodles any softer than "hard".
I liked the combination of the rich tonkotsu broth and the fragrant garlic oil. Really tasty. As I've mentioned, the noodles were cooked perfectly. The pork belly was melt-in-your-mouth tender and the kikurage was crisp. I wasn't blown away by my bowl of ramen but it was good.
Each table has a set of condiments so you can add more ground pepper, ground sesame seeds, or even some crushed fresh garlic to your bowl of ramen.
Bringing kids along? Ippudo has these cute kiddie utensils so you can share your ramen and other dishes with them in style.
I took photos of the two other ramen variants I didn't try. Lucky for me my seatmates ordered them! This is Ippudo's classic ramen dish, Shiromaru Motoaji (P375). Ippudo's original tonkotsu broth is served with ultra-thin noodles (thinner than what I had), pork loin, bean sprouts, kikurage, and spring onions. I'm going to try this on my next trip to Ippudo.
This is the 3rd ramen variant, Karaka-Men. Ippudo's original tonkotsu broth is served with thin wavy noodles, pork belly, and spring onions. It's topped with special spicy minced meat, miso paste, and fragrant garlic oil so it's the most spicy of the three.
I had a peek at Ippudo's kitchen too. It takes many hours to prepare their tonkotsu broth and you can taste it as soon as you sip the rich soup.
Ippudo's prices are more or less at par with the other ramen chains like Ramen Nagi, Ikkoryu Fukuoka Ramen, and Hanamaruken. Food is good and the place is nice and cozy. I'm just wondering how long I have to queue up for my next visit, lol, because Ippudo is opening to the public tomorrow.
Ippudo
3/F Mega Fashion Hall
SM Megamall, Ortigas Center, Mandaluyong City
470-1837
Like this post? Subscribe to this blog by clicking HERE.
Let's stay connected: