#BeUltraProtected with Cetaphil's Best Bar Ever — the new Cetaphil Ultra Protect Antimicrobial Bar. Formulated to effectively wash away 99.9% of germs while providing intense hydration, these bars are available in bundles up to 33% off this July 20 (TODAY) for the Cetaphil Brand Spotlight on Shopee!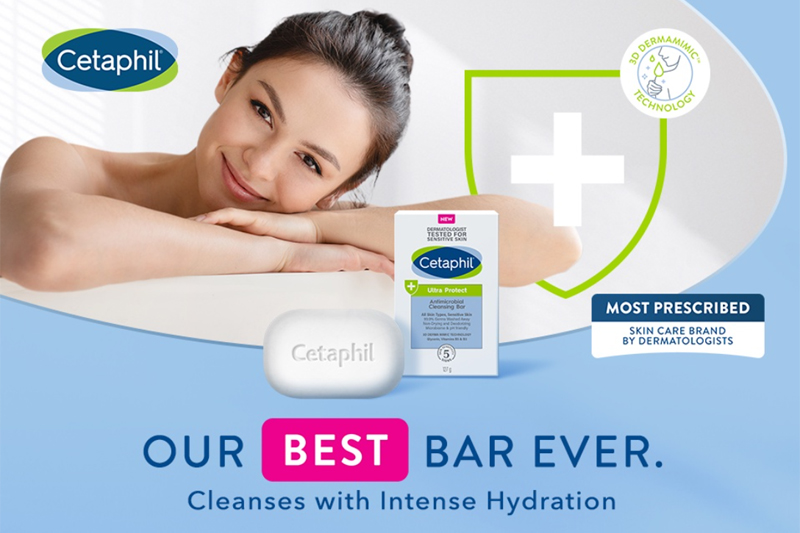 Both antibacterial and hydrating, Cetaphil Ultra Protect Antimicrobial Bar 127gm is formulated with the patented 3D Derma-Mimic Technology, proven to effectively wash 99.9% of germs while providing intense hydration and moisturization. It also has Glycerin, Vitamins B5 (Panthenol) & B3 (Niacinamide), which helps improve the skin's barrier while providing daily skin hydration, making it ideal for face and full body cleansing in the bath or shower.
Avail of today's special offer — buy 2 bars and get 1 free at the Galderma PH Store on Shopee! This new bar is great for sensitive skin, as are all Cetaphil products.
You can also get the Cetaphil Cleanse and Hydrate Body Set (₱499) – This is Ultra Protect Antimicrobial Bar + Moisturizing Lotion. The Cetaphil Moisturizing Lotion has a lightweight formulation that is clinically proven to instantly soothe and provide 48-hour lasting hydration. It also completely restores skin's natural moisture barrier within 1 week of consistent usage.
Of course you can opt to just try the Cetaphil Ultra Protect Antimicrobial Cleansing Bar (₱315) on its own.
I'm really excited to try this new product from Cetaphil, one of our trusted brands for the skin. COVID is on the uptick again and washing with soap + water is one of the most effective ways to fight this virus. With the frequency at which we wash and bathe, we really need a soap that doesn't dry our skin. This is a very timely release from Cetaphil and there are a lot of exclusive deals for it on Shopee today.
Like this post? Subscribe to this blog by clicking HERE.
Let's stay connected: