I knew someone before who was on the heavy side. She was always referred to as fat and told to go on a diet. Little did they know that she was suffering from a condition called Hypothyroidism. Well, she herself also didn't know at first until she decided to find out why she was getting heavier even if she wasn't really eating a lot. A trip to the doctor confirmed that she had Hypothyroidism.
Hypothyroidism is a condition wherein the body lacks sufficient thyroid hormone. One of the symptoms associated with it is slow metabolism. People think that just because someone is overweight, it's automatically because he or she eats too much. That's just one of the reasons why it's important to be aware. Hypothyroidism is treatable and a simple blood test can determine if one is suffering from Hypothyroidism.
Then there's Hyperthyroidism, wherein the thyroid gland is overactive. As a result the thyroid gland produces excessive amounts of thyroid hormone. This speeds up all the body's processes, including metabolism. This can result to weight loss among other symptoms. Like Hypothyroidism, Hyperthyroidism is treatable but one needs to be aware that he/she has the condition.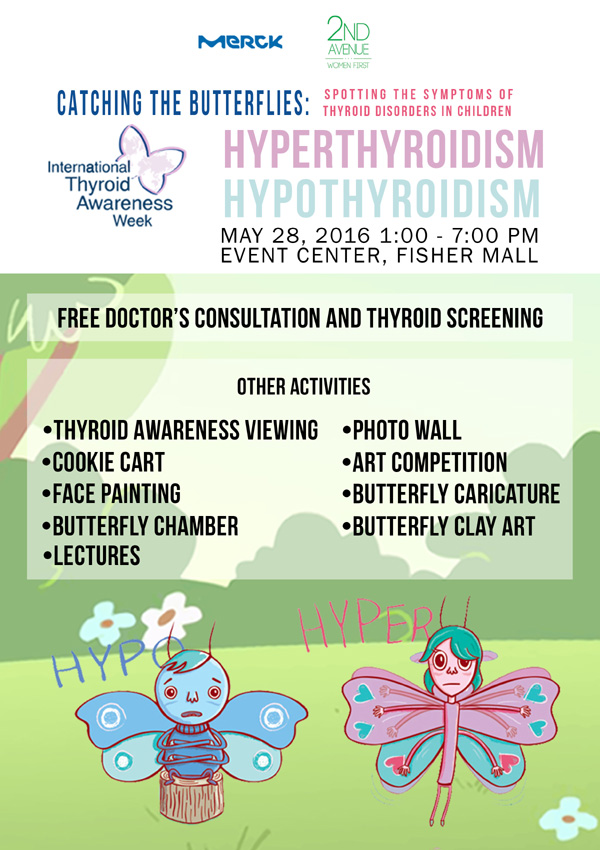 That said, I would like to invite everyone to Catching the Butterflies: Spotting the Symptoms of Thyroid Disorders in Children. There will be FREE Doctor's Consultation and Thyroid Screening. There will also be fun activities like Face Painting, Cookie Cart, and Butterfly Clay Art among others. This event is happening at Fisher Mall Event Center this Saturday, May 28, 2016 from 1pm to 7pm.
Why butterflies? It's because the thyroid gland is butterfly-shaped. 🙂
Thyroid disorders affect millions of Filipinos, yet very few are aware of them. One in 11 Filipino adults has goiter, and around 1 in 12 Filipino adults suffers from some form of thyroid disease. It is estimated that 8 out of every 1000 children worldwide are affected by thyroid disease.
Awareness should never be overlooked because it could save someone's life and help many others in the process. The International Thyroid Awareness Week (ITAW) is the perfect opportunity to learn more about how the thyroid gland and the thyroid disorders that affect one's metabolism.
Like this post? Subscribe to this blog by clicking HERE.
Let's stay connected: