Being fat has always been one of my biggest challenges in life. I can't even count the number of times I've been told "Tumaba ka!" ("You got fat!"). My worst year in terms of weight was 2011. I would go to the bank or to a party and people would ask if I was pregnant. So yeah, you'd think years later, what's an off-handed "Tumaba ka!" remark or two… or three, right? Look, I know I'm fat. It doesn't help that I'm surrounded by svelte, beautiful, and fashionable fitness enthusiasts I call my friends a lot of the time.
At least these days no one is asking when I'm due and I can still fit into regular clothes (not plus size or maternity). I've learned to look at the bright side and think hey at least I'm not ugly. Excess weight can be lost but being unhappy with your face is forever (unless you get plastic surgery). Of course none of that changes the fact that I'm still fat.
Here's a throwback pic from 2011. I think I weighed 160+ lbs here, even heavier than my 158 lbs on my ninth month of pregnancy with my firstborn. Can't really blame people for thinking I was pregnant.
I'm not happy where I am now weight-wise. I haven't stepped on a scale in years because I'm in denial. In my estimation, I'm probably 140+ lbs now… maybe even 150. I am reminded of this sad reality whenever there's a formal occasion. In this case, my younger brother's upcoming wedding this October. Everyone's going to wear either a formal gown or dress. In my current state, I just can't. My body and weight issues have kept me in pants all my life.
I've been there, done that. Let me tell you straight out that exercising till you collapse won't help unless you count your calories. That's really where it's at. Let me recap some of the weight loss methods I've tried in the past:
All Work No Diet – For one whole month, I went to Gold's Gym 4-5x a week and spent 1.5 to 2 hrs exercising. I thought surely if I worked out this much I'd lose weight even if I ate the same way. Wrong. I lost barely 2 lbs after a month of doing this.
All Marie France and No Diet – Marie France's tagline says No Diet, No Exercise. The No Exercise part is true. When you enroll at MF, a nutritionist is assigned to you and you have to follow their calorie recommendation in order to attain your ideal weight. Last I checked counting calories counts as dieting. Let's just say if you rely on their machines and treatments and do not follow the nutritionist you don't lose any weight. To be fair though, you don't gain weight either so their machines and treatments do actually help keep the weight off. I think it would be more accurate to say that enrolling at MF would make you lose excess weight faster.
All Diet and Nothing Else – Sad to say, this is the most effective way to lose weight. I stuck to the 1200 calories a day and lost weight even if I didn't exercise or go to MF.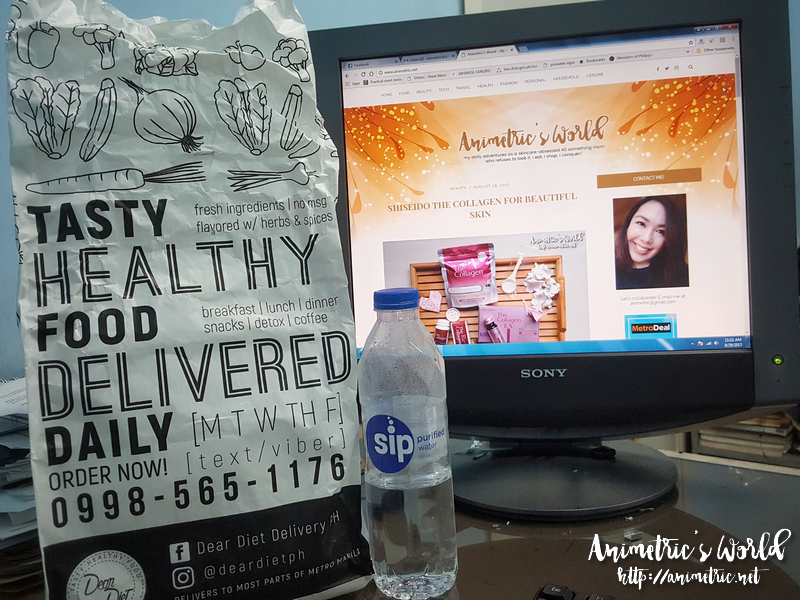 So last night, I surfed the web for a reasonably priced diet delivery service. I stumbled on this blog post and decided to go for Dear Diet Delivery. They had a promo ongoing wherein I'd get complete meals for a month (5 days a week) for P6,480. That's P324 a day. Not bad. The starting date was August 29 (that's today!). I was so surprised when they delivered 5:30am this morning because I hadn't paid yet. I walked to BDO first thing when I got to the office so I could settle the fee.
Today I had one piece of French Toast for breakfast and coffee. I had a small Calamansi Poppy Seed Muffin as a mid-morning snack. For lunch I had a tiny portion of Brown Rice and Chicken, which incidentally had a lot of bones so I ate maybe 2 matchbox stick portions of chicken. Everything tasted okay. I'm kind of hungry right after eating my tiny lunch but I'm determined to stick to this. The goal is to fit into a decent formal RTW dress for my brother's wedding. I'll even try to throw in 30 mins of cardio every day for good measure (hopefully I'm not too weak from hunger lol).
At least I have cheat weekends… although I know I shouldn't overdo it.
I'm FAT and I know it. I don't need people to tell me because I see it every single day. I'm doing something about it starting now.
Like this post? Subscribe to this blog by clicking HERE.
Let's stay connected: