One rainy Saturday afternoon I made my way to Ortigas to join a hands-on cooking workshop by Century Tuna.
It was held at Century Tuna's test kitchen.
We were divided into groups of four and I joined fellow mommy bloggers Rochelle, Michelle, and Jennifer. We were going to prepare six (6) dishes! We decided to each take charge of preparing one dish each then whoever finished early would go on to make the remaining ones. I tell you if it were a race we would've won lol because we finished way ahead of everybody else. But I'm getting ahead of myself.
Everybody got dibs on what dishes they would be in charge of and I somehow found myself assigned to the Century Corned Tuna Empanada. On paper it seemed pretty simple to do since the recipe went like this:
Century Corned Tuna Empanada
Filling:
2 180g cans of Century Corned Tuna
1 cup grated cheese
Dough:
2 cups all purpose flour
1 tbsp sugar
1/3 cup butter or margarine, softened
1/4 cup shortening
1/2 cup cold water
all purpose flour for dusting
oil for frying
The first thing I had to do was to mix all the ingredients for the dough together in an electric mixer. There was no electric mixer. I was handed a pair of gloves. I remember attending a cooking workshop where the chef made dough and she said that dry ingredients should be combined first, so that's what I did. I mixed together the flour and sugar. After that I gradually added everything else and then kneaded the dough with my hands. After I had formed a large ball of dough I wrapped it in plastic and it was refrigerated.
Making the filling was a breeze. Just mix together the tuna and cheese and you're done.
My dough ball was taken out of the ref and I rolled it out to a flat circular sheet so I could use a cookie cutter to cut out shells for the empanada.
Relatively easy to do, even for a non-cooking person like myself.
Put filling in the middle of the circles, fold, and then seal the sides. The chef taught me how to twist the edges so my empanadas would look nice.
It wasn't hard to do! It was kind of fun too. I was able to turn all the dough and filling into empanadas all by myself!
The empanadas were then deep fried. Wow, I must have wrapped them really well because not a single one burst! Our other dishes were: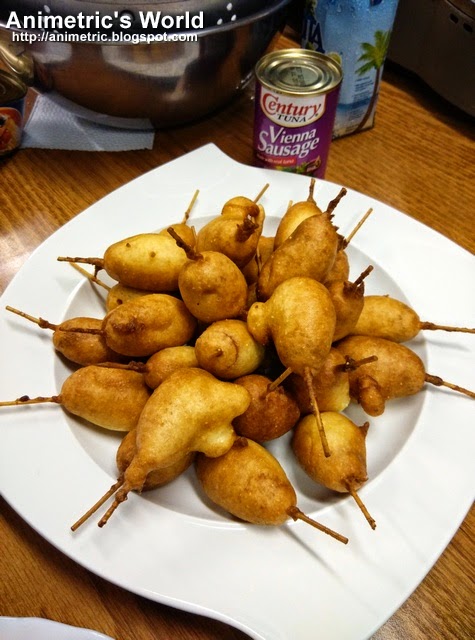 Century Tuna Vienna Sausage Corn Dogs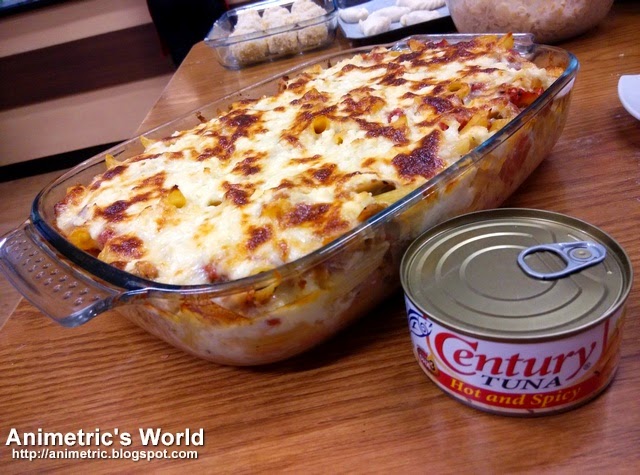 Century Tuna Baked Ziti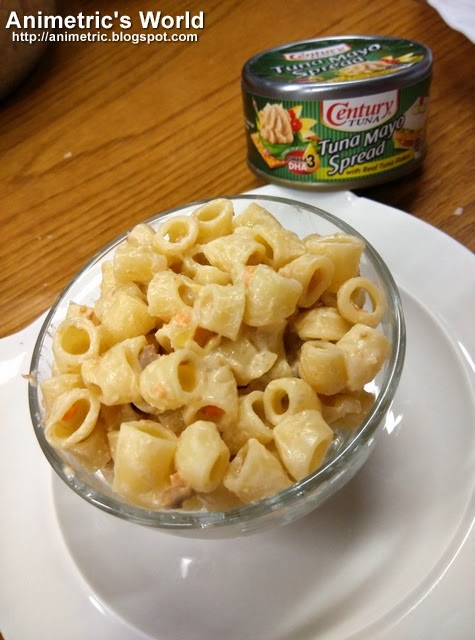 Century Tuna Macaroni Salad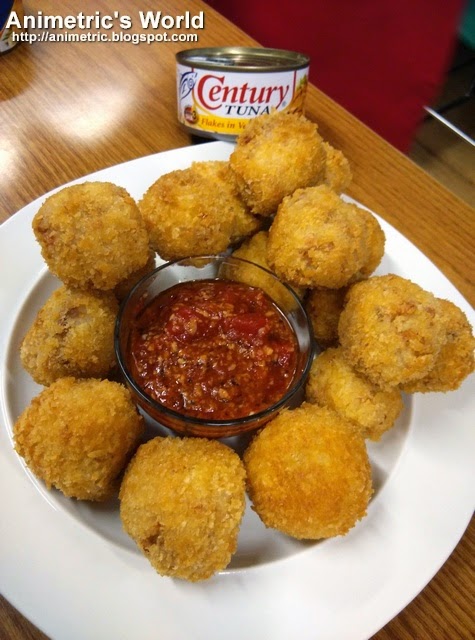 Century Tuna Risotto Balls with Marinara Sauce
I failed to take a photo of the last dish, Century Bangus Ala Madrilena. In fairness, we ate everything we made afterwards and every single dish was yummy!!!
Thank you Century Tuna for a fun-filled and delicious Saturday afternoon! I'm so glad I got to experience cooking an entire dish by myself! Everyone who knows me knows I can't cook to save my life so now at least I know I can make empanada, hahahaha!
There was a photo contest during the event wherein the 4 participants whose pics had the most likes would win prizes, I got 2nd place thanks to you guys! Thank you thank you thank you so much! I had barely over an hour to rally likes but I ended up with almost 400 anyway. 😀
For more information, recipes, and updates, check out Century Tuna Superbods on Facebook.
Like this post? Subscribe to this blog by clicking HERE.
Let's stay connected: