I started formally blogging back in 2009. Prior to that, I was just randomly spilling my thoughts over to the internet… on Multiply mostly. Lucky for me my friend Skysenshi persuaded me to move to Blogger (Blogspot) because as you all know Multiply died some time ago.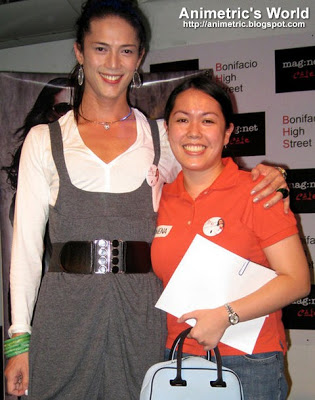 Photo opp with BB Gandanghari back in 2009
One of the very first blogger events I attended was a meet and greet with BB Gandanghari, and I think he's officially the first celebrity I had a photo opp with as a blogger. Back then, I didn't give a crap about how I looked. I would just tie my hair back into a ponytail, grab a shirt and a pair of jeans, put on sunscreen and I was good to go. Zero makeup too.
Case in point, here's another day in 2009 and I'm wearing the exact same shirt. What the hell. That was how indifferent I was to the way I looked back then.
2010 wasn't much better. I was attending more events, getting fat, and looking a lot worse compared to when I was starting out. The only vain thing I would regularly do was rebond my hair. I can't believe I went to the Amazing Race Asia 4 party looking like that. I posted it on my blog too. Ew…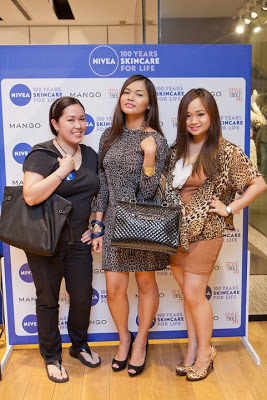 2011. Good grief, by this time you'd think I would already realize that I looked like trash each time all the time but I was actually getting worse. In fact, I was at my very worst! 2011 was my fattest year and I weighed more than I did when I was 9 months pregnant with my firstborn. Looking back, I honestly don't know WHERE I got the guts to show up at a beauty event looking so frumpy. Well actually that time I was already having difficulty fitting into normal clothes. My pants were all US size 12 and my tops were all XL. It's a miracle I was still being invited to events, more so that I actually gained readers throughout the years of my decline appearance-wise. But 2011 was the year I got my wake up call. I don't know. I must have looked back on all my posts and pictures and realized I wasn't going to go anywhere by being fat and ugly. Sorry if I'm offending anyone but that was how I felt — fat, ugly, frumpy… I had to accept that yes, I HAD let myself go. I decided it was time for a change.
To stop looking like crap all the time, I had to fit into decent clothes. That was the first step. I can't improve how I dress if I can't fit into normal clothes right? So the year 2012 was spent revamping my lifestyle. I watched what I ate, exercised, had some help from Marie France, and by the end of the year I was ready to give away my size 12 bottoms and XL tops.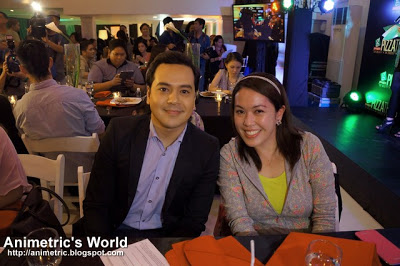 Yes I was seatmates with John Lloyd Cruz at the Greenwich event, lol.
By 2013, I was paying more attention to how I looked. Going out of the house looking like trash was no longer acceptable to me. Nothing dramatic. I just made sure I looked presentable most of the time (yes most because I still have my trash days hahaha!).
By 2014, I was wearing clothes I wouldn't and couldn't have worn back in 2011. I had help from my evil twinnie in this aspect, the ever-fashionable always-awarded-best-dressed Marj Sia!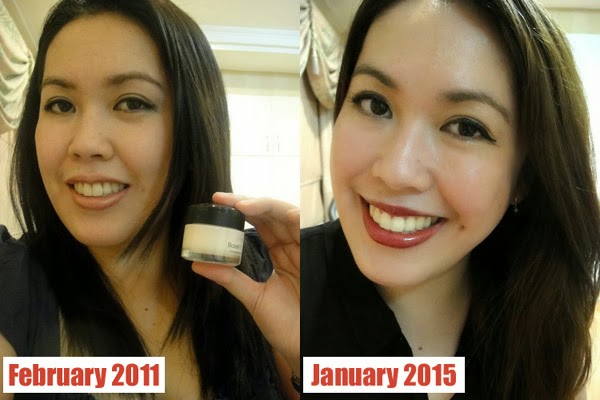 FOTDs… then and now
Makeup-wise, I thought I knew things back in the day but actually I sucked. My biggest makeup breakthrough happened mid to late 2011. I attended a personal makeup classes at Maquillage Professionnel and then moved on to take up professional makeup artistry at HD Makeup Studio and Academy. I also stopped rebonding my hair back in 2013 and just let it be. Nowadays I manage my hair by investing in a good haircut.
It's now February 2015. I'd like to think that I've improved my appearance by now. It was a decision I had consciously made and it didn't happen overnight. I just want to say that my trying to improve the way I look had absolutely nothing to do with what others think. Heck my hubby never complained about my appearance through the years and he has always been quite fashionable. Even my readers (bless you) never pointed out anything wrong with me physically. I decided to stop looking like trash for me. I just realized that life's too short to spend wallowing in self-pity. Plus I thought I looked pathetic and gross next to all my friends in just about every photo. I don't want to remember myself that way when I'm old and gray.
Life has actually been better for me after I ditched my frumpy image. More opportunities came my way. A proven fact of life is, people have a better perception of people who look good — and I'm not talking about being born with Ms. Universe level looks. It's all about the way you compose and carry yourself. You don't have to look like you're going to a red carpet event all the time, it's all about being presentable. You don't need expensive clothes and makeup. You can take a P325 tube of BB Cream and P100+ tube of tinted lip gloss and brighten up your face instantly. Look in the mirror. Do you like what you see? If you do, most probably those around you will like it too.
Like one of my favorite personalities RuPaul always says, "If you can't love yourself, how in the hell are you going to love somebody else?"

Like this post? Subscribe to this blog by clicking HERE.
Let's stay connected: