One weekday earlier this month, hubby and I drove over to Hwaroro Korean Grill Restaurant for lunch. We had heard about their super affordable eat-all-you-can buffet and well, we're still not over our Korean BBQ addiction, lol. Since we don't have an unlimited budget, we are forced to be resourceful (in fact we have another similarly priced Korean eat-all-you-can in our sights already, hahaha!).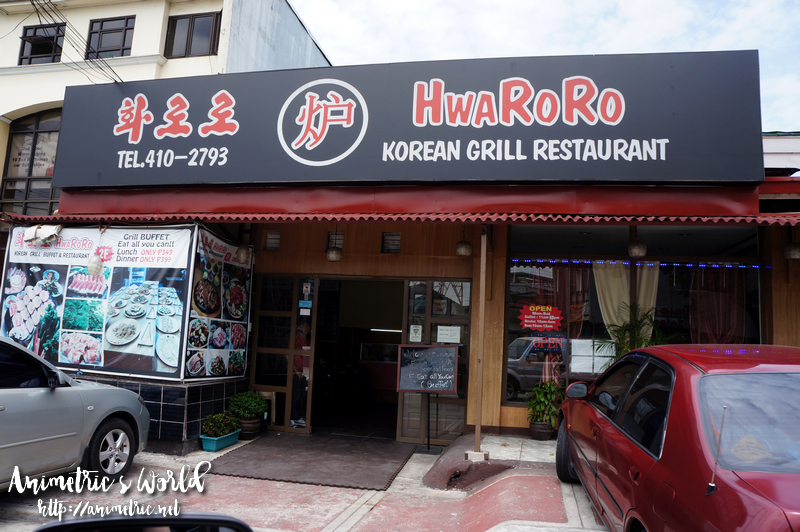 Hwaroro Korean Grill Restaurant is sort of hole-in-the-wall-ish in that it's not really located in a thickly populated commercial area. It's in one of the Scout streets in Quezon City.
It's a small place that looks like a house that was turned into a restaurant. I think there are less than ten tables.
Anyway, Hwaroro Korean Grill's eat-all-you-can buffet rate is P399. You get unlimited everything — how about some hot tea and steamed rice (there's also fried rice if that's what you prefer) for starters?
Then there was soup that was still simmering!
There are over a dozen banchan (Korean side dishes) and short order dishes — from bulgogi to japchae to sweet and sour pork to fried chicken…
I really liked the beansprouts. They were very crisp without being undercooked.
Kimbap! My hubby loved that it had no mayo. He claims mayo makes him break out, lol.
Of course no Korean resto is complete without kimchi, and I had a lot. They sell it too — P120 for 500g and P200 for 1kg. I just might go back and get myself some because I super love kimchi.
There's the japchae. I used to love japchae but nowadays I'd rather have veggies. Don't get me wrong, it's good but I'm just not into sweet noodles anymore.
I was surprised to find Sweet and Sour Pork. There was even Adobo. Talk about variety. There was even an ampalaya dish that looked very Filipino to me.
The meats are stored in chillers. You just have to go and get yourself some to grill on your tabletop.
There are five kinds of meat.
They looked good! But who am I to judge I can't cook and neither do I know how to buy stuff in the market. I would just have to taste to find out…
We grilled the meats on our tabletop. The downside to this type of grill is some of the oil can jump at you because there are no borders on the sides to block the flying droplets. I couldn't believe how tender ALL the meats they offer are… as in ALL. We tasted every single kind and even the thickly cut ones which we expected to be tough were tender and easy to eat. What great value for money!!!
There's an array of dipping sauces to choose from too.
For dessert, they had cookies which looked tough but were actually quite chewy.
There were also some fresh fruit wedges in the chiller.
My hubby and I couldn't believe how great everything in this place was! For P399, we felt that we had gotten way more than our money's worth. So many dishes to choose from plus all the meats were tender and of good quality. There's no shortage of side dishes and viands too! I highly recommend this place if you want to pig out. Hubby and I were so full from lunch we could no longer have dinner when evening came. So far this is easily the most worth it Korean grill-all-you-can place we've tried.
UPDATE as of April 12, 2016: We had lunch at Hwaroro Korean Grill Restaurant 5 days ago and wow, the place has deteriorated so much. Air-conditioning is almost non-existent. It's so hot it becomes hard to breathe when you're grilling. The food is still similar to what we had before but the place is so rundown, hot, and stuffy we just wanted to leave. Not recommended. I know I'm not going back. What a waste.
Hwaroro Korean Grill Restaurant
76 Sct. Tobias St., South Triangle, Quezon City
410-2793
https://www.facebook.com/Hwaroro
Like this post? Subscribe to this blog by clicking HERE.
Let's stay connected: