Sometime near the end of May, I was invited by Papa John's to the launch of their newest pizza, the Chicken Carbonara Pizza.
But before that, we got to watch a demo of how to make Papa John's The Hawaiian pizza.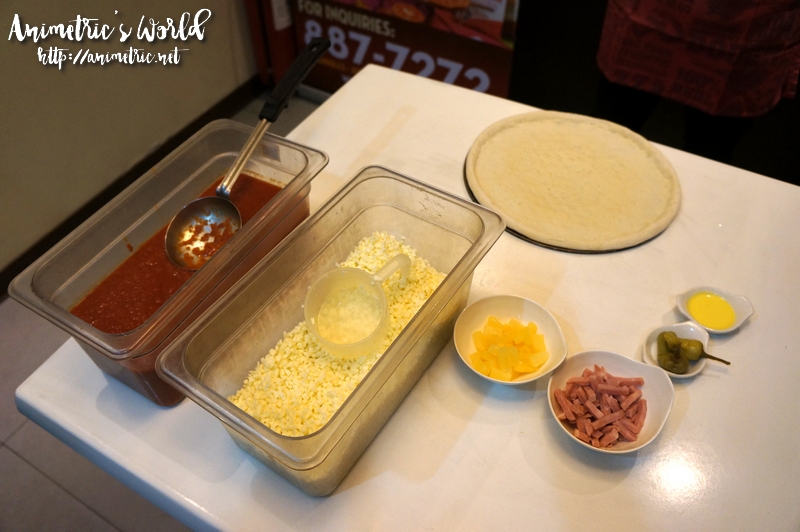 These are the ingredients. There are only four toppings — sauce, cheese, pineapples, and Canadian bacon.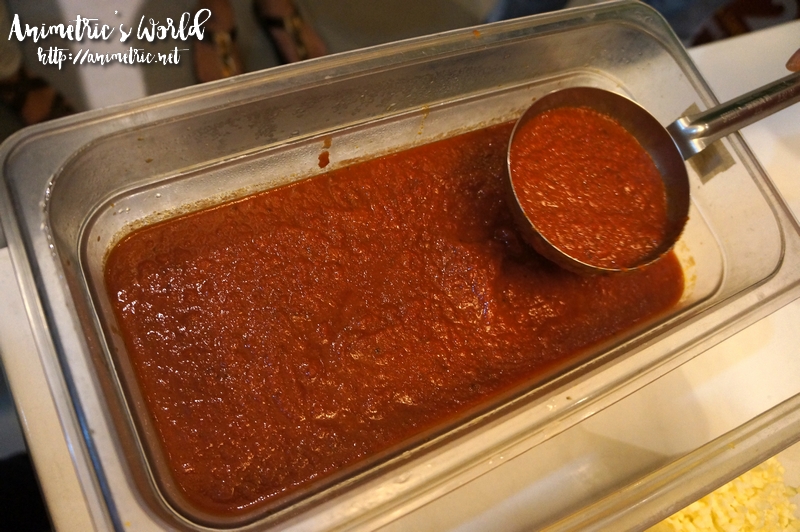 They import their pizza sauce from the US!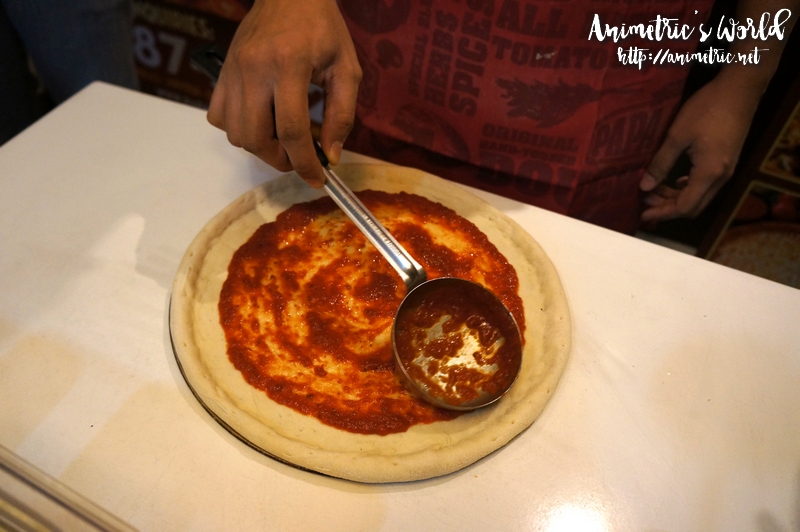 So anyhow, after rolling out and shaping the pizza dough to the desired size (that would be either a 9″ regular, a 12″ family, or a 14″ party size), you spread the sauce all over the surface like so.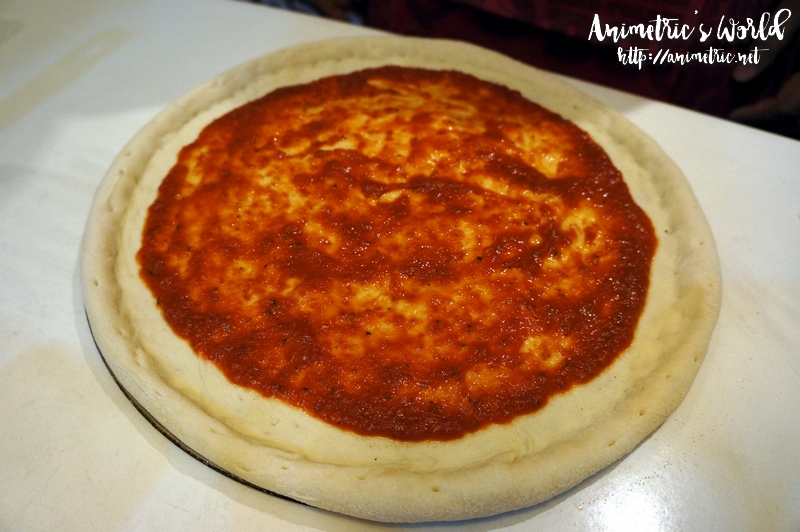 The pizza's borders are raised so that the sauce and toppings don't spill over when you bake it. You leave a bit of space between the sauce and the raised part of the crust.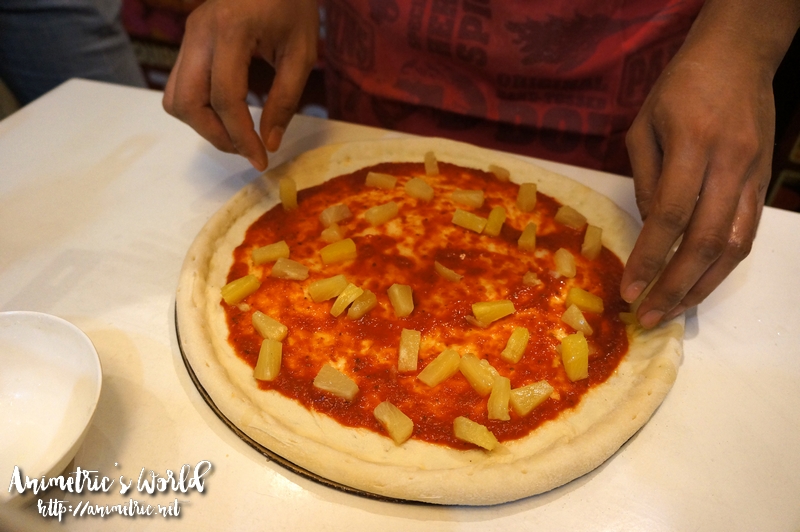 I was surprised when he took the pineapple chunks and started putting them on top of the pizza. I always thought pineapples came last, lol.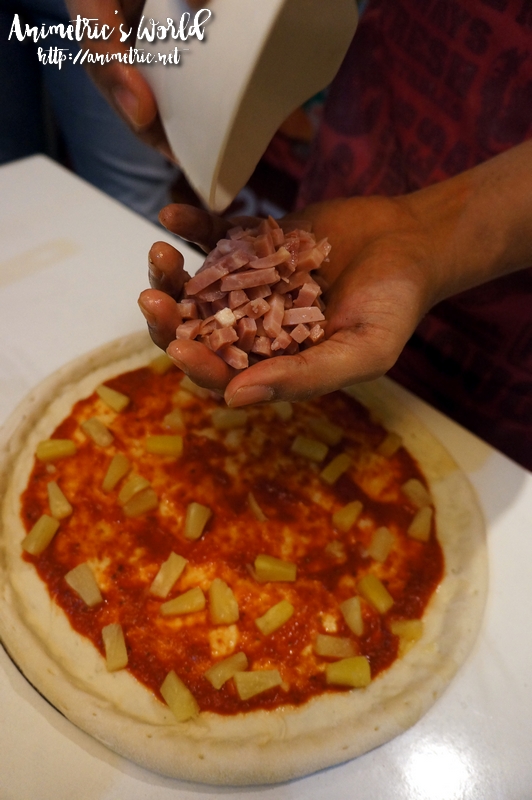 Then it was the Canadian bacon's turn.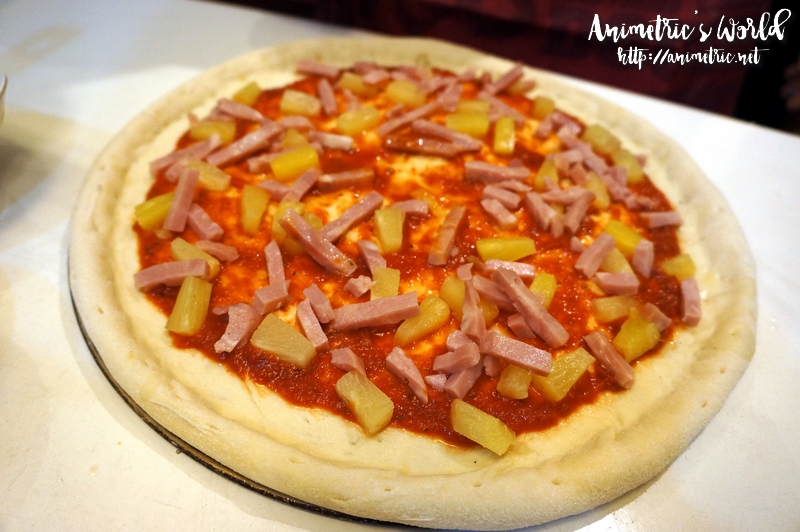 This is how it should look, everything about half an inch away from the raised part of the crust and evenly distributed.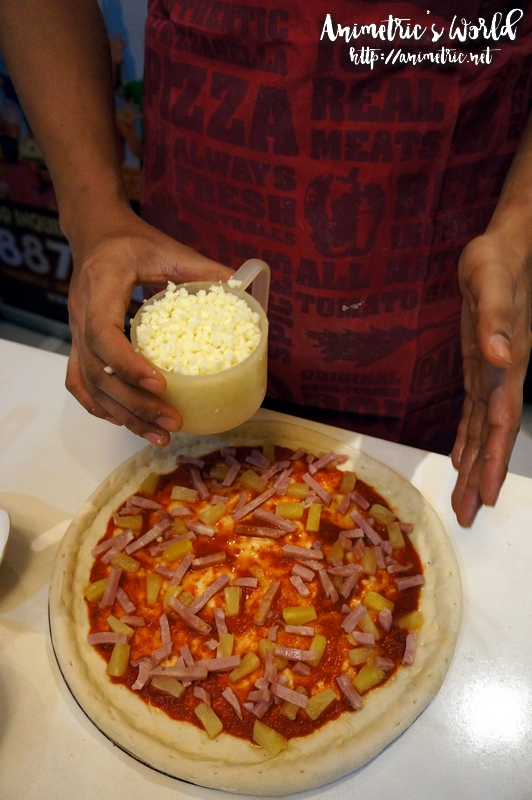 Last to go on top of the pizza was the Mozzarella cheese — and I thought this went second after the sauce! The Mozzarella cheese is imported from the US too.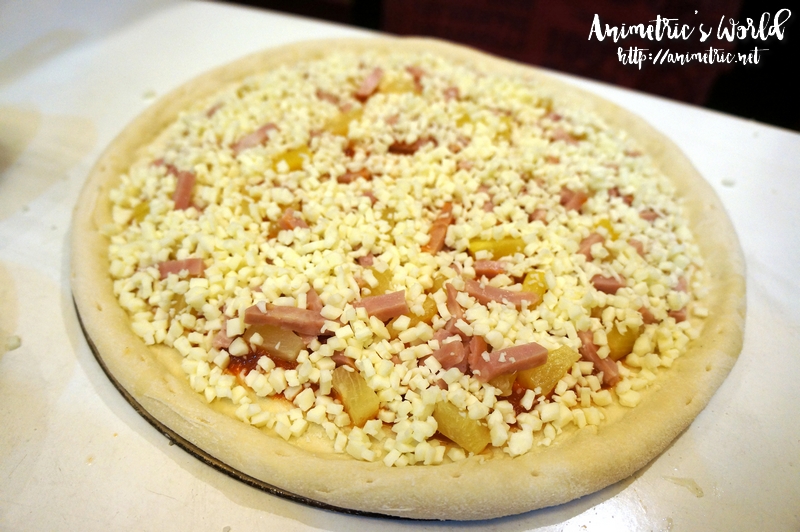 You pretty much cover everything with cheese. With cheese, it's okay not to leave that space between the raised pizza border and the sauce.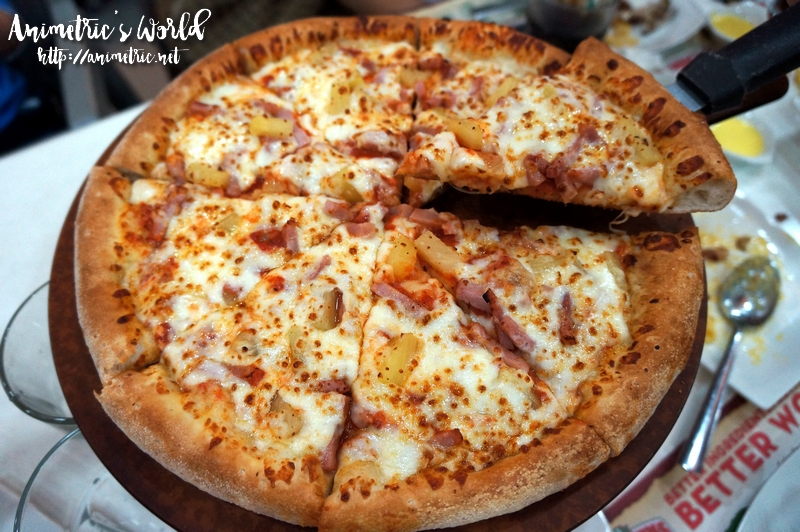 This is how The Hawaiian (P475 for Party Size) looks after it's baked in the oven. It may seem like a simple pizza but it's really good! The Canadian bacon makes a big difference compared to the usual ham, pineapple, and cheese combination that you get when you order a Hawaiian pizza in other places. I liked it a lot!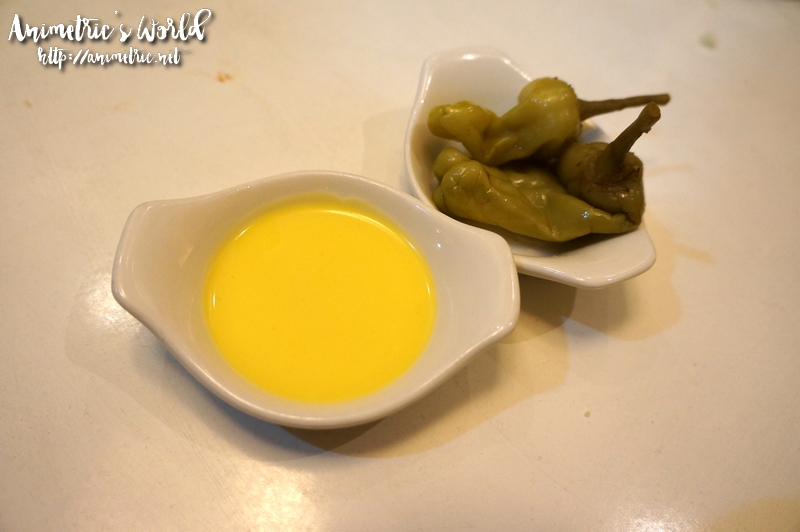 Whenever you order a pizza at Papa John's, you're given a small serving of dipping sauce and jalapenos on the side. The dipping sauce is made of butter and garlic and wow, you just have to dip your crust in it… it's sooo good. I also like munching on the jalapenos as they're not too spicy and I feel they enhance the Papa John's pizza experience.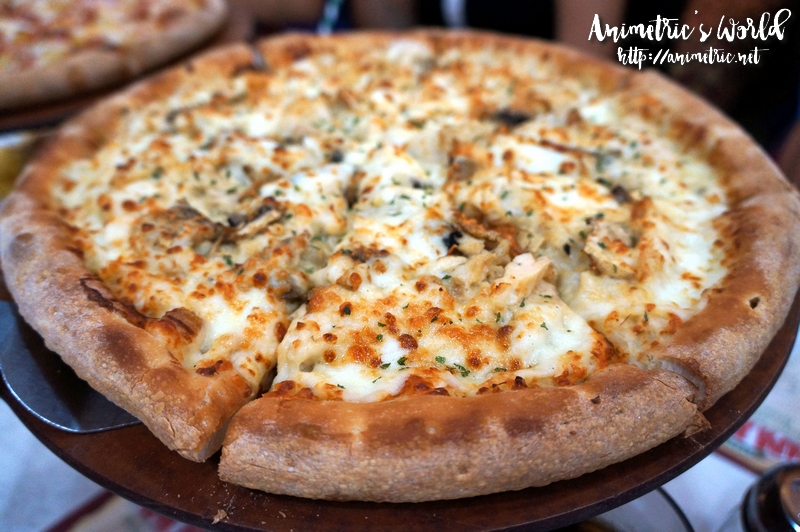 We were also served Papa John's newest pizza variant — the Chicken Carbonara Pizza! It's topped with creamy carbonara sauce, crispy bacon, grilled chicken, onion, mushroom, and a blend of Parmesan, Romano, and Mozzarella cheeses. It's very rich. A 14″ Party Size Chicken Carbonara Pizza costs P485. Personally I prefer The Hawaiian though. 🙂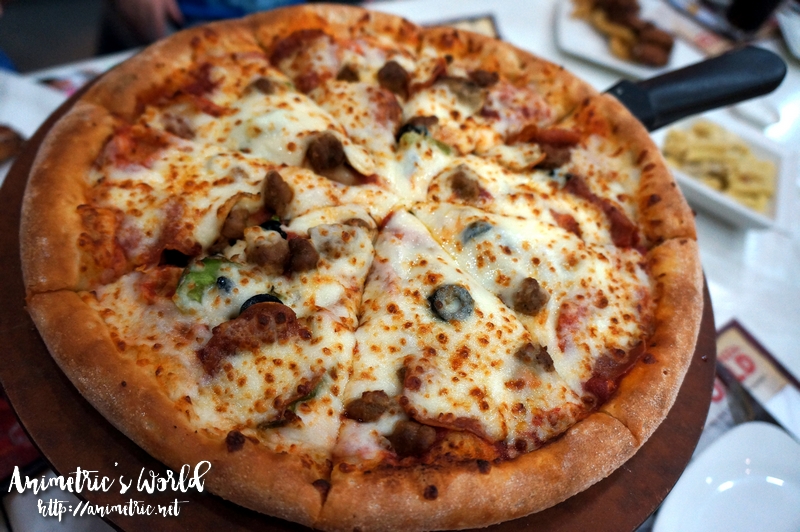 Of course we also had Papa John's signature Super Papa (P575 for Party Size). This one is topped with pepperoni, Italian sausage, ham, mushrooms, onions, green peppers, and black olives. This is the actually the first Papa John's variant I tried during one of my trips to the US several years ago.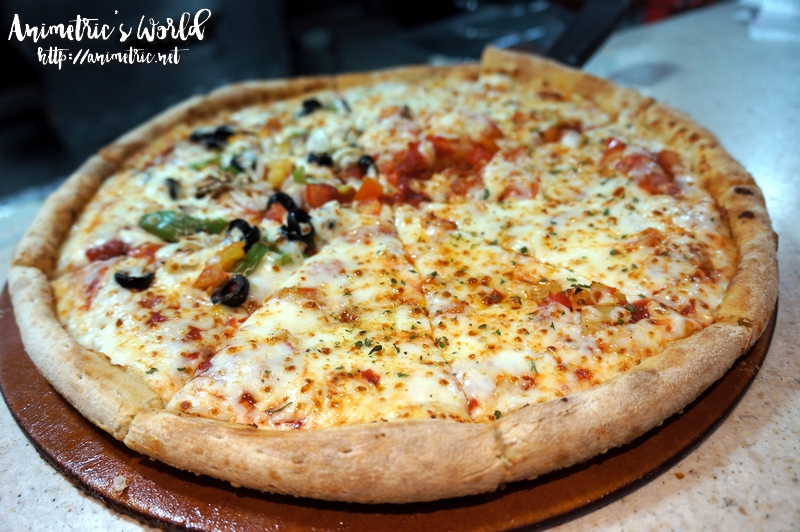 Can't make up your mind what to order? You can actually combine two different variants in one pizza and order Half & Half — but only if you're getting a 14″ Party Size pizza. Papa John's pizzas are so filling I can call two slices a complete meal.
Did you know that you can get 50% off your bill every Thursday if you dine at Papa John's wearing a Papa John's shirt? 😀
Log on to http://www.papajohns.com.ph/ to find the Papa John's store nearest you. 🙂
Like this post? Subscribe to this blog by clicking HERE.
Let's stay connected: