Until now, I've only been reading about people getting locked out of their Netfix accounts. Like all of a sudden, they can't login anymore when in fact they're still the one paying for it. Then someone attempted to hack ours. I knew right away when I received the two text messages below one minute apart. So… this is how they hack Netflix accounts. Who are they? I have no idea. The number the initial text came from was an unfamiliar Globe number.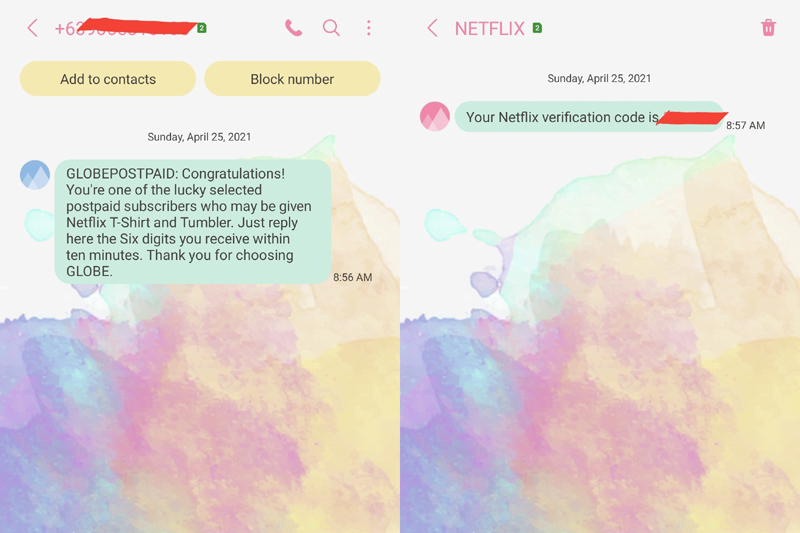 Okay so how do they hack Netflix accounts? This is one way, but there are probably other methods. Last Sunday, April 25, I received a text from an unknown Globe number which claimed to be GLOBEPOSTPAID. It said I was one of the lucky subscribers who *MAY* be given a Netflix T-Shirt and Tumbler. Then it says to text the 6 digits that I receive within 10 minutes.
Okay so what is wrong with this picture?
I've been subscribed to Globe for over 20 years and they would never use a prepaid number to contact their subscribers.
Text says you *MAY* be given a Netflix T-Shirt and Tumbler. It's not even guaranteed so they have no business asking for any type of information. Anyway, even if they said they'd give you a shirt and a tumbler, it's still not worth sending them info… especially if you don't remember joining any such promo. This is quite easy to verify because you can just call Globe or message their socmed accounts to ask if they actually are giving away whatever it is the text is promising to give you.
If Netflix is not sure that the account owner is the one trying to log in to their account, it will ask the account owner to key in a 6-digit Netflix verification code to authenticate the login. They will text this verification code to the mobile number you used to register with them. The scammer probably tried to login your Netflix account and then tried to say he/she forgot the password. Netflix would then ask for a verification code to prove he/she is the account owner, this is why the scam text tells you to text it the 6 digits you receive. If you text it to them, boom! They'll gain access to your Netflix and Globe accounts like what happened to another blogger.
If they get access to your Netflix account AND the Globe account linked to it, then they can charge stuff to your Globe account. Based on what happened to the other blogger, it's difficult trying to reverse and nullify these charges.
I consider myself a tech-savvy person plus I'm paranoid so I most likely won't fall for shit like this. A simple Google search however (that's how I found the other blogger's Globe x Netflix phishing story) tells me that there are still people who can be victimized by this scam.
All I can say is account verification codes, OTPs, and other similar information are not to be revealed to anyone at any time. I've won my fair share of contests and promos and the organizers would never ask for such sensitive information. Plus, you can't win a contest or promo you didn't sign up for or join.
I hope this helps. stay safe!
Like this post? Subscribe to this blog by clicking HERE.
Let's stay connected: