A few days ago, a very disconcerting email greeted me first thing in the morning. It was from Google AdSense. It informed me that ad serving was disabled on my blog due to a violation of their policies.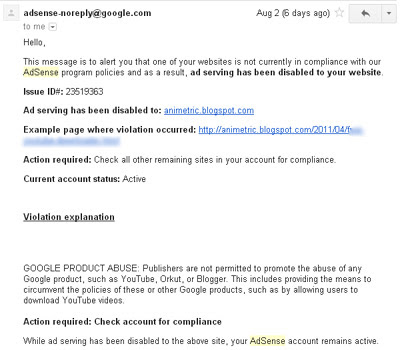 Yes, I have a couple of Google AdSense banners in place on this blog. I don't make a fortune off them. In fact, on the average I earn US$1 a day, lol. I googled a bit and saw forums with website owners lamenting the loss of their AdSense ads. They were making loads of cash, something along the lines of US$5,000 a day (although most of them were US-based). Wow. Wish ko lang no, lol. But still, US$1 is US$1, and who's going to give me free money, right? That's still US$30 a month so of course I was very alarmed all the same. An old post dating back to 2011 was what got me in trouble.
The good news was, while ad serving had been disabled, my account was still active so my violation might have been considered as not that serious. Other bloggers I know kasi deactivated talaga. There were instructions included on the email on how to appeal my case and so I immediately filed an appeal. I deleted the offensive post, as in nuked it in its entirety, and then apologized. I said it was not my intention to violate Google AdSense's policies and I honestly didn't know that I posted about something that wasn't allowed. Then I crossed my fingers and hoped for the best. I read in forums that some people had a hard time because their post was one which generated a lot of hits for their site and so deleting it would have a great effect on their traffic etc.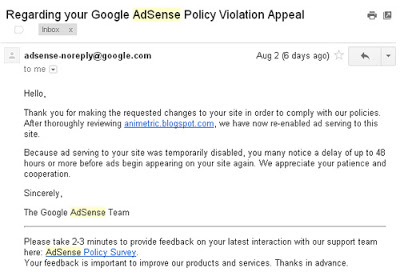 As you can see from the email dates, I got a response from Google AdSense in less than 24 hours. They said after a thorough review of my blog, everything was A-OK and ad serving had been re-enabled. Whew! Afraid naman, lol. I think it helps to respond immediately once you get served a notice like this because I read in a forum that Google AdSense gives you three (3) business days to act (although there's no mention of that in the e-mail).
I've heard a lot of stories from fellow bloggers about getting kicked out of Google AdSense and not being able to go back and so yes, I was really worried the entire time while I was waiting for them to respond.
Anyway, if you have a website and you're using Google AdSense, you can avoid the stress and heartache by thoroughly reviewing the following:
I hope this is helpful somehow. 🙂

Like this post? Subscribe to this blog by clicking HERE.
Let's stay connected: