One of the best food delivery experiences we've had came from Nabe Japanese Izakaya and Hot Pot. We had their Nabe On-The-Go Set which you can get along with a lightweight and portable Nabe hot pot cooker! We're not yet willing to dine in and hot pot places are among our go-to's so we took the experience home.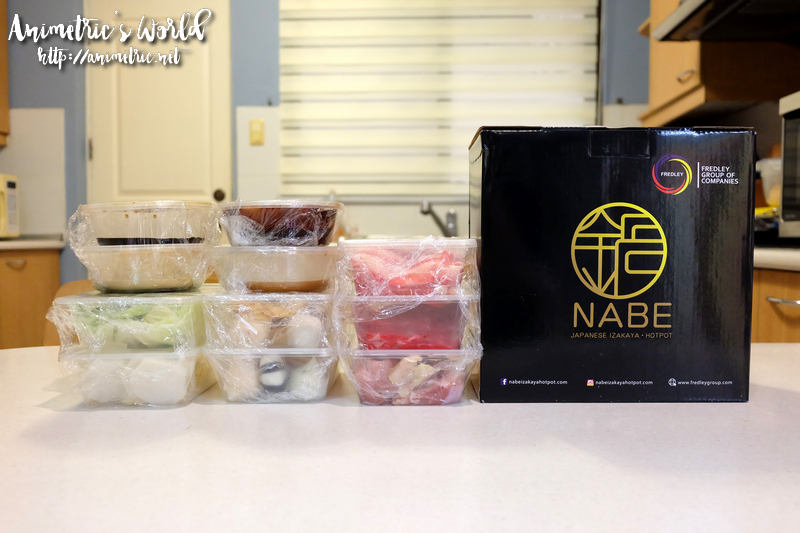 We had one of the Nabe On-The-Go sets which includes soup bases, meats, veggies, and assorted balls (Deal 4, which is good for 4 people). You can get the cooker for an additional P400.
This is the cooker, unboxed. It's really simple to operate. Just plug it in and turn on the switch. There are 2 heat levels, 1 and 2. We used 2 to boil the soup and cook then switched to 1 after it got sufficiently hot. The pot is attached to the stove so you have to be careful when washing this.
All of these came with our Nabe On-The-Go set.
Their beef is of really good quality! This one is our favorite.
This fattier beef is yummy too.
The Chicken Thigh Fillet was meh. Well I don't like chicken very much plus I don't think bagay sila sa hot pot.
We got 2 containers of assorted balls and beancurd skin. Sayang lang walang mozzarella balls, which is my favorite. But what's included are all good.
We also had corn, assorted mushrooms, radish, and tofu slices.
We got 2 soup bases — Spicy Miso and Tonkotsu and 2 sauces — Goma Dare and Ponzu.
Just fill the pot with water and mix in the soup base. Wait for it to boil. After it boils, put in the balls, veggies, mushrooms, etc.
The meat goes last because they cook pretty fast (well except for chicken).
We completed the experience by playing "Japanese restaurant music" on Spotify lol. Anyhow, it was a rainy Sunday lunch when we had this and it couldn't be more perfect. The broth, meat, veggies, and balls all went very well together. It was such a satisfying weekend lunch, one of the best we've had since quarantine started really. Price is reasonable too. If you already have a hot pot cooker at home, Nabe On-The-Go set prices start at P599. You can check the different sets and prices HERE.
For orders and inquiries, just message the Nabe Japanese Izakaya and Hot Pot Facebook Page.
Like this post? Subscribe to this blog by clicking HERE.
Let's stay connected: