Last April 10, we flew to Seoul, South Korea for a short vacation. We had booked roundtrip tickets from Manila to Incheon via Cebu Pacific during their sale. It cost about P5.5k per person. I remember the first time hubby and I went to Tokyo, Japan. There were no budget airlines back then. The 4-hour flight cost about US$500 per person. Now US$500+ could bring hubby, myself, and two kids to South Korea which is a same 4-hour flight! 😀
Anyhow, we booked our accommodations at Hotel Skypark Myeongdong 1. It's located right smack in the middle of Myeongdong, South Korea's popular shopping district. It's a 5-7 minute walk from the bus stop where you're dropped off by the airport bus. While a bit inconvenient if you're lugging around all your suitcases, it's well worth the effort due to the location.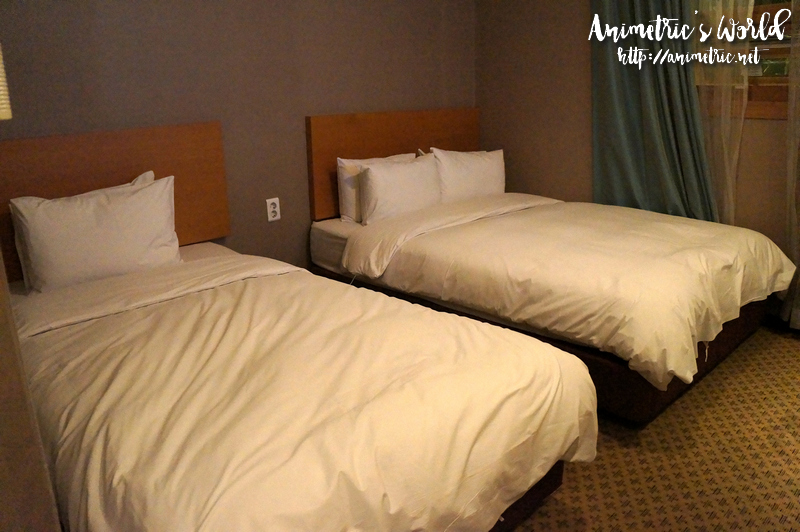 We booked a Deluxe Twin Room at Hotel Skypark Myeongdong 1. It's a triple room, furnished with one single bed and one double bed. Since we were 2 adults and 2 kids, it wasn't a problem. Hubby stayed on the single bed while the kids and I occupied the double bed. They have no room for 4 adults at this hotel. It cost around P7,000+ a night. A Regular Double Room costs around P5,000+ a night.
The room is small but equipped with everything you need. There's a small dresser with a house phone, electric kettle, lamp, facial tissues, and outlets for your chargers. Stuff like shower caps, sanitary bags, a sewing kit, and a laundry bag are in the drawer. They don't provide toothbrushes and toothpaste so bring your own.
There's a small HD LCD TV, a digital safe where you can lock up your valuables, and a small refrigerator with complimentary bottles of water which they replenish daily. Since our room was for three people, we got 3 bottles of water a day. There are also cups for drinking. There's free wifi access internet access in every room in every floor, including the lobby!
The room also had this remote controlled cartridge-type aircon which we would always set at 19 C. It's really nice, cold, and quiet! 😀
They also provide hangers, a hair dryer, shoe horns, robes, and slippers.
The bathroom features a high-tech push button toilet bowl which has a seat warmer. There's a detachable showerhead too and of course towels for three people.
Their idea of basic toiletries include toner and emulsion aside from soap, shampoo, and shower gel.
We were lucky they had a promotion for free breakfast during our stay. Normally you pay 7,700 won (around P293) for the hotel breakfast buffet per adult head. Children eat for free. Downside is, it's the same selection every single day. There's hotdogs in ketchup, sweet corn kernels, hard-boiled eggs, green salad, bread (optional butter and jam), pineapple slices, orange wedges, and cold cereals. Available beverages include coffee, a selection of teas, milk, orange juice, grape juice, and water. Simple but sufficient, plus we wanted to save money since we eat lunch and dinner on our own hahaha.
The area outside our hotel is a virtual shopping and street food paradise. Across the main door is Skin Food, Espoir, The Face Shop, Etude House, Tony Moly, The Saem, and the 24-hour burger joint Lotteria. Beside the hotel is Uniqlo, Nature Republic, Smoothie King, and 7-11. Walk around a bit and you'll see food carts selling stuff like squid crackers, caramel cookies (see above), skewers, manju, fruits, etc.
Check out this food stand near our hotel selling all sorts of skewered meats! There are lots of nice restaurants in the vicinity too… you'll never be hungry in Myeongdong! 😀
Some more plus points:
The hotel is located near the Myeongdong station subway entrance.
Staff are nice and trustworthy. Our friend left her cellphone in the room after checking out, she came back for it several hours later and it was at the front desk.
Each room has an air purifier. There's no cigarette stench even if all rooms are smoking rooms.
Free water and ice station on every floor!
The lobby is overflowing with Etude House and other discount coupons!
You can literally shop till you drop in Myeongdong!
Hotel Skypark Myeongdong 1
24-23 1-Ka Chungmu-Ro, Jung-Gu, Seoul, South Korea
(822)6900-9300
http://skyparkhotel.com/eng/html/main/main.asp
Like this post? Subscribe to this blog by clicking HERE.
Let's stay connected: