You know what? One of the reasons I just can't lose weight is because I love buffets. As in love love love. A diverse eat-all-you-can buffet meal is my idea of indulgence. Thus when we were invited to try the Hotel Rembrandt buffet dinner in Quezon City, I said yes. Well there's also the fact that's the location is super convenient for me because I don't have to venture far from home.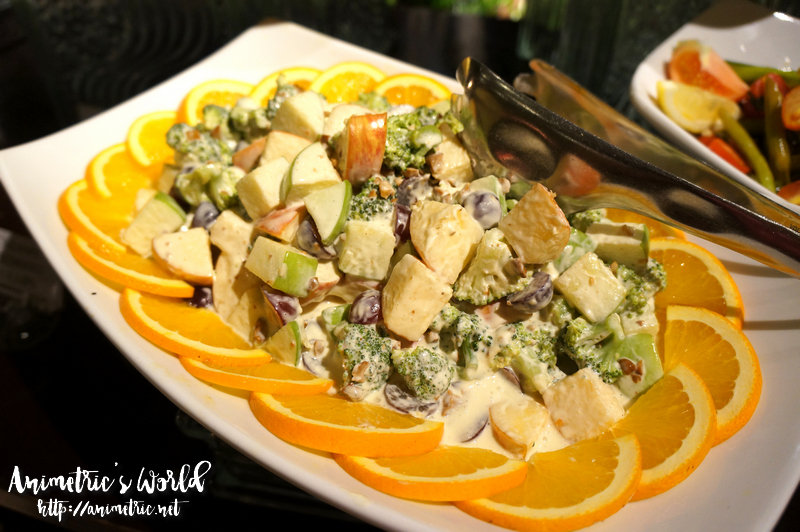 Apple Broccoli Salad
So anyway, just like most hotel buffets, the Hotel Rembrandt buffet offers an array of salads…
DIY Salad
…yes, even DIY salad wherein you make your own using the available ingredients and dressings.
Assorted Fritters
Appetizers? Yes those too. There are a lot — from Antipasto Skewers to Creamy Tomato Cups to Assorted Fritters.
DIY Nachos
The DIY Nachos reminded me of kiddie party nacho booths, lol.
Roast Chicken ala Pobre
There are a lot of main dishes too, all perfect for pairing with rice such as this Roast Chicken ala Pobre that's topped with gravy and lots of crunchy garlic.
White Fish Vera Cruz
I didn't try this because I didn't feel like having fish that time.
Broccoli and Cornet
Surprisingly, this vegetable dish is what I liked best. I loved the combination of the sweet, crunchy broccoli and cornets, juicy mushrooms, and sweet-savory sauce.
Beef Tangerine
Porchetta and Grilled Prawns
I did have some yummy Porchetta though! Told the dude at the Carving Station to give me lots of crunchy skin wheee! Hubby had a lot of Grilled Prawns.
French Roast Chicken
More chicken at the Carving Station!
I told them to make me some mami at the Noodle Station and they brought it to my table afterwards. It was oddly comforting. I think I was in a veggie kind of mood that night because I super enjoyed the vegetables in my mami. If mami isn't your thing, you can also DIY your own pasta at the Pasta Station.
One thing I would improve is the dessert selection. There were maybe 5 kinds of dessert and they ran out of those little glasses with cake and cream so I had to settle for these bars…
…and mini cupcakes. There were fresh fruits too but they didn't last very long, haha!
Granted it's a modest spread compared to other hotels but still, it's value for money because if you order several dishes ala carte you would probably end up spending more than P650, which is the price per head for the Hotel Rembrandt buffet dinner. What I do want to try however is Hotel Rembrant's merienda buffet lol! I heard it's P199+ per person and they have DIY pastas, noodle soup, sliders, puto, minatamis na kamote… etc.
The Hotel Rembrandt buffet dinner is available every Thursday and Friday from 6pm to 10pm at The Lobby.
The Lobby @ Hotel Rembrandt
26 Tomas Morato Ave., Quezon City
373-3333
Like this post? Subscribe to this blog by clicking HERE.
Let's stay connected: