Some weeks ago, hubby, the kids, and I spotted a new restaurant at SM Aura — Honolulu HK Cafe. We were hungry and there was a line outside, so we passed it up. Established in 1940, Honolulu HK Cafe is actually known as Honolulu Coffee Shop in Hong Kong. The place is famous for its Egg Tarts. I made a mental note to visit the place soon.
Today is the day I finally get to try Honolulu HK Cafe. I was invited to a food tasting with a few other bloggers and media people.
I compared the interiors of Honolulu HK Cafe in SM Aura to the interiors of their Hong Kong branches based on photos online. What can I say? The Philippine version is so much better in terms of aesthetics.
We had their star product as our starter, the Honolulu Egg Tart (P50). This is the famous Egg Tart that always gets sold out in their Hong Kong stores. Mmmm what can I say? The crust is incredibly light and flaky. To say that the center is creamy is an understatement… it's almost molten! Most importantly, it's not overly sweet. Definitely a must try.
This is the Honolulu Bo Lo Bun with Butter (P60). Other places call this type of bread Polo Bread / Bun. OMG. This is THE BEST Bo Lo / Polo bread I've ever eaten. It's got this crispy texture going on outside but it's super soft and chewy inside. And the butter! Whoa, the big slice of butter in the middle makes it so heavenly. So sinful. Sooooo good!
Next up was the Crusty BBQ Pork Bun (P60). I find it reminiscent of Tuan Tuan's Pork Bun, not so much Tim Ho Wan's. I liked that it isn't greasy nor is it too sweet. Tim Ho Wan's is a tad too oily for my tastes and I get umay all too soon.
This is another popular dish in Hong Kong, Curry Fish Ball (P198 for 10 pcs). I'm normally not very fond of curry but I enjoyed this. The curry is comforting, not too strong nor spicy. Definitely a kid-friendly dish.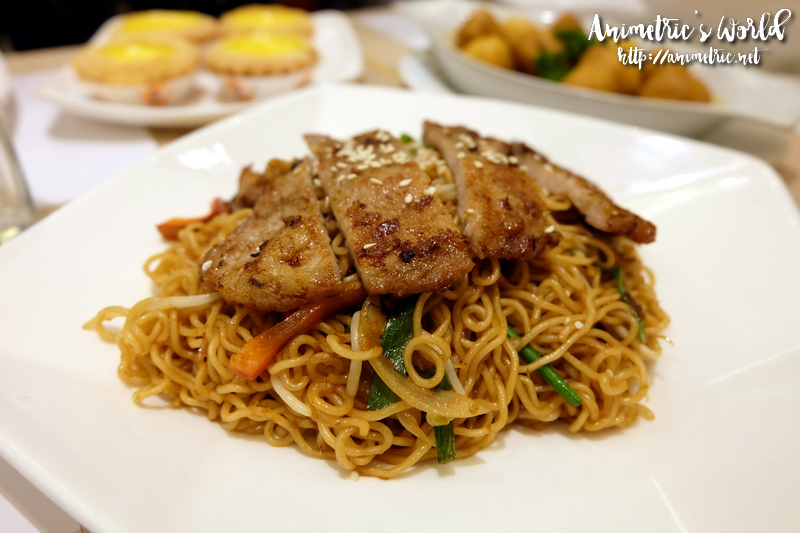 Stir Fried Hong Kong Style Noodle with Pork Chop in XO Sauce (P268) is really delicious. The noodles are perfectly cooked and they have this toasty flavor I couldn't get enough of. The pork chop is equally good.
I don't know why but this is a standard offering in almost all eateries in HK — Hong Kong Style Noodle Soup with Fried Egg (P198). Lol, they forgot to say Luncheon Meat. I'd name this Instant Noodles with Luncheon Meat and Fried Egg because that's what it tastes like. I'm pretty certain they used Ma Ling Pork Luncheon Meat, which is good because it's not too salty. The broth has a predominantly sesame oil taste.
I love the flavor of Deep Fried Honey Garlic Spareribs (P288) but I found there's too little meat and too much bone.
This is Beef Brisket Hong Kong Curry in Casserole (P328). It's very saucy and packed with lots of meat and veggies. If you like curry, this is a must-try.
We also had Baked Rice with Pork Chop in Tomato Sauce (P298). Alternatively, you can have Baked Spaghetti in place of Baked Rice for the same price. This dish is a meal in itself because it's already complete — rice, veggies, meat, and lots of yummy gooey cheese. I love the tomato sauce!
Washed down all the food with the Hong Kong Style Milk Tea (P120), which can be ordered hot or cold. This is best described as light and refreshing but with the depth of real brewed tea. It's very easy to finish a glass.
What I've tried today is not even half of the Honolulu HK Cafe menu but I can say that everything was good. I can't wait to go back with the whole family! Their breads are all take home worthy too. Prices are reasonable and there's a pretty diverse selection of food.
Honolulu HK Cafe
LG/F SM Aura Premier
26th St. cor. McKinley Parkway,
Bonifacio Global City, Taguig City
886-3333
Like this post? Subscribe to this blog by clicking HERE.
Let's stay connected: