Since we are in a beauty kind of mood (I promise to continue my skin care regimen series in a few!), let's check out something new from Korean brand Holika Holika. Today I shall share my experience with the Holika Holika Pro Beauty Enamel Volip Tint (P545).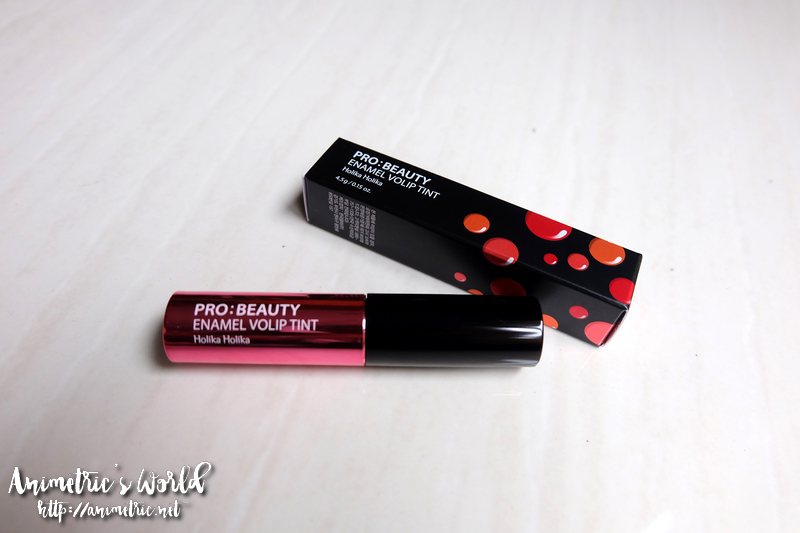 Holika Holika Pro Beauty Enamel Volip Tint is a highly pigmented glossy lip tint that moisturizes and repairs lips. It's enriched with Argan Oil, Evening Primrose Oil, Peach Extract, and Mango Extract. It actually does smell like peaches.
Holika Holika Pro Beauty Enamel Volip Tint comes with a flat sponge-tip applicator for more control. There are six (6) vibrant shades available and thank goodness they sent me #PK01 Muse Pink. There was a time when brands kept sending me coral/orange toned lip products which I really really do not like (you may have seen me review them lol). I'm just happy that's not the case with this product.
Here's a swatch of #PK01 Muse Pink. It's very vivid… kinda like paint or nail polish, thus the term Enamel I guess.
I was in a rush to go out so I didn't have time to exfoliate my lips which were kind of dry that day. Even so, Holika Holika Pro Beauty Enamel Volip Tint went on very smoothly over my slightly chapped lips. It's actually buildable so if you apply with a lighter hand, you'll get a sheer yet translucent wash of glossy color. Put on more product and you end up with more solidly colored lips that shine like glass.
My daughter actually exclaimed "Mommy your lips are so bright and shiny!".
What I like about Holika Holika Pro Beauty Enamel Volip Tint:
It's basically a super shiny lip tint that smells yummy and isn't sticky.
It's moisturizing. I applied it on dry and chapping lips and it went on like a dream.
You can easily control how subtle or how high-impact you want your look to be.
The applicator makes it very easy to apply nicely, in accordance to your preferred lip shape.
Glossy lip products usually dry out my lips… this one doesn't.
It's reasonably priced at P545.
Downside? None really… even the packaging is a winner!
Holika Holika Pro Beauty Enamel Volip Tint is available for P545 at Holika Holika counters at SM Department Stores in SM Cubao, SM Megamall, SM Makati, SM Manila, and SM Mall of Asia. You can also buy from https://beautymnl.com/.
Like this post? Subscribe to this blog by clicking HERE.
Let's stay connected: