Having recently thrown away a lot of old and used makeup when I was cleaning out my dresser last December, now is really the perfect time to roadtest new makeup products. There are very few makeup products that I find indispensable and mascara is one of them. My newest mascara discovery is Holika Holika Magic Pole Mascara (P535).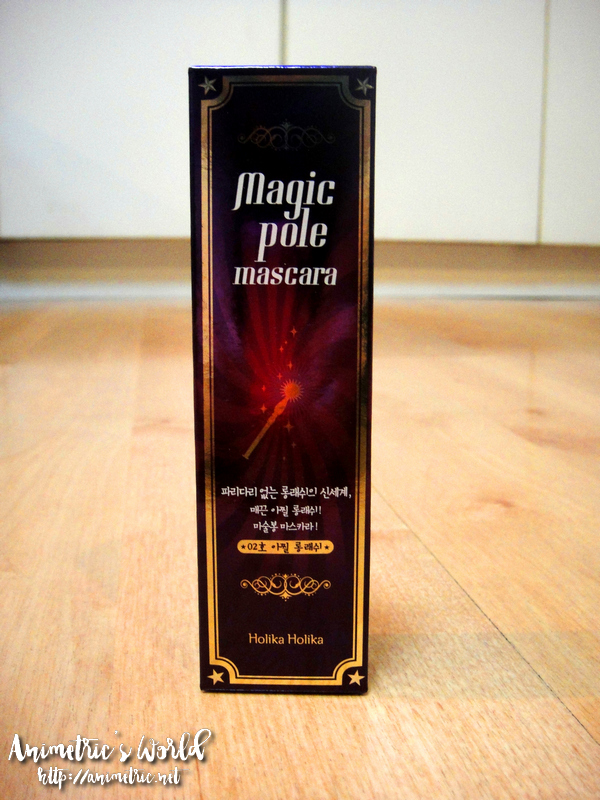 There are two types of Holika Holika Magic Pole Mascara: #1 Power Volume and #2 Long Lash. I got type #2 Long Lash.
I had to take a photo from this angle to show you the nice metallic triangle-shaped packaging.
It unfolds to reveal a tube of Holika Holika Magic Pole Mascara.
The tube itself exudes a magic wand-ish vibe.
There are application instructions inside the box too.
What really sets this mascara apart from others is its unique wand that has a "magic ball" at the tip.
Here's a closer look.
Surprise, the wand is super flexible too!
Anyhow, for best results, it's best to use an eyelash curler (I use Shu Uemura Eyelash Curler) to curl your lashes first prior to applying this mascara (or any mascara in general). After curling your lashes, you use the straight part of the want to coat your lashes with product — lengthening them in the process.
After your lashes are coated with mascara, you use the magic ball tip to separate and manipulate the lashes to the direction you want (for example the lashes on the outer edge of your lids can be lengthened sideways to give your eyes a doll-like effect). So anyhow, earlier today was kind of chill for me. I was just staying inside our office and then driving the kids to and from school so I didn't bother wearing any makeup… just this, lol! I think I was able to get it right at first use.
Wow, I'm amazed at how cleanly this mascara lengthened my lashes. I find the effect is subtle enough so that I don't really look like I'm wearing mascara. My lashes but better, haha.
Here's a before and after shot. I think it lengthened and defined my lashes quite nicely.
What I like about Holika Holika Magic Pole Mascara #2 Long Lash:
It feels very light, it's as if I'm not wearing anything on my lashes.
The brush may look intimidating but it's not hard to use at all.
Lengthens and defines lashes ever so cleanly. It's probably the neatest mascara I've tried — no clumps and smudges even as I was applying it. As a result, the effect is very very natural.
There's totally no scent! Some mascaras smell weird, this one doesn't smell like anything.
It's reasonably priced at P535.
It's relatively easy to remove. I just used cleansing oil and water plus I didn't have to spend a long time taking it all off.
Downside? If you're after a volumizing / thickening product this may be a bit lacking but then that is what the other type, Holika Holika Magic Pole Mascara #1 Power Volume is for. 😀
Holika Holika Aqua Magic Pole Mascara is available for P535 per tube at Holika Holika in SM City Fairview, SM Beauty Makati, and the SM Cubao Department Store. Too far? You can buy Holika Holika products online from Glamourbox and Lazada!
Like this post? Subscribe to this blog by clicking HERE.
Let's stay connected: