I've been dying to try out the super cute Holika Holika Face2Change Glow Cushion BB (P1,295) ever since I got it some weeks ago. It's one of the cutest cushions ever because of Holika Holika's collaboration with French Illustrator Audrey Jeanne. Thus this series has been dubbed Dodo Cat.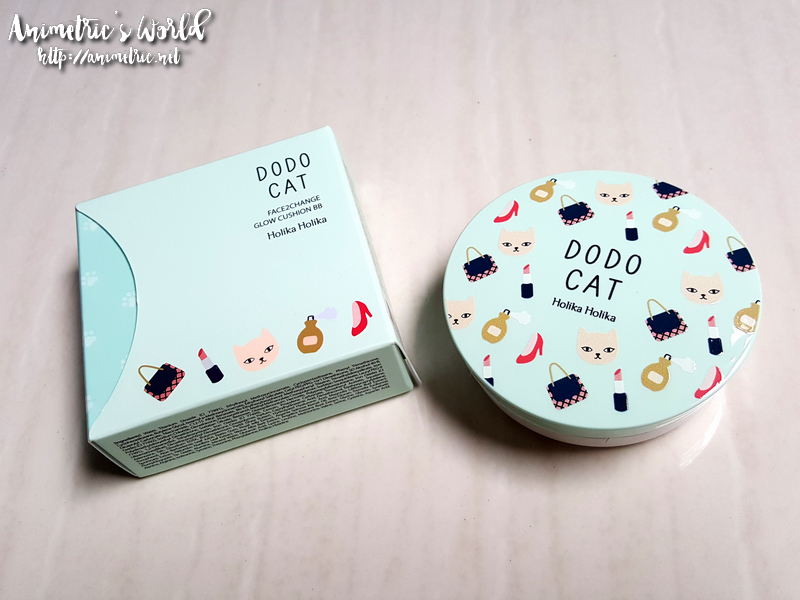 Holika Holika Face2Change Glow Cushion BB (P1,295)
I'm like OMG from the box to the compact. It's TOO CUTE!!! The Holika Holika Face2Change Glow Cushion BB is available in 2 shades: 21 Bright Beige and 23 Natural Beige. Both shades are pretty light. I got Shade 23 Natural Beige.
Even the included puff has a Dodo Cat.
Waaaah look at the cushion!!! There's a paw print which isn't just a design, it's what they call a Sheen Volume Brightener. Methinks it's a fancy term for highlighter. The rest of the cushion is referred to as the Smooth Dense Cover Base, so it's what you'll use for coverage.
See when you press the puff onto the cushion surface, the paw print is markedly white. You can either combine equal amounts of beige and white to pat onto your entire face, or you can cover and highlight. By cover and highlight I mean apply beige all over skin surface and then pat on some of white on parts where light would hit for a glowing effect.
Here's a swatch of the base and the brightener.
Wow it practically disappeared when I patted it onto my skin. I'm so impressed!
Holika Holika Face2Change Glow Cushion BB definitely lives up to its name. It's a lot got more brightening power compared to other BB cushions I've tried and reviewed in the past. I topped with translucent powder to minimize the shine.
What I like about Holika Holika Face2Change Glow Cushion BB:
The packaging!!! The Dodo Cat compact designs (yes there's more than one) are so cute I just want to collect them all.
It feels nice and cool when you pat it onto the skin.
It's easy to blend — just pat away for an instantly smooth, bright, and flawless look.
It's lightweight so there's no heavy mask-like feeling.
It's moisturizing, so it's nice for normal to dry skin.
Downside? Coverage is quite light, so you'll definitely need more than this if you have pimples or other flaws to cover. Both shades are also on the fair side so it may not be suited for darker-toned skin. If you have oily skin, it may be a good idea to top off with powder as it's not really an oil control product.
Holika Holika Face2Change Glow Cushion BB is available for P1,295 at Holika Holika counters at SM Department Stores in SM Cubao, SM Megamall, SM Makati, SM Manila, SM Mall of Asia, and SM Fairview (boutique). You can also buy online from https://beautymnl.com/ or order from the Holika Holika Facebook Page.
Like this post? Subscribe to this blog by clicking HERE.
Let's stay connected: