Before we book hotels, I always make it a point to check reviews. I distinctly remember a hotel in Hong Kong that my hubby booked last June. The negative reviews were overwhelming but he made reservations anyway because it was so cheap. I felt like I was sleeping on a wooden board for 5 nights. Anyway, I will publish THAT review very soon so you don't make the same mistake lol.
I stayed in Malaysia for 3 nights last month. For the first 2 nights, we were billeted at Holiday Inn Melaka. Although the entire trip was courtesy of Julie's Biscuits, Holiday Inn Melaka did not sponsor accommodations so this review is from the perspective of a regular customer.
I was impressed the moment I stepped into the lobby of Holiday Inn Melaka. Everything seemed to sparkle. We were all very tired from the long journey. Our 1pm flight took off at 4:30pm, so we arrived in Malaysia around 8pm. The bus ride from Kuala Lumpur International Airport to Malacca lasted a couple of hours too.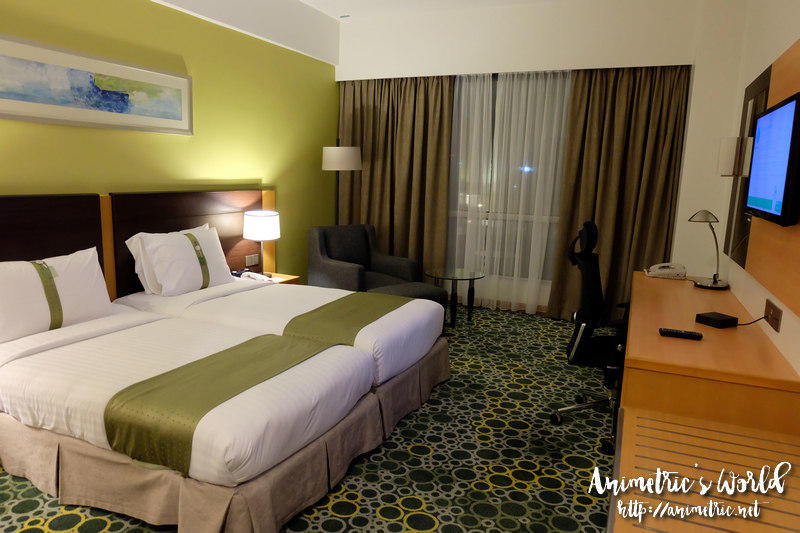 Fellow blogger Rochelle Rivera was my assigned roommate. We decided to take photos of the room right away. We figured we might not have time to do so the following days since our schedule was packed.
Our Deluxe Room had two single beds beside each other, a lounge chair, and a coffee table. It was very spacious. You can choose what kind of pillow you want too — Soft or Firm.
We also have a study table which can double as a vanity table. There's a flat screen TV mounted on the wall.
There's a hair dryer in one of the drawers. It was good in the sense that it dried my hair efficiently. I've been to hotels with useless hair dryers and it can be frustrating.
Like most hotels, complimentary bottles of water were provided. There was also free coffee and tea as well as an electric kettle we could use to heat water. The Julie's Biscuits folks also made sure we had some Julie's Biscuits to snack on during our stay.
Our bathroom was pretty spacious too.
They actually have a complete set of toiletries for guests — shampoo, soap, lotion, toothbrush + toothpaste, cotton buds / pads, shower caps, etc.
The shower stall was equipped with both a handheld shower head and a rainfall-type shower mounted on the ceiling.
Robes, slippers, and an ironing board were all in the closet. There's a digital room safe in there too.
Our room came with buffet breakfast. I took this photo a little before 7am and it's still so dark outside! It's already bright and sunshine-y here in Manila at 6:30am.
I'm such a tita, I actually liked the congee station best among all the breakfast offerings. Yes, even more so than the omelette, salad, and noodle stations. I loved all the congee condiments, especially the lettuce in soy and boiled peanuts.
Because Malaysia is a predominantly Muslim country, there's never any bacon (of the pork variety) for breakfast in hotel buffets. Instead you get stuff like chicken sausage, sliced beef, and the like. They also have soft-boiled eggs, veggies, hash browns, noodles, rice, etc.
They had all sorts of breads and pastries at the breakfast buffet but what I really liked were these steamed buns. They're color-coded, meaning each color has a different filling. Yellow is for custard, pink is for red bean, white is for meat, and so forth.
I had a lovely 2-night stay in Holiday Inn Melaka. Our room was spacious, clean, and comfortable. The breakfast buffet has a really wide variety of food. There's free wifi internet and it's pretty good. If you play Pokemon Go, the hotel has a number of Pokestops too. Pokemons spawn (prepare for hordes of Voltorbs and Magnemites) even if you just stand in your room. Sorry, I'm a Pokemon Go addict hahahaha! There are shopping malls and restaurants in the surrounding area too, all walking distance from the hotel. Kids stay and eat for free here too!
I checked the room rates at the Holiday Inn Melaka website and was plesantly surprised that our room, complete with breakfast buffet, cost a very reasonable US$75 per night. I'm definitely booking this hotel again if I go back to Malacca.
Holiday Inn Melaka
Exit Jalan Syed Abdul Aziz,
75000 Malacca, Malaysia
+(60)6-2859000
http://holidayinnmelaka.com/
Like this post? Subscribe to this blog by clicking HERE.
Let's stay connected: