We had a late dinner with friends at Hokkaido Ramen Santouka in Glorietta about a week ago. It was about 9pm in the evening. I was surprised to find that we had to queue up a bit to have a seat considering it was a weekday and it was already quite late. The last ramen place we visited prior to this one was Ikkoryu Fukuoka Ramen at SM Aura Premier about a month before. Both Ikkoryu and Santouka are franchises from Japan.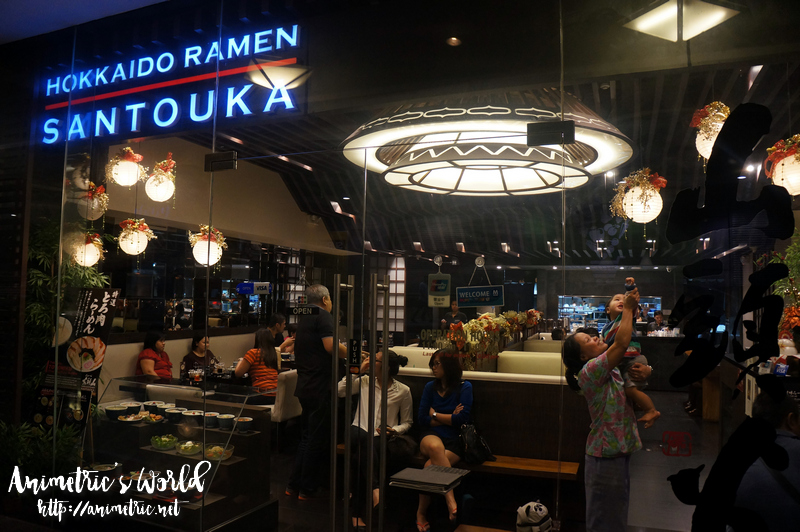 Fortunately, we just had to wait about 5 minutes only. We were quickly assigned a table for four.
We were given menus and a set of spoons, napkins, and chopsticks.
Each table had a set of condiments too.
Hubby ordered a set meal called Small Ramen & Fried Chicken & Small Rice Bowl Set (P490). You can choose from the following soup bases for your ramen: Shio (Salt), Shoyu (Soy), Miso (Soybean Paste), and Kara-Miso (Hot Soybean Paste +P20). Hubby opted for his favorite Shoyu. This meal set gives you very good value for money because it comes with salad, kimchi, a ramen egg (also known as Ajitsuke Tamago or marinated soft-boiled egg), a bowl of steamed rice, and a serving of fried chicken with dips. I had a taste of his Shoyu and with one spoonful it managed to coat my lips with thick oil. I thought it was nothing special.
The chicken is really crispy and tender, hubby liked it a lot.
I had Santouka Chicken Ramen (P300), a light chicken soup with a hint of fish. They only make 15 bowls a day according to the menu, a fact which I found intriguing. I was surprised it was still available past 9pm considering they open at 10am. Anyhow, the server managed to spill some of the soup on me when she came and a bit of it splashed onto my camera. She was very apologetic and ran off to get a bunch of napkins to clean up the mess.
I thought the soup was bland, the chicken pieces were salty, and the egg (Ajitama Tamago), although soft-boiled, was also bland and did not quite have the sweet-savory taste I was expecting (like Ikkoryu's eggs). The noodles were not as firm and chewy as I would have liked, they reminded me of instant noodles. Suffice to say I was quite unhappy with the Santouka Chicken Ramen and I managed to eat maybe half (or less) of my order before I finally quit.
Although my Hokkaido Ramen Santouka experience wasn't stellar, I'm still willing to go back and order a different ramen next time — although I'm not willing to wait a long time in line so my future visit has to happen under convenient circumstances. I dislike chicken so I may have been biased but hubby was quite happy with his meal. I maintain though that their Ajitama Tamago (ramen egg) pales in comparison to Ikkoryu's. Service was okay (it would have been better if the server didn't spill soup on me but accidents happen) and prices are reasonable in general.
Hokkaido Ramen Santouka
G/F Glorietta 4, Ayala Center,
Makati City
728-1381
Like this post? Subscribe to this blog by clicking HERE.
Let's stay connected: