I've been wanting to try Hobing Korean Dessert Cafe for some time now. The opportunity has never come up because firstly they have no branch near our area. Secondly, whenever we are actually near one, we are usually too full from either lunch or dinner to give it a go. Last weekend, we had a light dinner at Ping Pong Diplomacy and then went straight to Hobing. Hobing is located on the 5th level of SM Aura. It's a narrow rectangular place that's brightly lit. Koreanovelas, Korean music videos, and trailers play continuously on their flatscreen TV. Without further ado we placed our orders.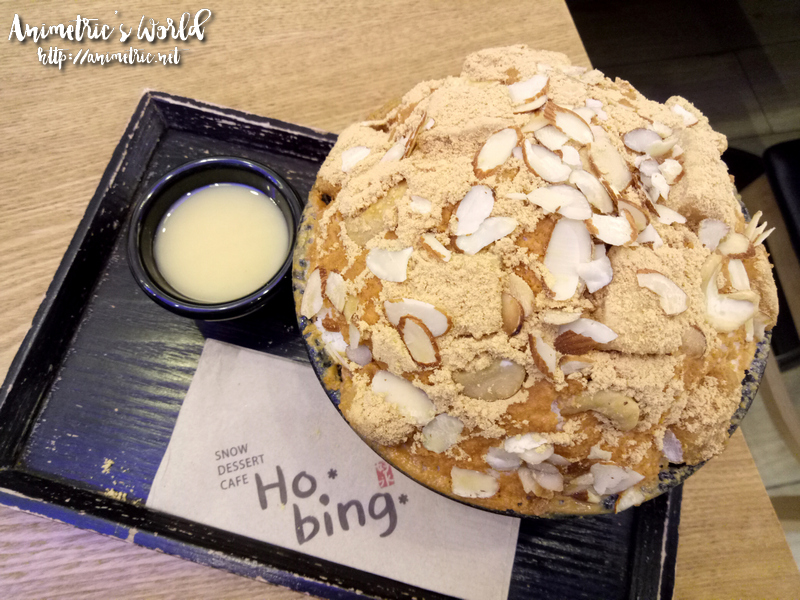 I got a regular sized Injeolmi Bingsu (P180). Iced milk flakes with the consistency and smoothness of snow is topped with soya powder, almond slivers, cashew nuts, and injeolmi. Injeolmi is a sticky chewy Korean rice cake that's reminiscent of mochi. I loved my order. It came with a small dish filled with condensed milk which I didn't use because the taste was already perfect as is. Plus I'm not a fan of overly sweet desserts. The regular size is pretty big, it proved challenging to finish. What I love about this is the iced milk flakes have layers of soya powder and nuts inside. That said, you don't have to worry about eating the toppings and then just having milk left over.
My son got a regular-sized Berry Berry Cheese Bingsu (P280). It features the same iced milk flakes topped with real blueberries, strawberries, cheesecake bits, and a dollop of whipped cream. He said it was yummy and promptly ate it all.
My daughter opted for a regular-sized Choco Cookie Bingsu (P200). Instead of iced milk flakes she got iced chocolate milk flakes topped with crushed Oreos, whipped cream, chocolate ice cream, marshmallows, and chocolate syrup. My daughter loves chocolate but this was too much even for her. She was unable to finish it, had a taste of my bingsu, and remarked that regular iced milk flakes is more refreshing and generally better than chocolate.
Hubby got a large-sized Matcha Bingsu (P330). Okay so their regular size is already pretty big and can be shared by 2 people. This one was colossal. I think 4 people can share it. The iced milk flakes are topped with matcha powder, red bean paste, injeolmi, and almond slivers. Hubby could only manage half. The rest of us tried to pitch in but it was just too big. I liked the matcha taste. It's kind of like eating iced matcha latte.
We spent a total of P990 for the desserts. Quite pricey, but what we ordered could probably have been shared by 6-8 people. That considered, pricing isn't bad at all. I for one am willing to go back and have some more Injelomi Bingsu.
Oh yeah, all photos on this post were taken using the 13MP rear cam of OPPO F3 The Selfie Expert. Nice, don't you think?
Hobing Korean Dessert Cafe
Level 5 SM Aura Premier
26th cor. McKinlety Parkway,
Bonifacio Global City, Taguig City
Like this post? Subscribe to this blog by clicking HERE.
Let's stay connected: