The best meal we had when we went to Baguio last November 2011 was definitely at Hill Station. It's actually the sister restaurant of Mario's in Metro Manila.
Large open windows greeted us when we went to the dining area. It was about 1pm and the place was well-lit by natural light from outside.
We were given complimentary bread baskets with olive oil and crushed nuts for dipping. The bread was very soft, light, and tasty — we all couldn't get enough! 😀
We shared some appetizers with the group starting with Spinach Artichoke Dip. I loved the cheesy dip and the bread especially since I was soooo hungry already. Seriously though, I'd like it just as much even if I weren't famished.
Our friends ordered Caesar Salad (P260). Although I didn't eat, I saw that it was prepared the same way as Mario's so I'm certain it's delicious.
Tex-Mex Fries was a big hit with everyone, especially the kids. Fried potato wedges are topped with ground beef in tomato sauce and cheese. I didn't get the price but it's definitely below P200.
Our son opted for a Cheeseburger (P195). It was served with kamote (sweet potato) fries on the side.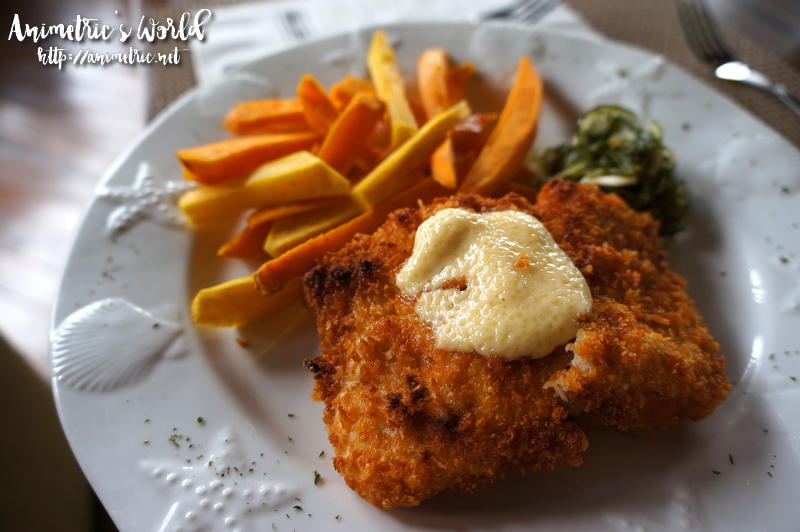 Our daughter ordered Fish Fillet with Buttered Crumbs (P320). Like the Cheeseburger, it was served with sweet potato fries. She finished the fish but didn't care for the fries, saying she preferred "normal" fries.
I had Moroccan Spiced Baby Back Ribs (P395). The meat was fall-off-the-bone tender and the sauce had a slight curry flavor. Pretty good! 😀
Hubby ordered Fish Fillet with Five Spice Chile (P340) which he rather enjoyed. It was served with rice and vegetables.
To cap off our meal, we had Milk Chocolate Tart which was Hill Station's latest dessert offering. I don't remember how much it costs because it wasn't on the menu but I think it's somewhere in the range P120 to P160. It's rich without being overly sweet, really divine! 😀
With good food and excellent service, Hill Station is a must-visit if ever you find yourself in Baguio. 🙂
Hill Station Tapas Bar and Restaurant
Casa Vallejo, Upper Session Road, Baguio City
http://hillstationbaguio.com/
Like this post? Subscribe to this blog by clicking HERE.
Let's stay connected: