During our stay at Taal Vista Hotel, we had the chance to preview their Heritage Cuisine menu that's slated for release this August 15, 2012. Each dish was crafted by Taal Vista Hotel Executive Chef Babes Austria. She made sure that the dishes maximized the use of local produce so ingredients can be sourced from Tagaytay farmers and markets.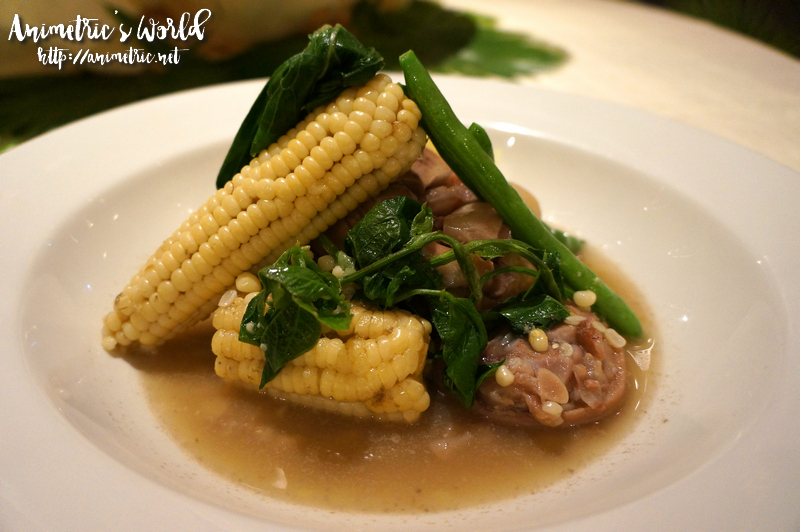 We started off with Nilagang Pata ng Baboy sa Native Mais, Gabi, at Sitaw (Boiled Pork Knuckle in Native Corn, Taro, and String Beans). I liked the fresh-tasting and flavorful soup, and I enjoyed munching on the sticky chewy white corn. The freshness of the ingredients use really shines through.
Then there was Sinantulang Organic Roast Chicken (Organic Roast Chicken with Santol). I don't eat santol but the chicken was tender and tasty — and free range, so it's more healthy.
Adobo sa Tubo ni Tatang (Stewed Pork with Vinegar and Peppercorn) is a dish created in honor of Henry Sy Sr., the patriarch of the SM empire (which includes Taal Vista Hotel). I actually liked this dish best among everything that was served. The sauce had just the right combination of sweet, savory, and sour.
Bulanglang ng Tagaytay, a medley of native vegetables simmered in Ginger and Rice Water, was a dish I failed to appreciate. I couldn't really understand what kind of veggies were on the plate so I didn't get any. Too exotic for me.
Binusang Kanin sa Balaksila (Steamed Rice Tossed in Crispy Salted Shrimp) was a hit with everyone on the table.
I liked the Pinipig Rice too… rice cooked with fresh pinipig in coconut juice.
Ensaladang Pako with Itlog na Maalat and Calamansi Vinaigrette (Wild Fern Salad with Salted Egg and Calamansi Vinaigrette) was quite refreshing although I ate everything except the fern… haha. But that's just me… XD
Tinuktok, a dish consisting of dulong (a kind of tiny fish) and prawns wrapped in fresh taro leaves braised in coconut milk, reminded me somewhat of laing with its creamy coconut flavor.
The huge Grilled Salt Crusted Fish with Tamarind Florets looked so frightening to me I didn't really get a taste.
Now for my favorite part… dessert! Caramelized Baklang Saba was a unanimous favorite. Baklang saba is a cross between cavendish (latundan) bananas (long and slender) and local plantain (saba) bananas (short and thick). The combination fruit has been christened bakla (tagalog slang term for gay man) for some reason. I don't really get the analogy but as a dessert it's pretty good, reminiscent of banana cue except that it's a lot softer and sweeter than the normal saba that is used.
Pumpkin Leche Flan, as the name suggests, is the classic Filipino milk and egg custard dessert infused with the flavor of Batangas-grown pumpkin. Creamy and delicious!
One of the best offerings of the night for me was the Avocado Mousse Cake. It's made from whipped egg whites, heavy cream, and avocado. The consistency is very light but you can clearly taste the avocado bits. I wish someone here in Manila would make something like this!
Balinghoy with Langka was a favorite among my dining companions. It's a simple dessert consisting of sweet cassava and langka (jackfruit) chunks in syrup. The cassava was yummy, unfortunately I don't eat langka as I can't stand its scent.
The Heritage Cuisine menu will be available at Taal Vista Hotel starting August 15, 2012.
For reservations, contact:
Taal Vista Hotel
Kilometer 60 Aguinaldo Highway
Tagaytay City 4120 Philippines
+63(46)413-1000
Like this post? Subscribe to this blog by clicking HERE.
Let's stay connected: