I initially declined when I got the Hennessy King of the Road invitation. I mean, I don't really drink and well… I'm not the party type lol. They told me it's more of a food and cocktail pairing event, not the drink-a-thon I was imagining plus my hubby said it seemed interesting — so off we went.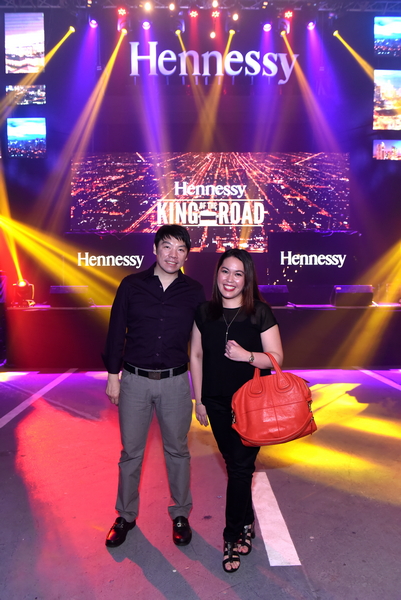 Ahhh yes, because we titos and titas of Manila need to chill once in a while, hahaha!
True enough, the event featured two really talented chefs who each prepared a few dishes to pair with mixologist Lee Watson's Hennessy cocktails. The first chef is Chef Jordy Navarra of Toyo Eatery.
Chef Jordy prepared Toyo Eatery Pork Barbecue, Beef with Star Anise and Crispy Onions, and Twice Cooked Shrimp with Dried Chili and Hennessy VS Sauce. OMG. The beef was melt-in-your-mouth divine! Everything was soooo good!
But the best part of Chef Jordy's food lineup was the Dulce de Leche Bonbons with Hennessy VS. The extra rich chocolate truffle is filled with a mix of sweet milky caramel and Hennessy! This is the perfect combination of chocolate, caramel, and alcohol. You don't taste the alcohol anymore, it's just one perfect little ball of heaven! I'm still dreaming of it.
For Chef Jordy's dishes, Lee Watson created the cocktail called Habal Habal. It's black pepper-infused Hennessy VS, bay leaf honey, and calamansi served tall with ginger beer. I actually liked its light, refreshing, and citrusy flavor. It's the perfect summer cocktail.
The other featured chef was Chef JP Anglo of Kafe Batwan. Like Chef Jordy, he had a lineup of dishes ready.
Chef JP had Laing on Toast with Talangka Butter and Grilled Coconut. It was yummy! Even my hubby who doesn't eat laing thought so.
Chef JP Anglo's Charcoal Grilled Kare-Kare Soft Shell Taco with Pinoy Sriracha was another wonderful creation. Squeezing the calamansi over the kare-kare makes it so much yummier!
But Chef JP's best dish was the Kansi Panada with Batwan Gravy. It's beef empanada that's made with incredibly soft, savory, and melt-in-your-mouth beef. We had them piping hot and freshly baked. Wow. It just leaves you speechless and wanting more.
The cocktail Lee Watson created for Chef JP Anglo's dishes was the Patok. It's Hennessy VS infused with siling labuyo, honey, calamansi, and a dash of vinegar. Sounds like dipping sauce to me, lol! I didn't like it as much as Habal Habal but it was an interestingly spicy drink.
Lee Watson created a third cocktail called Side Trip. It's Hennessy VS white chocolate, hibiscus, calamansi, and egg white served with Angostura and Peychaud's graffiti. I didn't really dig it but my hubby thought it was good.
Just before 10pm, the song Manila suddenly started playing. The doors opened and the Hennessy King of the Road suddenly drove in. It's actually a jeepney bar.
I got a chance to go in and check it out! This photo was actually taken by my elusive friend Jin Loves To Eat, lol. I say elusive because I RARELY see her in events.
Leading the way in experiencing urban Manila, the Hennessy King of the Road will take over urban hotspots throughout the metro. Follow its trail by checking out Hennessy Philippines' social media accounts on Facebook, Twitter, and Instagram.
Like this post? Subscribe to this blog by clicking HERE.
Let's stay connected: