A little over a week ago, I received a surprise package from Tupperware Philippines. I was pretty excited because I knew it was going to be Hello Kitty-themed!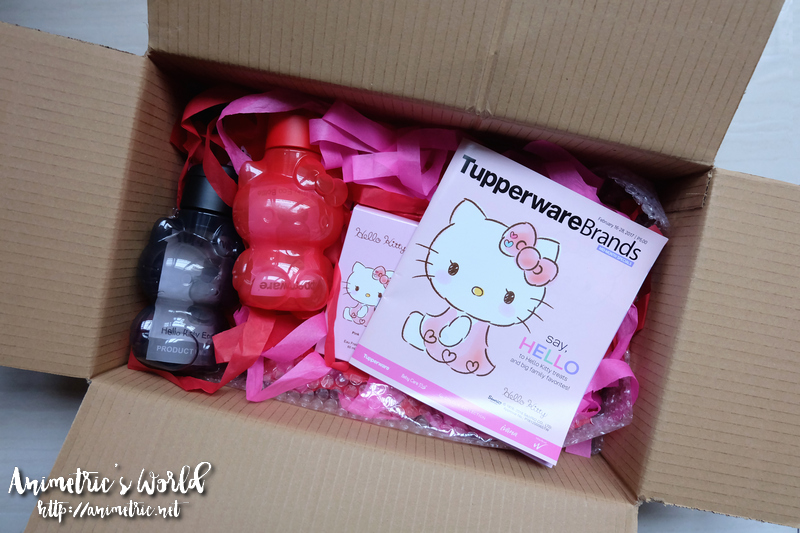 These Hello Kitty items are available only for a limited time. The good news is, you can get them at ALL Tupperware branches NOW. Let's go over them, shall we?
The most intriguing item for me was the Hello Kitty Eau Fraiche fragrance. The box is so darned cute I couldn't help but take a peek at what was inside it right away. What do you know, it's a really pretty Hello Kitty shaped glass bottle. This fragrance is available in 3 variants: Pink, Blue, and Purple. They retail for P899 each but are currently on sale at P300 off. You can grab them for a special price of P599 per bottle until Feb. 28, unless otherwise noted.
I'm really really loving this adorable bottle. The scent is fruity sweet. I generally prefer more citrusy scents so I'm guessing the Blue variant would be more my type. One spritz goes a long way in terms of fragrance so it's pretty economical. I'm so curious as to what the other 2 variants smell like.
Check out these Hello Kitty Eco Bottles with Sipper Seals! They cost P299 each. There's currently a special so if you buy 1, you can get the 2nd bottle for only P99. One bottle can hold 425ml of liquid.
The spout seal ensures that there are no drips or leaks. It's pretty easy to drink from these too.
These Hello Kitty Eco Bottles are surprisingly ergonomic and easy to hold. There are 2 colors: red and black. It'd be so cool for me to bring this to the office!
Say hello to the Hello Kitty edition of Tupperware's Kids Plus product line. There's Head-to-Toe Wash, Powder, and Cologne. The products have a light bubblegum scent which most kids will find appealing. Personally I prefer Hello Kitty Kids Plus Cologne's scent to Hello Kitty Eau Fraiche in Pink. These products are formulated for children 3-11 years old. Plus+ ingredients deliver specific kids care benefits. These products are available for P159 each or you can purchase any 2 for P279.
Check out the Hello Kitty Dining Plate. It comes with a free matching cutlery set! It's available in 2 colors: Soft Tulip and Chili (what I got). It retails for P399. Microwaveable, sturdy, and easy to clean, these definitely make every meal time fun.
These Hello Kitty x Tupperware items are available at all Tupperware branches for a limited time. Log on to http://www.tupperwarebrands.ph/contact for a complete list.
Like this post? Subscribe to this blog by clicking HERE.
Let's stay connected: