One of the places we visited in Seoul, South Korea was the Hello Kitty Cafe in Hongdae. I grew up with Hello Kitty and my daughter loves Hello Kitty so it was pretty much a given that we'd be excited to pay this place a visit. 😀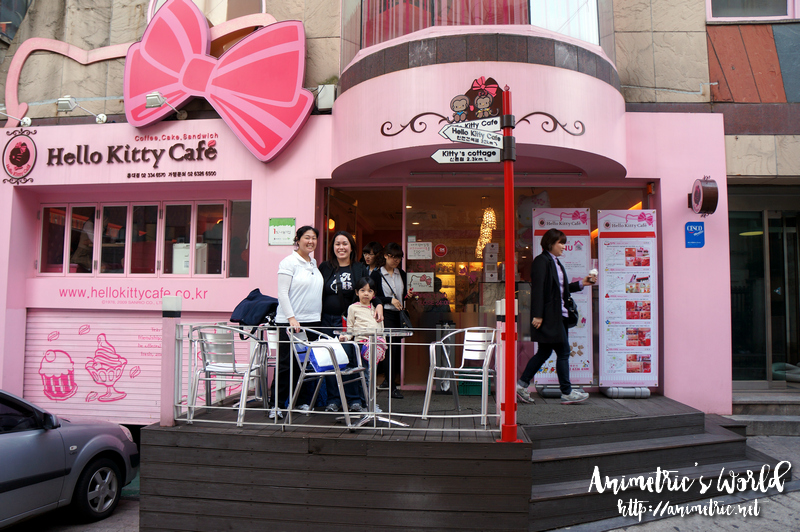 We went with friend and fellow blogger Didi!
There were typical coffee shop fare like these hot dog sandwiches which cost 3,500 to 4,000 won (around P133 – P152).
An order of Hello Kitty Caramel Waffle costs 3,000 won (about P114).
There are lots of Hello Kitty items like stuffed toys, cups, keychains, cellphone straps, pins, etc. for sale.
Even some of the things on display are for sale.
This is the Hello Kitty-themed women's toilet. It's photogenic but in real life it doesn't look all that great, haha!

When you order something, you're given this alert contraption which lights up when your order is ready for claiming at the counter.
I ordered Yogurt Bread for 4,500 won (about P171) while my daughter ordered a cup of Frozen Yogurt for 4,000 won (about P152). I find the prices here more reasonable compared to the Hello Kitty Cafe in Japan and Taiwan. Yogurt Bread is basically toasted white bread with a bit of butter in the middle that's topped with frozen yogurt and drizzled with strawberry syrup.
My daughter quite enjoyed her cup of Frozen Yogurt at the Hello Kitty Cafe. We had to sit outside because the place was fully packed at around 5:30pm on a weekday! It was also kind of hot inside the cafe too so we opted for the al fresco seating.
Hello Kitty Cafe
Hongkik University
Hongdae, Seoul, South Korea
http://www.hellokittycafe.co.kr
Like this post? Subscribe to this blog by clicking HERE.
Let's stay connected: