Everyone who knows me knows that skincare is like a religion to me. That said, one of the most important parts of my skincare regimen is EYE CREAM. To say that I'm obsessed with keeping away lines, wrinkles, and the dreaded crow's feet from my eye area is an understatement. Having crow's feet instantly adds YEARS, if not DECADES to your age in terms of looks. So anyway, I'm never without an eye area-specific skincare product and I'm currently using Helix-D Eye Serum in place of my usual.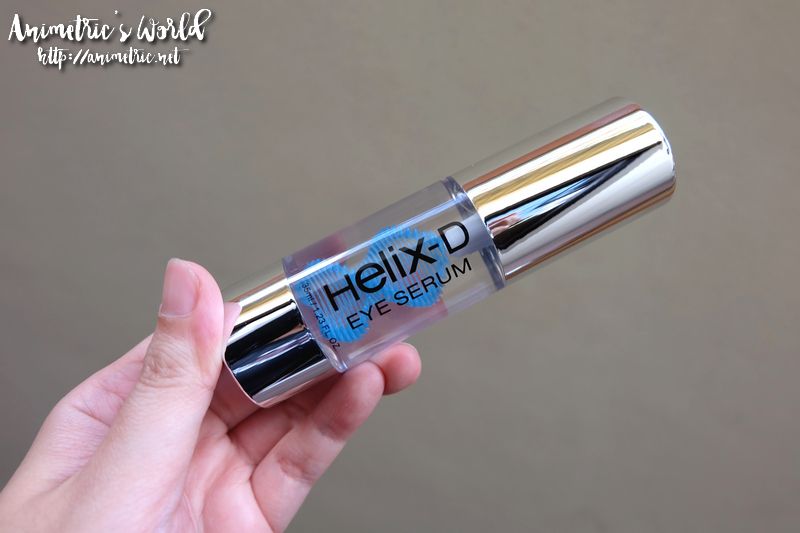 Meet the Helix-D Eye Serum (P3,980). It costs a bit more than what I usually use but nothing is too good for my face. My motto has always been scrimp on everything else but skincare.
Doesn't it look state-of-the-art? Well that's because IT IS.
Helix-D skincare products feature the dual liposome technology which protects the full potency of its actives until it comes into contact with the skin. Anyway, Helix-D Eye Serum promises to help reduce the look of wrinkles around the eyes and helps your skin look younger.
The recommended amount of Helix-D Eye Serum is one pea-sized amount around each eye. One pump yields this much product (around 2 pea-sized amounts) hence 1 pump = 2 eyes.
Its consistency is water-like, making it easy to spread onto the skin.
The way I apply Helix-D Eye Serum is I completely saturate and massage it into the entire area around my eyes. That means putting product over my eyelids, under my brow bone, on the sides (where crow's feet form), and on my entire undereye area. I do this for all eye creams and serums. I'm turning 42 this year and I still have no lines or wrinkles around my eyes. I'm convinced I'm doing it right, lol. I have absolutely no makeup in the above photo.
Anyway, I've been using Helix-D Eye Serum for a month now and so far I'm super happy with the results!
What I like about Helix-D Eye Serum:
It's lightweight, non-greasy, and non-sticky.
There's an instant cooling and firming effect once it comes into contact with your skin.
It can easily be worn under makeup since it's absorbed quickly and dries nicely.
It's fragrance-free.
It doesn't irritate eyes. Believe me, I've tried getting some in my eyes and it didn't sting.
It's effective in keeping lines and wrinkles away.
I believe it made my eye area smoother and even more younger-looking than before. I didn't even think it was possible.
Downside? It's pricey at almost P4k but hey if it will keep away lines, wrinkles, and crow's feet it's worth it!
Helix-D Eye Serum and other Helix-D skincare products are available at SM Beauty in SM Aura, SM Makati, SM Megamall, SM North EDSA, and SM Mall of Asia.
Like this post? Subscribe to this blog by clicking HERE.
Let's stay connected: