We were invited for lunch at HEAT in EDSA Shangri-la Hotel a few days ago. This isn't my first time at HEAT. My friends like it there so we've been going to the HEAT buffet in the last several years.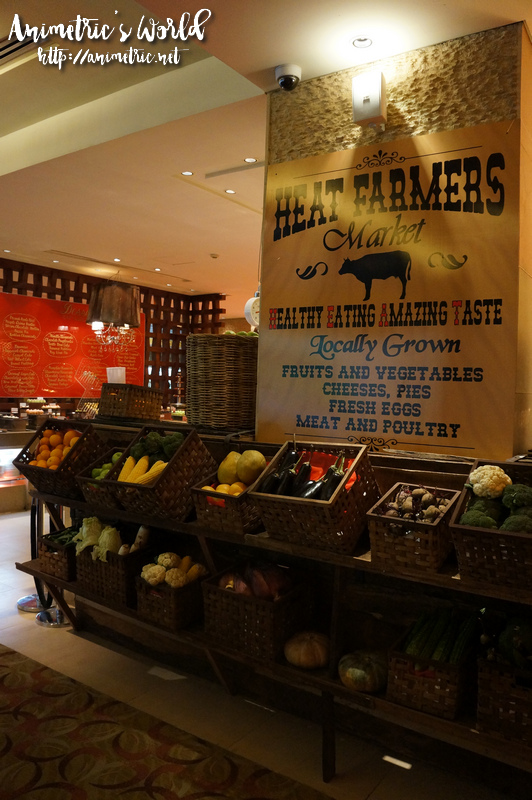 I was quite surprised by the set-up that greeted me. HEAT buffet was decked out in a Farmer's Market theme. I was told that HEAT changes its theme every quarter so this will be the look up until March.
The HEAT buffet dining area is very spacious and can accommodate a lot of guests all at the same time.
One of the new additions I noticed was this giant wooden boat at the Japanese area.

All the sushi and sashimi are laid out on the boat. I really enjoyed the fresh salmon and tuna sashimi. The quality of the raw fish here is just unbeatable.
There's a modest selection of breads. I skipped this because I wanted roti, naan, and papadams from the Indian section.
Cold cuts and DIY salad too. I loved the selection of dressings.
There's a corner full of cheeses and this beauty caught my eye — Sage Derby Cheese. So… green cheese does exist! It's my first time to see and try for myself. Tasted just like regular cheese, haha.
Here's the good old noodle station — they have a new addition, my favorite Tom Yum!
True to the Farmer's Market theme, there were weighing scales hanging about the buffet area. If you don't want to DIY your salad you can choose from a lot of pre-made ones at the salad station.
I can never resist Potato Salad. 🙂
OMG, lobsters! Unlimited lobsters. These are actually cooked and ready to eat but you can have lobsters cooked in butter and garlic by the dimsum station.
Really big mussels lined up for your eating pleasure.
There's a Filipino station where you can get Kare-Kare, Lechon Kawali, and other Pinoy dishes.
Tempura is available at the Asian section.
There's Chili Crab too, love it!
The Prawns Thermidor was soooo good. I'm allergic but I had a piece. Cheesy, creamy, and just divine.
This is the dimsum station.
You can have lobsters cooked in butter and garlic by the dimsum station. I did, hehe! You know I completely forgot to go for heavy duty meat dishes like Roast Beef. I ate mostly seafood.
The dessert I enjoyed the most was the Ginataang Halo-Halo. The best part is the chewy sticky rice balls (galapong). They normally have my favorite Puto Bumbong but not that day because their machine broke down.
They had gluten-free desserts too — specifically Flourless Cake and Creme Brulee.
There was an ice cream teppanyaki station as well as a crepe station.
French Macarons!
Suman too.
Taho! When it comes to buffet desserts I find myself veering away from those little colorful cakes I used to like. These days I find them too sweet most of the time.
HEAT has an Iced Tea Buffet you can avail of for an additional P200 net per head. Post-meal coffee and/or tea comes with the buffet for free.
The HEAT buffet admittedly has a smaller selection compared to say Spiral but I'm happy to say that everything is top notch in terms of quality. From the raw fish to the big meaty lobsters to the crunchy lechon kawali, I'm quite impressed! Hubby and I had a really lovely lunch break, just what we needed from a super stressful morning in the office.
HEAT buffet rates are as follows:
Breakfast P1,540 (Mon to Sun)
Lunch P1,800 (Mon to Sat) / P2,500 (Sun)
Dinner P2,100 (Sun to Thurs) / P2,300 (Fri Seafood Night and Sat BBQ Night)
HEAT
G/F EDSA Shangri-la Hotel
1 Garden Way, Ortigas Center, Mandaluyong City
633-8888
Like this post? Subscribe to this blog by clicking HERE.
Let's stay connected: