One of the most sought after food items this quarantine season is cake. After all, we still celebrate birthdays, anniversaries, and special days like Mother's Day and Father's Day at home. I still remember the mad rush to buy cake last May for Mother's Day. I'm too scared of catching COVID-19 so I'm not going to go out to get one. I'd rather order and then have it delivered. That said, I got cakes from Hearts and Bells Cakes for Father's Day. They specialize in wedding cakes but since weddings aren't happening anytime soon, Hearts and Bells is focusing on other special occasions. 🙂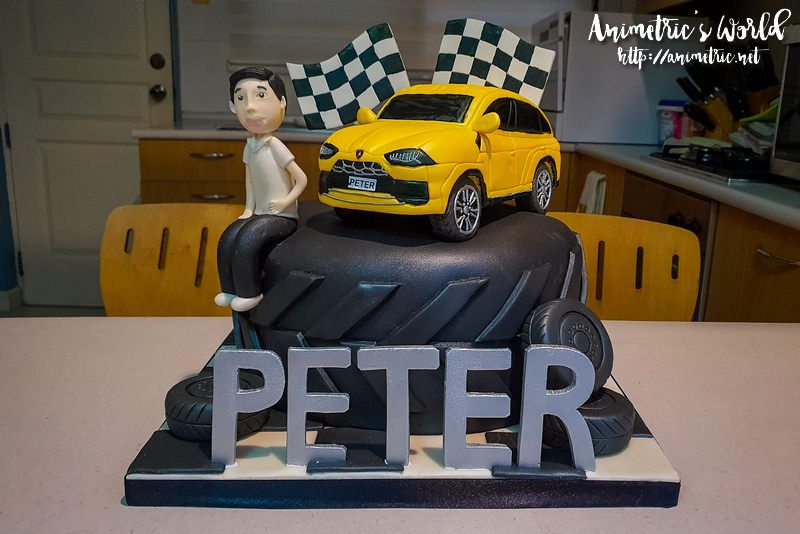 The cake is for my hubby in celebration of Father's Day. Marita Laddaran, the owner of Hearts and Bells Cakes, asked me what my hubby was into. I said he likes cars and music. This is the cake she came up with. Inside the tire is a layer of Moist Banana Cake with Chocolate Chips.
The car is made of styrofoam and fondant.
The workmanship is pretty remarkable.
Hearts and Bells has been in business since 1997, so they have over 2 decades of cake-making experience.
They have cakes to match every budget.
If you want a cake that's more for straight out eating (translation: no fondant), they have those too! This is their Old Fashioned Chocolate Cake with Coffee Filling. It's covered with dark chocolate ganache and topped with generous amounts of strawberries, blackberries, and grapes. Something like this costs around P2,200 but wow, it's huge! One slice can hardly fit onto our platito. It's also too tall for our refrigerator shelf… lol.
I super loved this cake. The combination of berries, chocolate, and coffee is just perfect. It goes so well with a piping hot cup of coffee or tea. Or you can have it with a glass of cold milk.
The cake is rich and moist. The creamy coffee filling is just perfect! Everyone loved this cake.
You can take a look at their offerings or place an order via the Hearts and Bells Cakes website at https://heartsandbellscakes.com/. They can definitely make any occasion extra special. 😀
Like this post? Subscribe to this blog by clicking HERE.
Let's stay connected: