A few weeks ago, I received a bottle of Cinnamon Supplements from Health Express to try. At the time, I had no idea what it was for. I mean, I know it's a spice used for cooking and baking… even for creating home fragrances. I liked it on my food and drink, but I didn't know that it had enough health benefits to merit being taken as a daily supplement. Cinnamon is actually a small tree commonly found in South Asia and the Middle East. The cinnamon we buy and use is actually the bark of this tree, sold either in stick or powder form.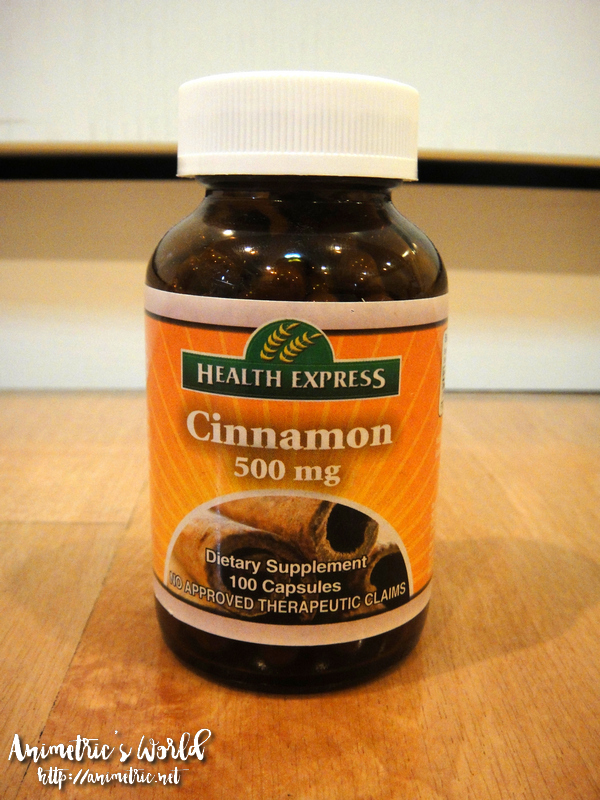 Curiosity spurred some research on my part. I found out that cinnamon may be helpful in lowering blood sugar. According to the Mayo Clinic, a study published in 2009 found that people with poorly controlled type 2 diabetes who took cinnamon twice daily for 90 days reflected an average blood sugar level for 2-3 months. I found this both comforting and promising. You see, diabetes is a disease which afflicts my father's side of the family. My paternal grandma, dad, and uncle all have type 2 diabetes. As a result, I've always been afraid of sugar… the problem is, sugar substitutes have been found to be even worse for your health compared to sugar itself. Cinnamon sounds like a boon to us who need to be extra careful about our blood sugar level.
I've witnessed how hard life is for a diabetic firsthand. I lived with my dad and grandmother when I was still single. You prick yourself ever so often to check your blood sugar level, inject yourself with insulin, and there are so many things you can't eat! I'm not fond of needles and I love to eat so diabetes has always been a frightening thought for me. Taking cinnamon supplements regularly would help because it can be an additional preventive measure I can take against the disease. It's an added bonus that there are other benefits from taking cinnamon:
may help lower cholesterol
aids in digestion
eliminates bad breath
helps cure the common cold
may reduce arthritis pain
helps treat diarrhea
What could be better than an all-natural supplement? 😀
Anyhow, the bottle of Health Express cinnamon supplements was securely sealed. Even I, an adult, did not have an easy time unscrewing the cap so you can be pretty sure that the contents will be off limits to kids.
Each bottle contains 100 pieces of encapsulated cinnamon. It is recommended that you take two capsules a day with meals.
It's pretty easy to swallow. It glides down your throat if you take it with liquid. As a mom, I can't be ill because I need to take care of my kids. I'd like to be around when they graduate, grow up to be adults, get married… so my health is really something that I need to preserve to the best of my ability.
Cinnamon supplements are available at Health Express for P252 per bottle. That's P2.52 per capsule, so you'll be spending just a tiny bit more than P5 a day if you choose to make it part of your daily routine. What's more, you can avail of a Health Express Card Platinum Membership for P450 a year. This will give you 20% off on all regular products and 15% off on all Pascual Laboratories products. You will also receive monthly newsletter updates and health tips.
Health Express stores can be found in the following locations:
Alabang (Makati Supermarket Alabang Town Center, Festival Supermall)
Manila (Robinsons Supermarket @ Robinsons Place Manila)
Quezon City (Eastwood Citywalk 2, Gateway Mall, Shopwise Don Antonio)
San Juan (Shoppesville Arcade @ Greenhills Shopping Center)
Makati (Glorietta 3)
Visayas (Robinsons Supermarket Bacolod, Ayala Cebu, SM Cebu)
Mindanao (Gaisano Mall Davao, Robinsons Big R Cagayan de Oro)
For more information, call the Health Express Customer Hotline at (02)892-7978 or (02)846-9364. You can also like Health Express on Facebook or follow Health Express on Twitter.
Like this post? Subscribe to this blog by clicking HERE.
Let's stay connected: