I've been buying Hawk bags for my kids for the last six years. The first Hawk bag I bought was for my son, when he started first grade. The second one was for second grade — and it wasn't because the first bag was unusable. He simply had too many books after one year and they couldn't fit anymore. It was a lesson learned so I told myself that when my daughter started elementary school, I'd get her the biggest Hawk bag available.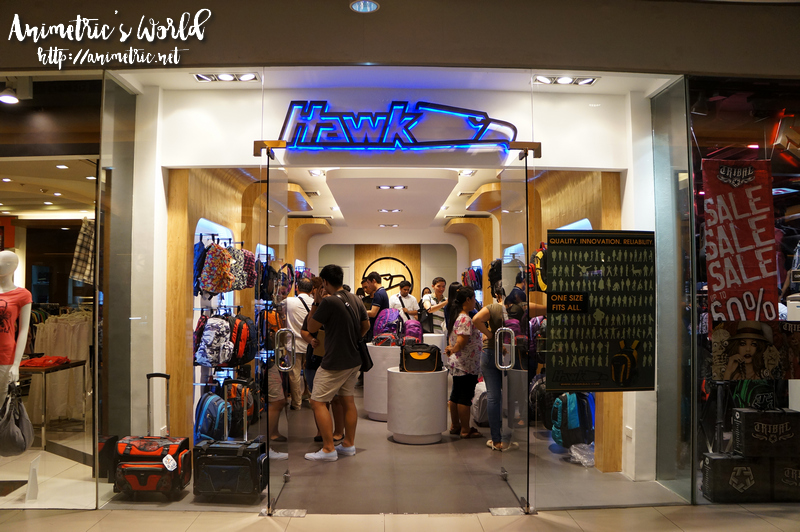 Last year, I bought my son his third Hawk bag. I got him the biggest and most expensive Hawk Spinner Trolley only to find out that the school wanted another kind of Hawk bag. I got to exchange it thanks to Hawk's superb customer service and I found out they had a standalone store in Market! Market!. That particular store was moved to the new wing on the ground floor and is now known as Hawk's concept store (pictured above). I was invited to check it out last May 17. I confirmed immediately as I'm a loyal customer of the brand.
The Hawk concept store in Market! Market! carries every conceivable Hawk bag model. Backpacks, stroller bags, lunch boxes… you name it, they have it.
Backpacks come in all shapes and sizes.
Hawk bags are very sturdy so they can withstand the rigors of land, air, and water travel. My son used his last stroller bag for three years before the handle gave out. Hawk can actually service and repair bags but I thought it was time to retire it so I just bought him a new one.
Always make sure you're buying a genuine Hawk bag. A lot of promo people in department stores would claim that their bag is the same as Hawk or is also manufactured by Hawk but a look at the tag will tell you otherwise.
I had my eye on these stroller bags for my daughter. I made the mistake of listening to the school administrator who discouraged me from buying a big Hawk bag. She said that most of the things will be left in school anyway. That was so not true, my daughter ended up having difficulty stuffing all her things in her smaller stroller because she had to bring and take home every single book and notebook daily. She actually told me that she wanted a "big Hawk stroller bag with spinning wheels" like what some of her classmates were using so she would not have a hard time packing her things and moving her bag.
I was all set on purchasing this Hawk Spinner Trolley. It costs P3,799.75 and it's the biggest Hawk stroller bag there is.
This is what the tag looks like. Don't be fooled by false claims.
There are multiple zipper compartments at the back of the bag.
There's even a silver "raincoat" folded at the back of the bag so you can cover it up in case it rains. All Hawk stroller bags have this.
There's a detachable pocket on one side for putting in a water jug.
There's an additional zipper compartment on the other side.
Guess what? Hawk stroller bags come with a water jug too.
This is how big the bag is in proportion to me. It's crazy how my small-framed 7-year old daughter needs to lug around so many heavy things to school every single day. The spinning wheels (there are six of them) make it easier for her though since she can push or pull and move forward, backward, or even sideways. I prefer predominantly black bags because they tend not to look dirty and worn. Then I got the good news — Hawk was letting me take this bag home for free as a token for attending the event! 😀
I can personally attest to the durability of Hawk bags. My son isn't the most careful person around and his school bag is really abused to death. He would even pull it sideways and it didn't have spinning wheels! That bag lasted three whole years until the handle gave out. Hawk could actually fix it but I decided to buy a new one instead. It cost P2,799.75 so if you divide it by three, the number of years he was able to use it scot-free, it's actually less than P1,000 per school year. There are cheaper bags but I find them flimsy in comparison and no stroller bag that can fit all my kids' stuff costs less than P1,000. In this respect, Hawk bags are actually the more economical choice.
I highly recommend visiting Hawk's concept store. Returns and exchanges are so much easier since there's no third party red tape as compared to doing so in a department store. I know because I've experienced it firsthand.
I should mention that there is a Hawk Service Center in Quezon City and they can fix whatever gets damaged through the years so your Hawk bag is always like new.
You can also purchase Hawk bags online from the Hawk Flagship Store on Lazada.
Hawk
G/F Market! Market! Main Mall
Fort Bonifacio Global City, Taguig City
http://www.hawkbag.com
Like this post? Subscribe to this blog by clicking HERE.
Let's stay connected: