Happy Skin Cosmetics invited us to dinner one weekday evening to showcase their latest products. I love how this brand puts so much thought, creativity, and passion into each product they release. The star of the night was the Happy Skin ZZ Cream (P1,299).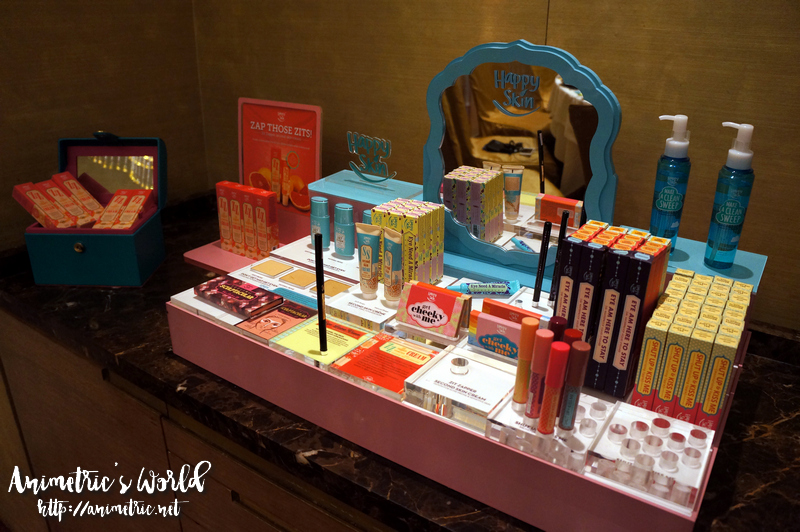 It hasn't even been a year since I first got wind of Happy Skin but wow, how their lineup has grown!
That evening, two new products were introduced. First was the Happy Skin Zit Zapper Cream or Happy Skin ZZ Cream. First there was BB… then CC… Happy Skin skips the rest of the alphabet and fast forwards to ZZ! It's actually a cream foundation which gives good coverage and treats/prevents pimples. But why the color and why all the grapefruit? It's because grapefruit extract is this product's secret ingredient!
Three new shades are added to to the Happy Skin Shut Up & Kiss Me Lippie line.
The new shades are Just Say Yes, Playing Footsie, and Honeymoon Glow. I'll make a separate post about these soon.
It was an evening of good food and good company!
For now, let's focus on the Happy Skin ZZ Cream. It's a medium to full coverage foundation.
I love how it comes in a convenient squeeze tube. It's more sanitary when products are packaged like this because you only dispense as needed so the remaining product is untouched, therefore uncontaminated.
Happy Skin ZZ Cream comes in only one shade. This is because when they were product testing it, they found that this shade blended well with a wide range of skin tones ranging from fair to medium to morena. I like how it's very neutral — not pink, not orange, not gray, and not white.
Anyhow, I'll let pictures do the talking. Here are my before and after product application shots taken indoors. I love how Happy Skin ZZ Cream evens out my skin perfectly. It also leaves a nice glow.
This is how it looks under natural light.
This is how it looks like 6 hours after I applied it.
What I like about Happy Skin ZZ Cream:
It's relatively easy to apply and blend because it's not sticky, so no fancy tools needed, all you need are your fingers.
It dries off to a nice, even, and luminous finish.
The shade matches my skin perfectly.
It makes my face look flawless in photos.
I love how it's formulated with natural ingredients like yogurt and grapefruit extract.
Since it's a cream foundation it can do medium to full coverage, in fact it's heavier than Happy Skin Don't Get Mad Get Even Liquid Foundation.
A little product goes a long way so one tube will last a long time, especially in my case since I don't wear makeup on a daily basis.
Downside? There is only one shade and even if it's quite versatile and adaptable, people with really dark skin may find it too light. It's also quite pricey at P1,299 per tube so it's definitely more high end compared to drugstore variety foundations. Although I find it easy to apply and blend, it does require a bit more blending compared to the usual BB or CC Cream, or even liquid foundation — but the results are worth it!
Happy Skin Zit Zapper Cream is available at at Rustans Department Store, Beauty Bar, and Plains & Prints for P1,299 per tube. No time to shop? You can also buy online at https://www.happyskincosmetics.com/.
Like this post? Subscribe to this blog by clicking HERE.
Let's stay connected: