I got a sneak peek at the Happy Skin Trinoma Store a day before its grand opening last Sept. 29. Located on the ground floor near MAC and Pablo, it's the biggest Happy Skin store to date.
It's so bright and colorful you'll never miss it.
Every single Happy Skin product ever conceived, including limited edition ones, are on display at Happy Skin Trinoma. If you're confused and need some feedback on what to get, you can go to the Hall of Fame. The Hall of Fame has shelves of bestsellers and multi-awarded Happy Skin products.
There are 3 makeup stations in the store so you can try out the products to your heart's content.
After you decide which products to get, you take them to the counter.
These are the special gifts with purchase you can avail of.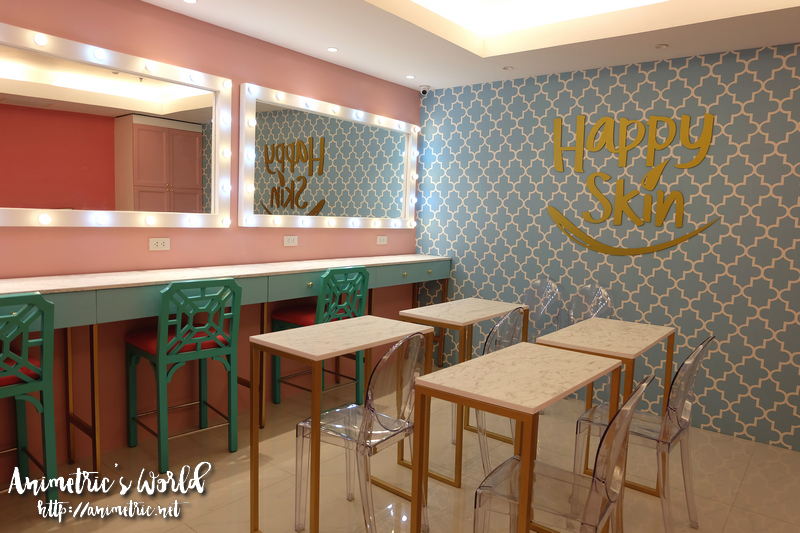 There's a "secret" room behind the counter which can be used for workshops and special gatherings (bridal showers maybe?). The lighting by the mirrors is lovely. It's perfect for taking selfies.
Anyway here's my Happy Skin Trinoma haul. I got Glam Squad Liquid Matte Lipstick by Juan Sarte (₱699), Eye Am Here To Stay Precision Liquid Eyeliner in Black (₱599), Face The World Air Serum (₱1,299), Glam Squad Arch Definer & Brow Mascara In Medium Brown (₱949), Eye Need A Miracle Concealer (₱799), and Eye Need A Miracle Corrector (₱799). These are all products which I've never tried.
I immediately put on the Glam Squad Liquid Matte Lipstick by Jan Sarte. I found it kinda goth. It didn't seem that dark in the tube. I'll post individual reviews of the products I got soon! Really excited to try them out.
You can also purchase Happy Skin products online from the Happy Skin Flagship Store on Lazada.
Like this post? Subscribe to this blog by clicking HERE.
Let's stay connected: