And so Happy Skin finally launches a complete skincare line. Can't say I'm surprised since they did come out with the Happy Skin Sakura Bloom Collection recently. There are 2 different Happy Skin skincare lines comprised of 3 products each.
First we have the Anti-Aging Series for normal, dry, and combination skin. It's made up of the following products:
Hydrating Facial Wash (₱599) – A low pH facial wash which thoroughly cleans skin without stripping it of moisture.
Time Reversing Serum (₱999) – A lightweight and non-sticky formula which penetrates deeply to firm up skin, prevent moisture loss, and stimulate cell turnover.
Regenerating Moisturizer (₱999) – Provides long-lasting hydration, prevents wrinkle formation, and promotes collagen production.
All the products in the Anti-Aging Series are formulated with Chardonnay Extract. Chardonnay Extract uses the power of Alpha Hydroxy Acids to remove dead skin cells and reveal bright new skin. They also employ Fission Technology which helps condition skin and prevent dullness. The serum also contains Umbrella Pine Extract which protects the skin. Meanwhile the moisturizer has Citrus Jabara Extract which protects against free radicals and promotes collagen production.
The Anti-Aging Series is made in Japan.
If you have oily skin, don't fret. The Oil Control Series is also comprised of 3 products:
Skin Smoothening Gel Facial Wash (₱499) – Deep cleans pores and reduces oil without overdrying skin.
Mattifying Ampoule (₱999) – Moisturizes while keeping skin matte and shine-free.
Oil Controlling Moisturizer (₱899) – Keeps skin supple and hydrated without the greasiness.
All the products in the Oil Control Series contain Salicylic Acid, Vitamin C, and Centenella Asiatica Extract. Salicylic Acid helps shed off dead skin cells. If you notice, most acne treatment products also have this ingredient so there is the added bonus of keeping pimples away. Vitamin C brightens the skin, I can attest to that since I have a go-to Vitamin C Essence I use regularly. Meanwhile, Centenella Asiatica Extract heals skin and promotes collagen production.
The Oil Control Series is made in Korea.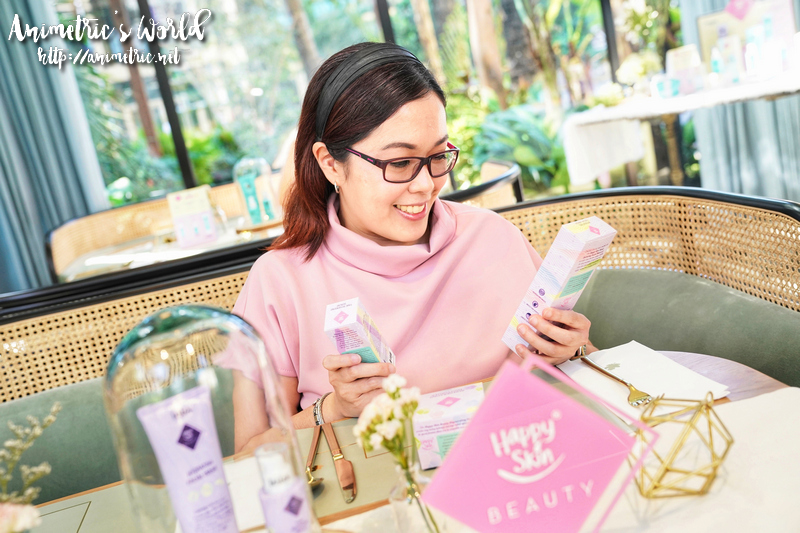 Of course, given my advanced age (hello mid-40s lol) I chose to take home the Anti-Aging Series. When you're older, you can never have enough moisture where your skin is concerned.
So hello Happy Skin skincare regimen. Just to gauge how effective it is, I will stop everything and use these for one week. They did say during the event that you'll start to see results in that timeframe. I think it's great that you can already have the entire line for P2,597. With some other brands, that's just the price of serum lol.
Meet the Happy Skin Hydrating Facial Wash (P499).
I tried it this morning and wow, I liked it. It made my skin feel super clean but not tight. The cream formulation sort of glides across your skin the way cleansing creams do but wash off easily. There's no greasy residue. I love it. Yes it costs double the Biore Rich Moisture Facial Wash I'm currently using (P200+ in Japan) but it leaves a cleaner feeling. This is great if you need heavy duty cleansing.
This is the Time Reversing Serum (P999).
I like the water-like consistency. It won't even stay put — it runs. This is great for our humid climate because it absorbs quickly into the skin.
For the last step, we have the Regenerating Moisturizer (₱999).
It's a jar full of rather thick but lightly scented cream.
It's surprisingly heavy, but then most anti-aging creams are actually like this. Applying it all over my face left a subtle sheen. I think it's better to use this at night before you sleep. It may be too heavy if say you're going outdoors during the hot summer months.
Since I am testing this line, I applied both serum and moisturizer this morning. This is what my face looked like afterwards.
Both Happy Skin skincare lines have no toner. The reason for this is they wanted to come up with just the essentials so the routine would be easier to follow. Personally, I prefer using a toner because I find it to be very effective in prepping the skin for serum and moisturizer. I didn't use toner today though because again, I want to use this line as it's supposed to be used.
You can purchase Happy Skin products online from the Happy Skin Flagship Store on Lazada.
Which Happy Skin skincare line is for you?
Like this post? Subscribe to this blog by clicking HERE.
Let's stay connected: