Premiere local brand Happy Skin, known for coming up with premium makeup products, has finally vetured into skincare. They recently launched the Happy Skin Sakura Bloom Collection. There are 2 products in this line, both formulated with moisturizing cherry blossom extract.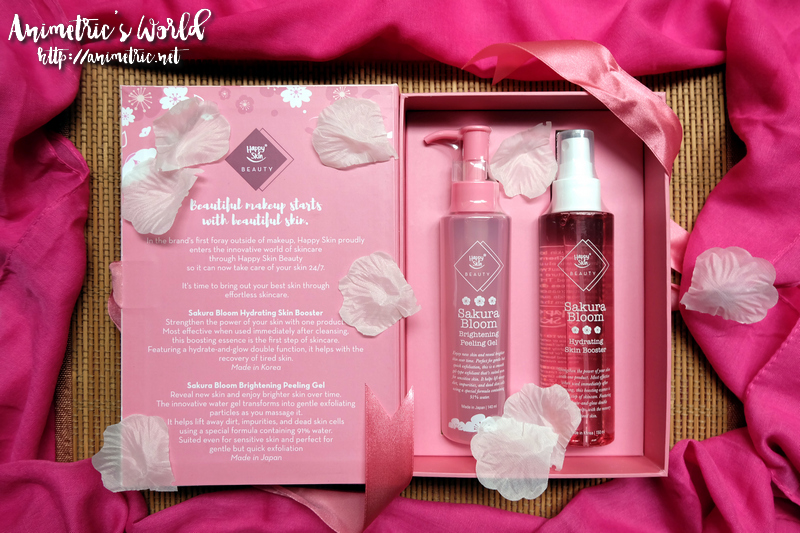 Meet the Happy Skin Sakura Bloom Brightening Peeling Gel (₱799) and Happy Skin Sakura Bloom Hydrating Skin Essence (₱799).
Exfoliation, or the removal of dead surface skin, is an important skincare step. I do it once a week. More during hot and humid months, and less during drier colder months. That is what the Brightening Peeling Gel is for.
Meanwhile, you use this Hydrating Skin Booster after cleansing (and/or exfoliating), before all other skincare products. This helps locks in moisture to keep the skin smooth and hydrated.
Let's take a look at the Brightening Peeling Gel. It's jelly-like in terms of consistency.
You rub it onto the skin surface you want to exfoliate.
Then you'll start to see flakes of dead surface skin.
I use this on my face, neck, and elbows… surfaces that need exfoliation.
After exfoliating, I rinsed my face with water and patted it dry. Then I sprayed on the Hydrating Skin Booster.
I waited for my skin to absorb the booster and then patted the remainder. It's moisturizing yet light on the skin.
These two products can be used before you apply makeup to prep and prime the skin. I was expecting them to have some sort of sakura scent but there is none. In fact, both are fragrance-free, which is a positive point for me. My face felt really smooth and clean after exfoliating, and the hydrating booster I sprayed on afterwards soothed and softened it. This is an excellent product set for exfoliation. Downside is, you can't really use just these two for a full regimen.
You can purchase Happy Skin products online from the Happy Skin Flagship Store on Lazada.
Like this post? Subscribe to this blog by clicking HERE.
Let's stay connected: