Although I don't wear makeup on a daily basis, makeup remover is one of my most often used products. Why? It's because I use it to remove BB, CC, and waterproof sunblock. One of the ways you can keep your skin clear and smooth is to COMPLETELY remove all traces of product. You have to make sure your face is clean before you start your skin care routine. Now local brand Happy Skin has something for that — Happy Skin Make A Clean Sweep Makeup Cleanser.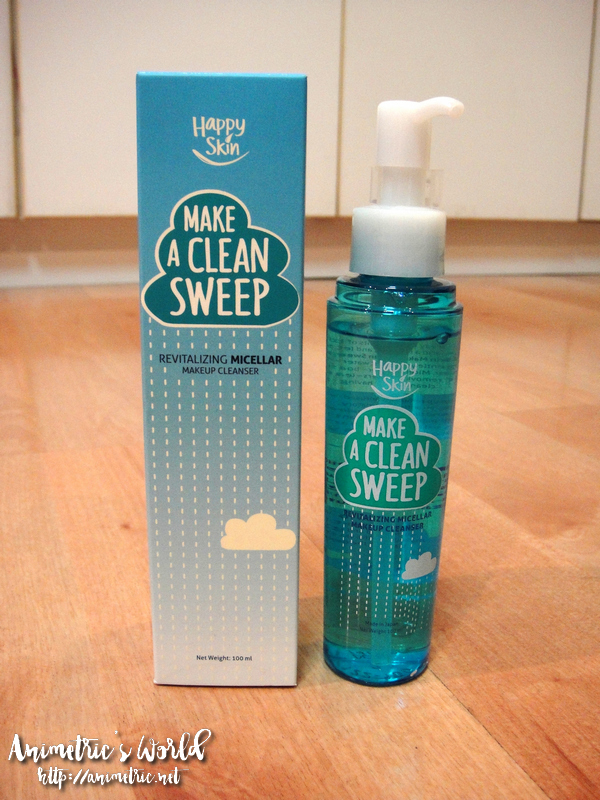 That said I was very happy when Happy Skin sent me a bottle of their new makeup remover, Happy Skin Make A Clean Sweep. It's a revitalizing micellar water cleanser. Micellar water is an all-natural, non-rinse, soap-free cleansing water from France.
The 100ml pump dispenser is about this big.
To remove makeup, you dispense product onto a cotton pad and sweep across your face where needed.
One of my high school friends had his 40th birthday bash at 71 Gramercy in Makati. I had to wear more makeup than usual… in short, the works! — primer, eyebrows, eyeshadows, eyeliner, mascara, blush, lipstick… incidentally, I used Happy Skin Don't Get Mad Get Even Liquid Foundation in 01 Soft Beige here.
When I got home several hours later (4am to be exact, lol!) my makeup was still intact. Since eye makeup is the trickiest to remove, it's what I will focus on in this post.
After sweeping the cotton pad across my eye area, most of the makeup was gone in seconds! The product does sting the eyes a bit though so I had to remove bits of remaining eyeliner and mascara with cleansing oil. It can however remove foundation, concealer, blush and other non-eye makeup products easily.
What I like about Happy Skin Make A Clean Sweep:
It's water-based, so there's no greasiness or oily film whatsoever.
It's very convenient, just pump and sweep.
There's no need to rinse.
It leaves your face feeling fresh and clean.
It's fragrance-free.
Great for removing light, daily makeup.
Downside? If I use this to remove everything every time, it won't last very long. You need to use more of it as compared to cleansing oil. It stings the eyes a bit too (since it's water it will inevitably go into your eyes when you sweep your lids with a drenched cotton pad) so it's tricky to use for removing stubborn liner and mascara stuck to the lashline.
Happy Skin Make A Clean Sweep is available in 100ml pump bottles for P599. You can purchase it at Rustans Department Store, Beauty Bar, and Plains & Prints. No time to shop? You can also buy online at https://www.happyskincosmetics.com/.
Like this post? Subscribe to this blog by clicking HERE.
Let's stay connected: