I got scared when I received a Happy Skin Glisten Up Strobing Kit for review. I'm like… the least inclined person to use blush and contour products. I'm not a fan of blush and contour in general. I know the theory behind it and I can do it on other people but on myself? Well I can apply blush but strobing and contouring are not really my cup of tea. Strobing is kinda like the opposite of contouring. When you contour, you apply dark shades to make certain parts of your face recede so you look slimmer and more sculpted. Strobing makes use of highlighting or illuminating products. You apply these products on parts of your face which light will naturally hit so they pop.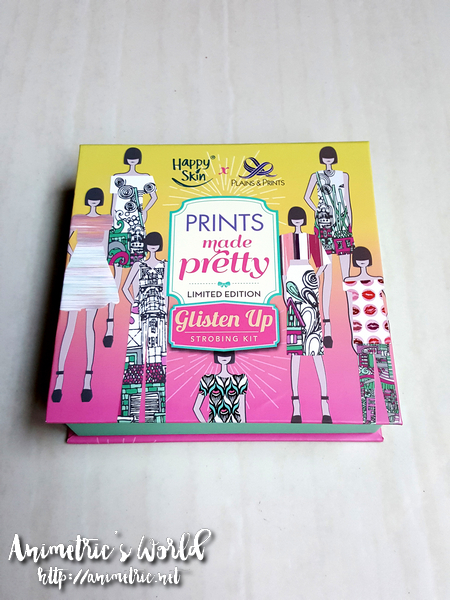 It took a while but finally, I can post my review of the limited edition Happy Skin Glisten Up Strobing Kit (P1,299). This is part of Happy Skin's collaboration with local fashion brand Plains & Prints, an entire line of products dubbed as the Prints Made Pretty collection.
So here's a look inside the Happy Skin Glisten Up Strobing Kit. It contains two (2) cheek sticks you can use to highlight your face and give your cheeks some color. There's also a Strobing Cheat Sheet that teaches you how to use them.
On the left is Happy Skin Glisten Up Highlighter Cheek Stick in Champagne and on the right is Happy Skin Glisten Up Blush Cheek Stick in Taupe. They look like lipsticks which raised the scare factor. I'm like… won't I look like a clown?
Here are swatches of the highlighter (left) and blush (right) sticks. They're very smooth and pigmented. Took me a few tries before I succeeded in using this product. The first time I tried them, I followed the Strobing Cheat Sheet and ended up with a very shiny face and red cheeks. On my second attempt, I copied what Aryanna Epperson did in the video I saw on Happy Skin's Facebook Page. I once again ended up with super red cheeks.
My friend Sophie told me to use just a little of both products and to apply them downward from the part of my cheek near my ear. Angela had a different approach, she applied the products near her nose and on the apples of her cheeks and blended outwards. On my third try, this is what I did.
I used my fingers to blend the product in a U shape from my ear to my nose, to trace the shape of my cheekbones. Blend, blend, blend — that's the secret to a natural-looking finish. At this point it's up to you if you want to add more product.
Success! Hahaha! The Happy Skin cheek sticks has since become my favorite cheek products. They're extremely blendable so the possibilities in terms of looks and effects are endless.
What I like about the Happy Skin Glisten Up Strobing Kit:
The cheek sticks are very pigmented. A little product goes a long way.
They're super blendable so you can achieve a whole range of looks.
With a bit of practice, they're not hard to use at all. You don't need any special tools, your fingers will do.
The results are very natural-looking.
They last. My cheeks looked exactly the same the moment I left to the time I got home (several hours passed).
Each cheek stick is infused with skin-loving ingredients like Grapefruit Extract and Collagen which are rich in antioxidants — so it's like skincare and makeup rolled into one.
Downside? They're a bit on the pricey side at P799 per stick but if you buy a kit, it comes out to P1,299 (P650 per stick) plus you get a cute and colorful box to store them in. I also don't recommend using the highlighter on your forehead because it makes you shine like a light bulb lol.
The Happy Skin Glisten Up Strobing Kit is available for P1,299 at http://store.happyskincosmetics.com/. You can also purchase from Rustan's, Beauty Bar, Plains and Prints, SM Makati, and SM Mall of Asia. I highly recommend shopping online so you don't have to deal with traffic though. 🙂
Like this post? Subscribe to this blog by clicking HERE.
Let's stay connected: