Good news! Happy Skin, undeniably one of the best homegrown cosmetic brands, has just launched some innovative eye makeup products. Had I not been wearing makeup to the launch event I would've tried them all there. Anyhow, I got to take them home so here goes…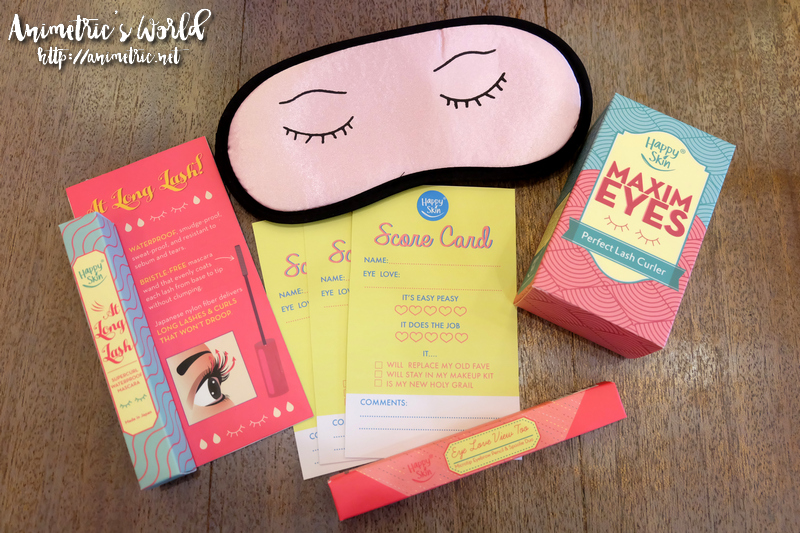 I think most of us know Happy Skin for their incredibly pigmented lipsticks. Guys… their eye makeup products are just as awesome, as I'll soon demonstrate.
But before that, meet the Happy Skin Maximeyes Perfect Lash Curler (₱499). I'm a die hard Shu Uemura Eyelash Curler user. In fact, I'm currently on my 4th one lol. But this… this is too hard to resist. Imagine, for ₱499 you get an lash curler with 3 rubber pads. The Shu Uemura curler costs a bit more at 1000+ yen and it comes with only 2 rubber pads. Anyhow what makes this curler special is it's wider than most curlers so it can catch more lashes at the corners and ends. Its angle also lets it get very close to the lashline so your lashes are curled from the roots for maximum lift.
Next we have Happy Skin Eye Love View Too Microtip Eyebrow Pencil and Spoolie Duo (₱699). Now this is interesting. My favorite eyebrow pencil is Anastasia Beverly Hills Brow Wiz. This one promises to be a dupe for my HG pencil which costs US$21 + tax. I'm excited to try it!
What I'm reviewing today is the Happy Skin At Long Lash Mascara (₱999).
Happy Skin At Long Lash Mascara is the first I've seen whose wand has zero bristles. Yup, not a single bristle. It's like a rolling pin, all smooth and round.
Skeptical? Let the photos speak for themselves. You apply as you would normal mascara, moving the wand upwards from under your upper lashes. I found it easier to apply mascara with this wand compared to those with brush or comb-like applicator tips.
I can't believe how perfectly clump and speckle free my lashes were after application. They're nicely separated, defined, and lengthened.
Took this photo several hours after application and as you can see, there aren't any smudges. I super love this mascara.
What I like about Happy Skin At Long Lash Mascara:
It's lightweight. My lashes looked perfect but they didn't feel heavy. It's so easy to forget I even applied mascara.
The unique rod-type wand makes mascara application a lot easier and neater.
You can actually use this even if you don't use an eyelash curler because it can lift lashes on its own. Using a curler maximizes the effect though, so it's still better to curl before applying.
It's waterproof, smudge-proof, and sweat-proof.
It's not hard to remove.
Downside? It's more pricey compared to the usual drugstore level mascara… BUT for what it can do, it's definitely better and cheaper than the higher end imported brands.
You can purchase Happy Skin products online from the Happy Skin Flagship Store on Lazada.
Like this post? Subscribe to this blog by clicking HERE.
Let's stay connected: