It's undeniable that the Japanese food scene here in Manila is currently being dominated by two food items: tonkatsu and ramen. The recent slew of international tonkatsu and ramen franchises proves it. Just a little more than a week ago hubby and I tried one such franchise, Hokkaido Ramen Santouka in Glorietta, and well, I wasn't impressed at all. Earlier today we found ourselves having lunch at Hanamaruken Ramen in Trinoma.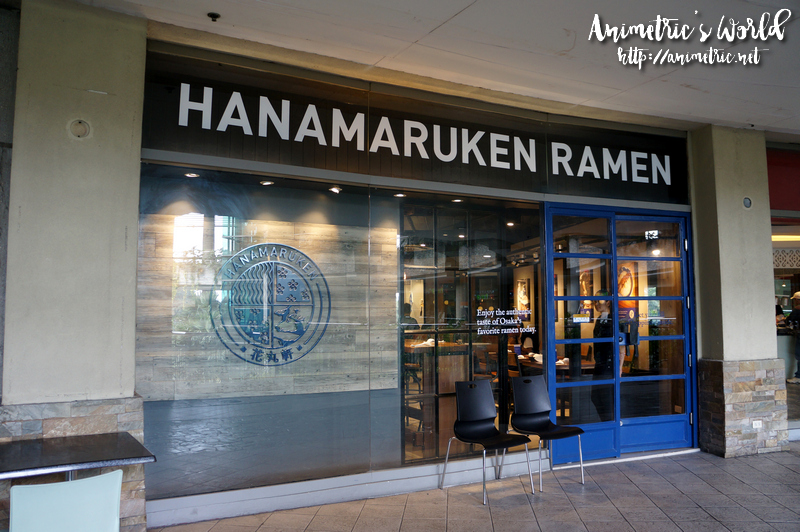 Like Santouka, Hanamaruken is also a Japanese franchise. If Santouka is from Hokkaido and Ikkoryu is from Fukuoka, Hanamaruken hails from Osaka. Wow, I feel so fortunate that ramen originating from different regions in Japan can now be experienced in Manila. Without further ado, let's see how Hanamaruken fares.
For starters I really loved the bright and spacious interiors. Hanamaruken Ramen is located at the second level garden area of Trinoma, where Ramen X used to stand (Ramen X can now be found at Eton Centris).
I really love this ramen shop's interiors.
These are your officially your tools for enjoying ramen. But you can also ask for a spoon and a fork, lol.
Upon being seated, hubby and I proceeded to order. I was kind of disappointed when they told us Karaage, Green Iced Tea, and their famous Signature Happiness Ramen were out of stock. Darn! So anyhow, we proceeded to order good old Gyoza (P150). It was served with chili oil and gyoza sauce.
Wow, we got 8 pieces of perfectly pan-fried dumplings practically filled to the inner corners with ground pork and leeks. They're chewy, tasty, and surprisingly filling. You know how in some places the gyoza is flat, scantily filled, or soggy? These are nothing like those, plus instead of the usual 6 pieces, you get 8. I must say, this is really good value for money.
Since Signature Happiness Ramen was not available, I asked the server for the second bestselling ramen. She told me it was Pot Belly Ramen (P380). She then asked if I wanted an egg (Ajitama Tamago or soft-boiled marinated eggs) with my ramen. I said yes. At Hanamaruken, the default serving of ramen contains no egg(s). If you want one (or two, three, etc.), you must pay an additional P50 per egg to be added to your order. The strong aroma of tonkotsu (pork broth) wafted in the air as soon as she placed the bowl on the table. My Pot Belly Ramen had slices of pork belly, just as the name suggests. The verdict? I loved the soup — it wasn't too oily or overwhelming, in fact it was smooth. The pork belly slices were so tender they practically melted in my mouth. The egg was good — better than Santouka's but I must say Ikkoryu still does the Ajitama Tamago best. The noodles were perfect too — chewy yet firm but not stiff. Hubby agreed that this bowl of ramen rocked.
Hubby decided to be different and ordered a rice bowl. He had Drunk Man Rice Bowl (P240). It's steamed rice topped with kakuni (braised cubed pork belly) and two fried eggs. I suppose it got its name because it's recovery food for those with a hangover. A chef friend of mine once told me that the best way to recover from a drunken stupor is to have tapsilog (she actually called it recovery food) because the egg is the secret ingredient that helps you get over it. I guess this is recovery food for the Japanese. In any case, the pork was also melt-in-your-mouth tender. Hubby said it reminded him of adobo. I think the marinade has a bit of vinegar because it sure tasted like it. I liked it though.
While we were eating, we were approached by one of the staff and informed that a delivery of Signature Happiness Ramen (P480) had arrived and we could actually order it! Woot! I wasn't about to leave Hanamaruken without trying their much-talked-about ramen and so hubby and I agreed to split an order, lol (fat city here I come!). When our Signature Happiness Ramen came, I wasted no time in attacking the big piece of pork rib sitting in the middle of the bowl. Wow. It was so tender I actually just used my round scoop-like soup spoon to get a piece. The pork rib is slow-cooked in soy sauce based marinade so the entire piece is coated in sauce. The pork rib's sauce actually melds with the broth and deepens the latter's flavor. It's really good. So good. I recommend this ramen for those who prefer a full-flavored stronger tasting broth (not everybody wants it strong). If you want something on the milder side, go for Pot Belly Ramen. Hubby and I loved the pork rib so much we finished it despite having already eaten our earlier orders, lol. An order of Signature Happiness Ramen actually costs 1,200 yen in Japan so it's cheaper here in Manila.
Hanamaruken Ramen is definitely a winner in my book — from the smooth flavorful tonkotsu broth to the melt-in-your-mouth pork and perfect noodles, it's just something you need to experience. Service is great too. I was very happy overall with our lunch at Hanamaruken. Did you know that this is Hanamaruken Ramen's first store outside Japan?
Hanamaruken Ramen
2/F Trinoma Mall (Garden Restaurants Area)
North Ave. cor EDSA, Quezon City
720-9283 / 628-1603
Like this post? Subscribe to this blog by clicking HERE.
Let's stay connected: