I hate my hair. I really do. It should theoretically be okay as is because I don't mind the wave (I've abandoned my stick straight hair goals a long time ago) but the problem is, we live in a very humid country. Even if I go out of the house looking okay, my hair becomes a yucky ball of fluff as soon as it starts getting humid.
This is what my hair looks like when I wake up in the morning. If it could somehow stay that way, I would be okay. But it won't. When I go out it will get all frizzy and unmanageable then I'd have to tie it all back just so I won't look like The Lion King. Hair serum doesn't really help, it still plumps up even if I apply generous amounts of serum.
So anyway I consulted with my favorite salon, Shuji Kida Hair Salon. I told them I wanted manageable hair that wasn't stick straight. Yeah, I'm totally over the stick straight walis tingting look. They suggested that I try the Hair Alteration Treatment. They described it as the Japanese version of the Permanent Blowdry (I'm guessing that's the equivalent of a Brazilian Blowout). So what happened was I was ushered to the shampoo area where they started to apply a solution to my hair.
The solution was left on my hair for a bit and then shampooed away.
I went back to my seat where Shigeki the Japanese stylist started to brush on another type of solution to my hair. The last time I had something like this done was when I had keratin treatment some months ago. I've tried several types of keratin treatments at different salons and well all of them had me closing my eyes because of the fumes. I didn't have to close my eyes for this one… and I was told the solutions they use are milder so that they can do this even on colored and damaged hair like mine.
My hair was wrapped in cellophane afterwards. Then the solution was shampooed away. Then my hair was blow-dried using a hair dryer.
When my hair was dry, Shigeki ironed small sections of hair.
He went on until my entire head of hair was ironed straight.
After the ironing session, neutralizer was sprayed all over my hair.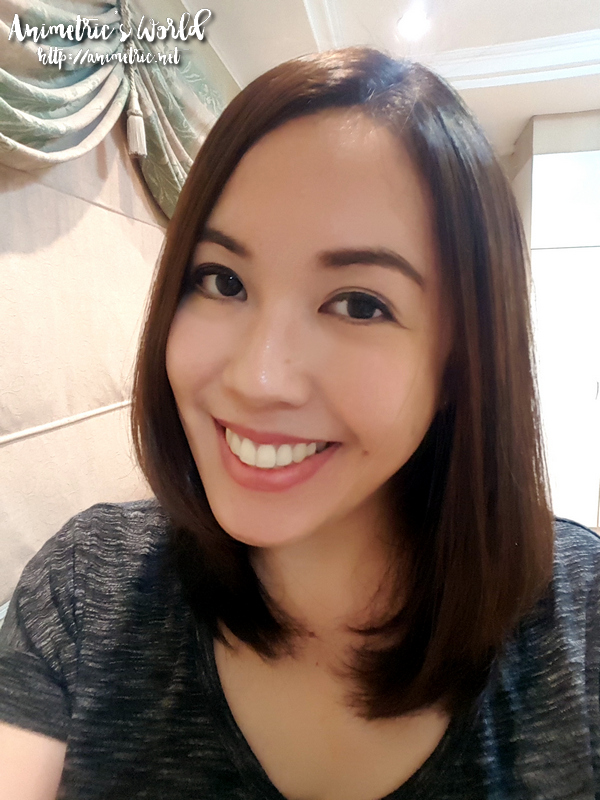 After several minutes, the neutralizer was shampooed away. My hair was blow-dried the normal way. This is the result. The entire process took place from 11:30am to maybe 2:45pm. They weren't exaggerating when they said Hair ALTERATION Treatment. My hair is so different now in terms of texture — it's very soft, smooth, and it looks very natural. It doesn't fall down stick straight like it was ironed. I was told that I can't wet my hair for 48 hours and that in the coming days my hair would get even more body and would look even more natural. I'll update you with the usual shampoo test as well as how my hair looks a week or two or three from now.
Hair Alteration Treatment at Shuji Kida Hair Salon starts at P6,000. It all depends on the length, texture, thickness, and condition of your hair. You can schedule a consultation with the Japanese stylist Shigeki to find out what's best for you.
I'll say it again. There are only two people I trust to cut my impossible-to-manage hair and Shigeki is one of them.
Shuji Kida Hair Salon
Ground Level, City Center Bldg.
338 Ortigas Ave., San Juan City
726-9928
Like this post? Subscribe to this blog by clicking HERE.
Let's stay connected: