During Holy Week last year, our whole family traveled to Guam. One of the places we visited was Guam Zoological Botanical and Marine Garden, also known as Guam Zoo. It's been around since 1977. I know this post is a year late but since we aren't going anywhere this Holy Week, I thought I might as well share the experience. I hope it's helpful to people who are traveling to Guam this summer.

Guam Zoo is located right behind Holiday Resort along Tumon Bay in Guam.
It's a petting zoo, so it means you can feed the animals and even touch some of them. You buy animal feed for about a dollar. It's good for almost everyone, lol.
You can drop food onto funnels like this one.
Even big animals like this Carabao will eat them.
These Sandbar Deer too.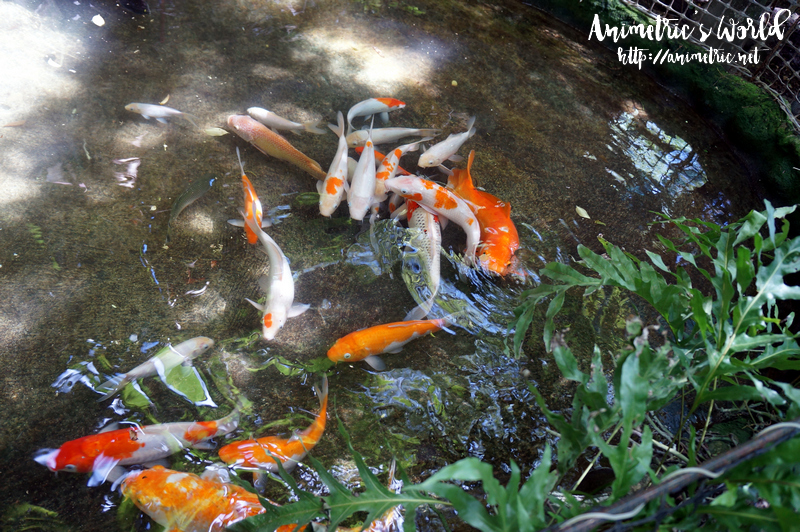 The food is also good for Japanese Koi Carp…
…as well as turtles. There were several kinds of turtles there I can't remember which kind these are.
My sister-in-law quite literally tries her hand at feeding the Pygmy Goat.
Yup, this um… Duck? Goose? ate the same food too. For the life of me I don't know why I didn't take photos of the animals' names. I used the Guam Zoo website for reference.
There were Java Macaque Monkeys too.
The rabbits were very cute.
Here posing with a Miniature Donkey.
There are actually more animals but I did not take a pic of each and every one. It's a pretty intimate little zoo, you can get quite close to the animals. You can spend maybe an hour or two here. The good thing about it is there are a lot of trees to shade you from the sun so even if you go at noon (we went after lunch) it's okay. The owner/zookeeper Mr. Cushing is really nice and hands-on. You can ask him about anything about the zoo and the animals in it.
Admission costs US$15 for 12+ years of age and US$8.50 for those who are 11 years old and below. Guam Zoo is open daily from 9am to 5pm except Christmas Day.
Guam Zoological Botanical and Marine Garden
Route 14 Pale San Vitores Road,
Tumon, Guam, USA
1-671-6461477
http://www.guamzoo.com/
Like this post? Subscribe to this blog by clicking HERE.
Let's stay connected: