I spent most part of Holy Week in Guam with my family. We stayed at the Guam Marriott Hotel as recommended by our travel agent. I booked via agoda.com though because it was less expensive there.

So anyway, check in time at the Guam Marriott is 3pm. We were greeted by a somewhat grand lobby and waiting area with high ceilings. If you stare out the windows you actually get a view of the ocean.
You can get yourself a welcome drink. The drink varies per day… when we got there it was coconut juice. The next day it was Four Seasons.
We got a Deluxe Ocean View Room that cost US$150 a night. It's good for two adults according to agoda.com but since we had two kids we just pushed the beds together.
Our room came with the usual study table and TV set.
It also had a balcony with chairs where you can enjoy this view.
We would never get tired of staring out the balcony, lol.
Guam Marriott provides two (2) bottles of water upon check in. They are not replenished. It's only upon check in. There's a note that says additional bottles may be provided for a fee. I suggest you go to KMart to buy bottled water for the duration of your stay as two dozen bottles cost only US$6 from there.
Our room also came with a coffee machine complete with Wolfgang Puck coffee pods!
There was a closet with a digital safe, slippers, hangers, and plastic laundry bags. Unfortunately, the safe wasn't working. We didn't bother complaining about it.
We had a pretty spacious bathroom compared to most of the Asian hotels we've stayed in. Toothbrushes, soap, and basic toiletries (shampoo, conditioner, shower gel, lotion) are provided.
There's a shower and a bath tub.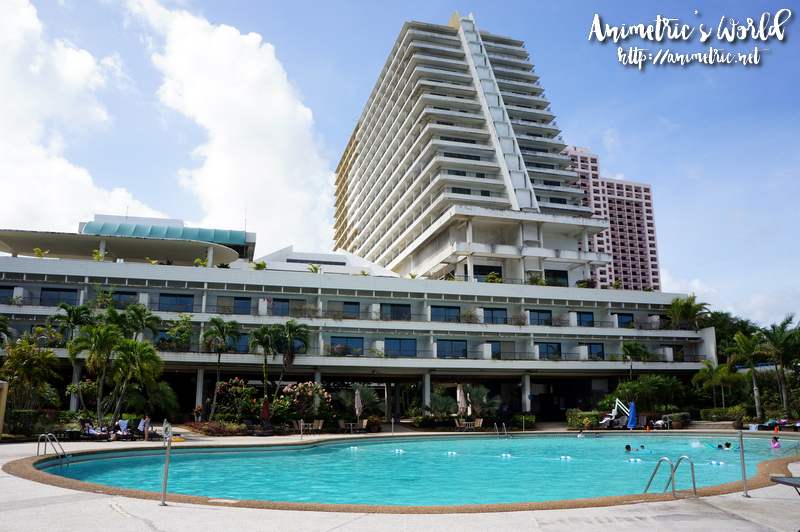 Being a resort, Guam Marriott had a pool area as well as a beach. We would swim here everyday and then head on over to the beach.
This is the beach located at the back of Guam Marriott.
Fine white sand, clear waters… yeah it was all good.
After swimming, we were headed back to our hotel room. There was a table set up by the pool. Fresh coconut candy was cooking. It was soooo good. Fresh coconut juice and lemonade was available too. Everything was free of charge. 😀
One lunch time, we decided to try Guam Marriott's lunch buffet. It cost US$18 per adult and US$9 per child. There was a lot of food available but I wasn't able to take too many photos. Native Guam food is Chamorro cuisine and that consists mostly of barbecues. The buffet had the usual soups, salads, main dishes, and desserts. Filipino influence is all over as there was kwek-kwek, sinigang, leche flan, pichi-pichi, etc.
This is one of the more unique things I found at the Guam Marriott buffet — a curry station manned by an Indian chef no less. You can have your very own custom made curry dish here.
Overall we had a pleasant stay at the Guam Marriott Hotel, save for a few minor glitches like the room safe that wasn't working (but then I didn't complain about it) and the delayed check-in time (by 3pm only one room was available when I booked two, and the second room became available one hour later). The rooms are kind of old-ish but clean and decent so it was still okay. The location is great. It's right on Pale San Vitores Road (considered the main strip in Guam) where most of the good hotels are. It's quite near a lot of restaurants, DFS Galleria, Kmart, JP Superstore, and attractions like Guam Zoo and Underwater World.
Guam Marriott Resort & Spa
627B Pale San Vitores Road,
Tumon, Guam 96913
1-671-649-7827
http://www.marriott.com/hotels/travel/gumrt-guam-marriott-resort-and-spa/
Like this post? Subscribe to this blog by clicking HERE.
Let's stay connected: