Griffin's Cookie Bear is the hottest thing to land on our doorstep of late. I was even more excited than the kids when I opened the insulated bag lol! This kind of gluttonous attitude my friends, is why I am fat. I can't resist yummy-looking things although I know I should!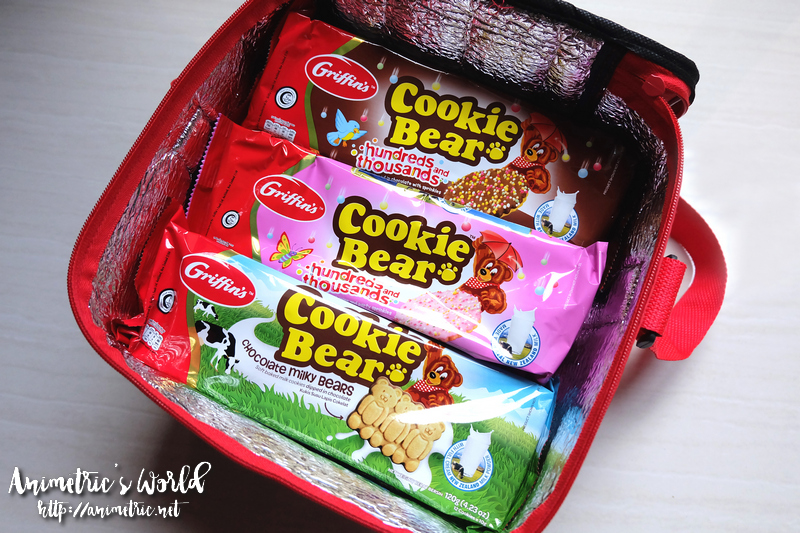 Griffin's is a leading biscuit brand from New Zealand that has just made it to our shores. They offer a wide variety of packed cookies. Their cookies are made with full cream New Zealand milk powder.
We got to try three (3) variants of Griffin's Cookie Bear: Chocolate Milky Bears, Icing Hundreds and Thousands Icing, Chocolate Hundreds and Thousands. They sell for P100 per pack at Robinsons Supermarket.
OMG the smell of milk just wafted through the air as soon as I opened a pack of Griffin's Cookie Bear Chocolate Milky Bears.
The Chocolate Milky Cookie Bears have a milk chocolate layer at the bottom. They're SOOOO good. I love munching on these with a cup of hot coffee beside me.
My favorite variant is Griffin's Cookie Bear Icing Hundreds and Thousands. I was actually surprised because I normally hate eating icing and candy sprinkles. The icing and candy sprinkles coating of these cookies are not sweet but milky! They're so yummy! It's so hard for me to stop eating once I start. One pack contains about 15 pieces. I can finish them all in one sitting if I don't control myself. Even my hubby who normally doesn't eat cookies loved all the Griffin's Cookie Bear variants.
This is Griffin's Cookie Bear Chocolate Hundreds and Thousands. They're just as yummy. Milk chocolate replaces the icing coating in this variant.
Griffin's Cookie Bear as well as other Griffin's cookie products are now available at all leading supermarkets nationwide.
Like this post? Subscribe to this blog by clicking HERE.
Let's stay connected: