Hubby and I went to run some errands at Shangrila Plaza Mall some weeks ago (actually, I had to buy cocktail dress #2 for a wedding). We were done past 5pm so we decided to have an early dinner at Green Pastures, a fairly new restaurant concept by Chef Robby Goco of Cyma Restaurant fame. I love Cyma, so I'm assuming I will love Green Pastures.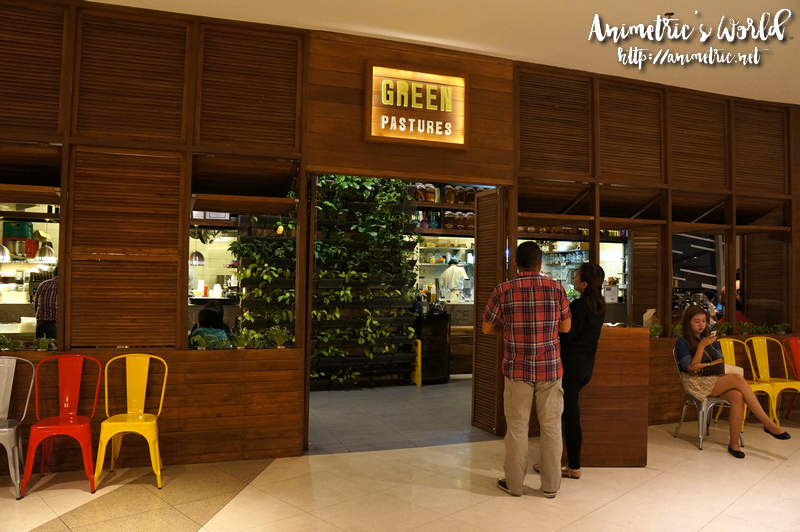 Green Pastures prides itself on serving farm-fresh, organic, and free range fare. The last time we tried to dine here the line was so long it was actually zigzagging outside the restaurant. The secret to our effortless seating success is going on a weekday before 6pm, lol.
Here's what the inside of the restaurant looks like. Green Pastures has an open kitchen set-up so you can have a peep with regards to how the food is prepared.
As soon as we were seated we were given a bottle of water and two glasses. There was also a small metal pail with two sets of napkin-wrapped utensils.
I told the order-taker I wanted the eggs everybody's been talking about and asked her which one it was on the menu. She told me it was the Pinoy Eggs (P125). I mean, if everyone is raving about it, it must be good right?
Ooooh look at that egg / those eggs (the menu says eggs, I don't know how many they used) in its/their full golden gooey glory. Pinoy Eggs are, according to the menu, five minute free range duck eggs wrapped in a longganisa crust and served over fiddlehead fern salad. It sure looked scrumptious and I'm happy to say it actually lived up to the hype. Crunchy outside, soft and runny inside, it's best to eat the egg with the ferns for the full effect. I surprised myself by actually liking the ferns. I normally feel repulsed by them. These ferns are crisp, kinda sweet in that vegetarian sort of way, and well… refreshing. I highly highly recommend ordering Pinoy Eggs if you ever find yourself in Green Pastures.
Since I'm trying to be more health-conscious, I decided to order the Vegetarian Burger That Doesn't Suck (P295). I was immediately impressed by its hefty size.
It's served with parmesan fries on the side too, talk about value for money!
I loved the burger on first bite. I even told my hubby wow, it's like the patty isn't made of vegetables — a statement to which he objected to after taking a bite of my burger. Halfway through it though, I started to feel that cloying sensation. The burger patty is after all made of smooshed organic plant life, specifically chickpea, mushroom, leeks, celery, and eggplant. It's sandwiched in between potato buns with lettuce, tomato, onion, and cheddar cheese. That's how the patty looks like up close (check above photo). Suffice to say I couldn't take it anymore when I reached the halfway mark, I felt queasy and strangely full already. I'd describe it as The Vegetarian Burger That Doesn't Suck At First.
Hubby decided to have Roast Organic Chicken (P595). You know how I don't like chicken but hey, this was free range, fancy, and expensive chicken so I HAD to have some! It's simply prepared, roasted and served in a pool of konbu brine broth with a few stalks of asparagus. Konbu is a type of edible kelp. The chicken was very tender and juicy. I really liked the clean-tasting yet flavorful broth, I wanted to pour it all into a bowl and drink it as I would soup!
Hubby also got a bowl of Steamed Heirloom Ifugao Red Rice (P95) to go with his chicken (there's no other choice if you're a rice eater like him). It's expensive and nothing special although we're sure it's healthy.
The food at Green Pastures is very good and despite our indulgences I take comfort in the fact that everything is fresh, organic, and free range so at least what we're eating is good for us. Service is okay and prices are reasonable considering the food quality. I would like to go back and try a lot of other interesting dishes in the menu but I'm still not willing to line up for it.
Green Pastures
4/F Shangrila Mall East Wing
EDSA cor. Shaw Blvd., Mandaluyong City
654-3219
Like this post? Subscribe to this blog by clicking HERE.
Let's stay connected: