Ever since I started cooking, I've banished canola oil from my kitchen. First of all, there is no canola plant. Canola was developed from the breeding of the rapeseed plant. Maybe it's just me but I prefer to use something more natural when I prepare food for the family. As a result, I've stuck mostly to olive oil and lauric (coconut) oil.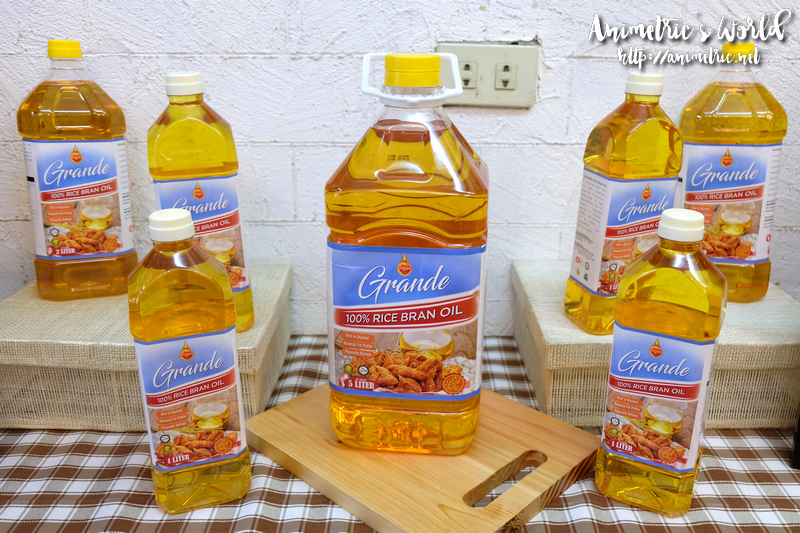 So when I received the invitation to an intimate cooking experience using Grande Rice Bran Oil, I said yes. What is Rice Bran Oil? It's oil that is extracted from the middle layer of the husk and the grain of rice. The bran is usually removed and discarded so we can have our white rice. But the bran is actually the most nutritious part of the rice, loaded with natural antioxidants. And now we have Rice Bran Oil for cooking!
Chef Miko Aspiras demonstrated the many uses of Grande Rice Bran Oil.
He prepared a complete 3-course meal using Grande Rice Bran Oil in different ways. For the appetizer, he whipped up Sesame Tuna Aburi Tataki Salad. He used Grande Rice Bran Oil to make sesame mayo! It was yummy. I noticed the oil didn't interfere with the scent and taste of sesame.
For the main course, Chef Miko cooked Pork and Beans. He deep fried the pork belly rolls in Grande Rice Bran Oil in order to achieve a nice crunchy texture.
We had Pili Donuts and Cream for dessert. Chef Miko deep fried the donuts in Grande Rice Bran Oil. He also made the yummiest Pili Butter Glaze by combining glazed pili, Grande Rice Bran Oil, salt, and muscovado sugar. He served the donut with ricotta cheese ice cream on the side. OMG, I swear one donut isn't enough. This is one of the best desserts I've ever had. I kind of want to make pili nut butter at home now.
Grande Rice Bran Oil is ideal for cooking because:
It has a high smoke point so you can cook at high temperatures without compromising nutrients and taste.
It has a neutral taste and virtually no scent. For the lack of a better term, this oil won't "interfere" with the flavors of your dip, sauce, and fried food.
It's rich in antioxidants and is hypoallergenic.
It's 100% physically refined so there's no need for additives. You get all the natural nutrients found in the oil.
Grande Rice Bran Oil is available in 1 Liter (P185) and 2 Liter (P365) bottles. For now, you can purchase it at Rustans Supermarket, Unimart, Pioneer Center Supermarket, Cash & Carry Supermarket, The Green Company, Makati Supermarket, and Restaurant Depot. For more information, log on to https://www.grande-rbo.com/.
Like this post? Subscribe to this blog by clicking HERE.
Let's stay connected: