Okay so I finally succumbed to all the Facebook ads with Koreans shampooing with a scalp brush, making these oddly comforting scratchy sounds. Yes, I bought some insanely expensive Grafen hair care products… namely the Cica Silky Shampoo, Cica Care Treatment, and Edge Finger. I got them from the official Grafen Flagship Store on Lazada during the 3.3 sale.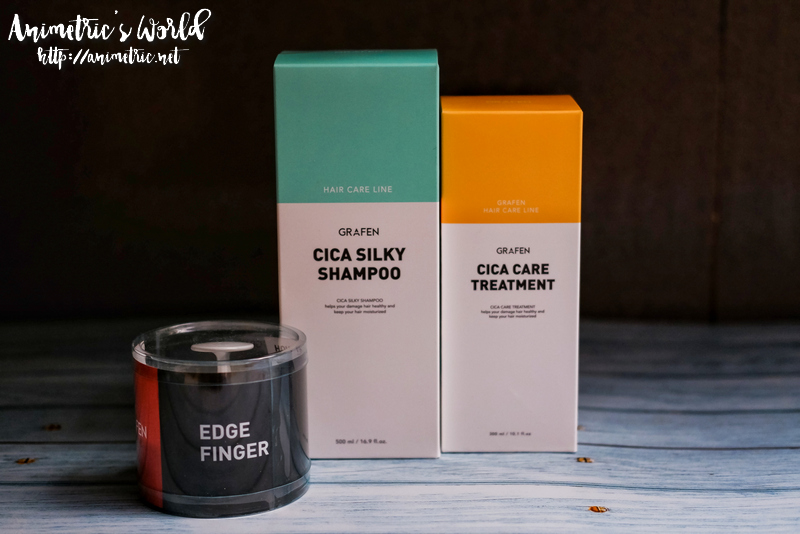 My order was shipped from Korea and took about a week to arrive. Everything was in pristine condition.
There are several kinds of Grafen shampoo. They keep promoting Remover and Root Booster in the ads but I read that it's for people who have a problem with dandruff and hair loss. After much research, I determined that what I needed was the Cica Silky Shampoo. It's recommended for colored, curly / straight, and dry hair. It nourishes and smoothens hair.
The Cica Silky Shampoo is colorless. It has this super fresh scent. There's also a nice cooling sensation when you wash your hair with it. I love this shampoo. It makes my hair feel nice and light.
Of course I bought the matching conditioner, since my hair is virtually un-combable without conditioner. The Cica Care Treatment is just 350ml compared the the shampoo that's 500ml. What I like about it is a little product goes a long way. This is a really good detangler plus it rinses clean and doesn't leave a slimy film on your hair. Like the shampoo, your hair feels really light afterwards.
The conditioner is a thick white liquid which also smells nice, although not as wonderful as the shampoo.
But Grafen's real star product for me is the Edge Finger. It's a scalp brush made of soft medical grade silicone. You lather up the shampoo and then use this to massage your scalp. It feels soooo good! If you have dandruff, it will help exfoliate your scalp. If you don't have dandruff, it will still help get rid of whatever residue you have there. I kept raving about this my daughter asked me to buy her one lol.
I've used other brushes and this is really the best one. The bristles are soft and soothing. It's so addictive I'm excited to shampoo my hair every time. It doesn't tangle with your hair since it's very flexible.
It's super lightweight and ergonomic too. The size is perfect and it's easy to hold.
See — it fits perfectly between your fingers!
Okay so I spent P2,700 for these 3 products. Best place to buy them is from the Grafen Flagship Store on Lazada. They've recently come out with so many new hair care products that I just want to buy some more lol. No other seller carries the complete line of Grafen products.
So are Grafen hair care products worth it? For me it's a yes, I'm happy with everything I bought. My friends who tried their anti-hairfall products vouch for the effectivity too. These are simply the ultimate treat for your hair and scalp.
Like this post? Subscribe to this blog by clicking HERE.
Let's stay connected: