Before our trip to Japan, I knew Gundam Front Tokyo was closing in April. I really made it part of our itinerary. The gigantic Gundam statue standing outside Diver City Tokyo was removed early March. I so wanted to take a photo with it!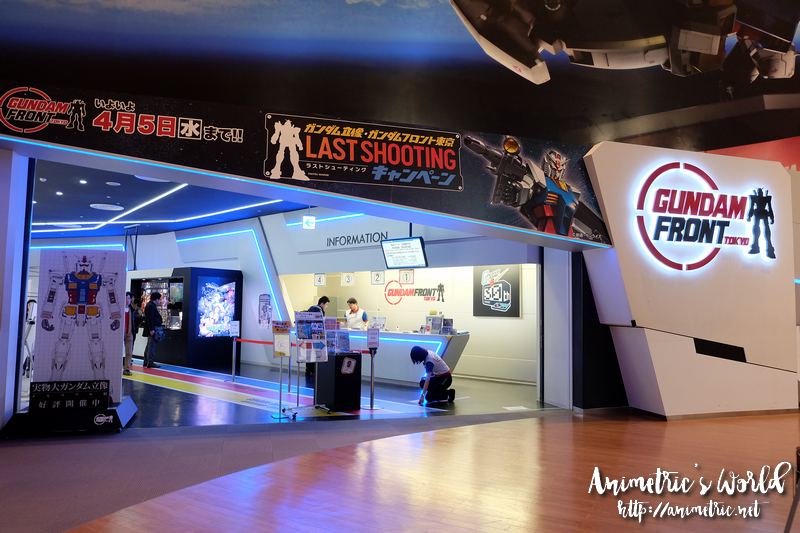 Anyhow I scheduled a trip to Odaiba on a clear bright Saturday and one of our stops was Diver City for Gundam Front Tokyo. Gundam Front Tokyo has free zones and paid zones.
We paid the entrance fee so we'd have access to everything. It cost 1,200 yen for adults / college / high school students and 1,000 yen for middle school / grade school kids.
The Gunpla Tokyo area was near the entrance so we went inside. Gunpla stands for "Gundam" + "Plastic Model".
All kinds of Gunpla were showcased in the Gunpla Tokyo area. You can actually go have a look even if you don't pay for entrance because this is a free zone. Afterwards we went to watch a movie inside the Gundam Front Tokyo's Dome-G. It was so awesome, it felt like we were in a Gundam hangar and we were able to watch gigantic mechs spar over our heads. Photography wasn't allowed though so I have no pics to show.
After the intense Dome-G movie, we went to see the massive Gundam display.
The staff asked us if we wanted to climb up onto the cockpit and we were only too happy to do so.
I have a confession. I've never watched any Gundam. Being an anime enthusiast though I knew enough to know what it was lol. So yeah, I have no idea what this is.
No idea what this is either but I thought it was great.
We joined a Gundam Gunpla Workshop in the Gunpla Labo.
Everyone who participates is given a GFT Gunpla Factory RX-78-2 Gundam 1/144 figure. During the workshop you're supposed to just color (using Copic markers) and assemble the box. They'll tell you to build the model at home. All of us got one!
Then we went to see the Gunpla Factory section.
These are the raw materials for Gunpla.
This is the machine where they make Gunpla components. The free Gunpla kit we got was made here.
These were all made in Gundam Front Tokyo's Gunpla Factory.
Then we went to see a hall filled with Gundam video games from the 80's to the present day.
Apparently the latest Gundam video game is for the Sony PS4, released last year.
Whoa! I've always liked this particular Gundam.
As we were leaving, we passed by this wall full of goodbye and thank you notes for Gundam Front Tokyo which closed last April 6. When we paid for our entrance fees the lady gave us what looked like memo sheets. This is what they were for. We filled up our papers and hung our goodbye notes on the wall.
Don't be too sad though… this entire space will be renovated. It will reopen into The Gundam Base Tokyo this summer (that's around June 2017). From what I've heard though it's going to be purely a store with no entrance fee. I don't know if there will still be a Dome-G Theater or a Gunpla Labo.
In any case, I think I should hang on to my GFT Gunpla Factory RX-78-2 Gundam 1/144 figure lol.
Like this post? Subscribe to this blog by clicking HERE.
Let's stay connected: